This Big Asterisk Remains For Transgender Military Enlistees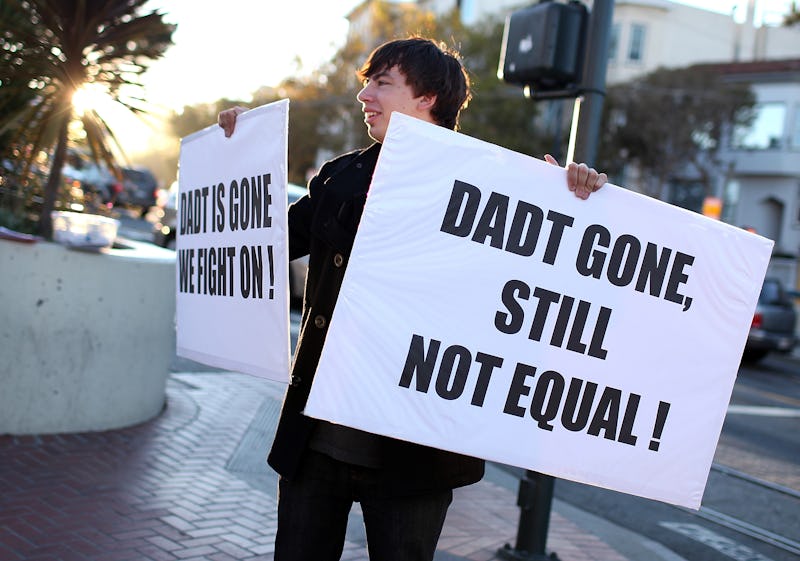 Justin Sullivan/Getty Images News/Getty Images
You may be under the impression that after Don't Ask, Don't Tell was repealed back in December 2010, the Obama administration fully allowed the participation of LGBTQ Americans in the military. Well, you're wrong. Transgender servicemen and women and non-binary Americans were never included in that order, and efforts to include trans people still aren't complete even today. This big asterisk remains today for LGBTQ people looking to serve openly — and now there's a fear it could remain for years to come.
The asterisk is not as serious as a full trans version of Don't Ask, Don't Tell. There was movement on open trans service under Obama; it just took a while longer than the repeal for lesbian, gay, and bisexual Americans did.
In 2015, then-Secretary of Defense Ashton Carter started the process to allow trans members to serve openly, and by June 2016, it was official policy that "otherwise qualified service members can no longer be involuntarily separated, discharged, or denied reenlistment or continuation of service just for being transgender."
But what if you're not already in the military? That's where the current asterisk is. Openly transgender enlistees are not welcome — even if they've graduated from elite military universities. For example, two transgender cadets graduated this spring, but can't join the actual military with their cohort.
The ongoing discrimination is currently set to end on July 1, but that deadline is now in doubt. In May, Deputy Defense Secretary Robert Work sent out a memo to the different branches of the military asking them to report their "readiness to begin accepting transgender applicants." Many trans activists fear this language provides a caveat to delay the change in enlistment policy as long as years or indefinitely.
USA Today spoke with Brad Carson, a military expert under former Defense Secretary Ash Carter, who said that the language of Work's memo could open up a way for current Defense Secretary James Mattis to rescind the policy. "We do not intend to reconsider prior decisions unless they cause readiness problems that could lessen our ability to fight, survive and win on the battlefield," Work wrote; the "unless" is the concern.
There really isn't a justifiable reason to block trans enlistees, Pacific Standard reported. They explored both the readiness concern that Work brings up and the cost of health care, another concern with transgender troops. In both regards, experts say including trans people in military service does not pose a concern. Sussanah Rodrigue, writing for the magazine, pointed to two studies that support trans service with numbers.
One by RAND Corporation in 2016 showed that health care costs would be negligible with a rise in transgender soldiers. "Additional health-care costs could range between $2.4 million and $8.4 million, representing an approximate 0.13-percent increase," it reads. Not exactly breaking the bank.
The other, by Palm Center and frequently cited by groups like the Human Rights Campaign, said that "formulating and implementing inclusive policy is administratively feasible" and noted that it is neither "burdensome nor complex."
That leaves just one reason to keep the plan in place, Rodrigue argues, and I think she's 100 percent correct. If Mattis decides to backpedal on the issue, concerns over discrimination are likely to arise. Don't Ask, Don't Tell should be 6 feet under right now, and it deserves no place in recruitment policy — or anywhere else.
Call your senators and representative today and tell them that all LGBTQ Americans deserve the right to openly serve — and enlist.