Here's What To Do If You're Missing WhatsApp's New Group Video Call Feature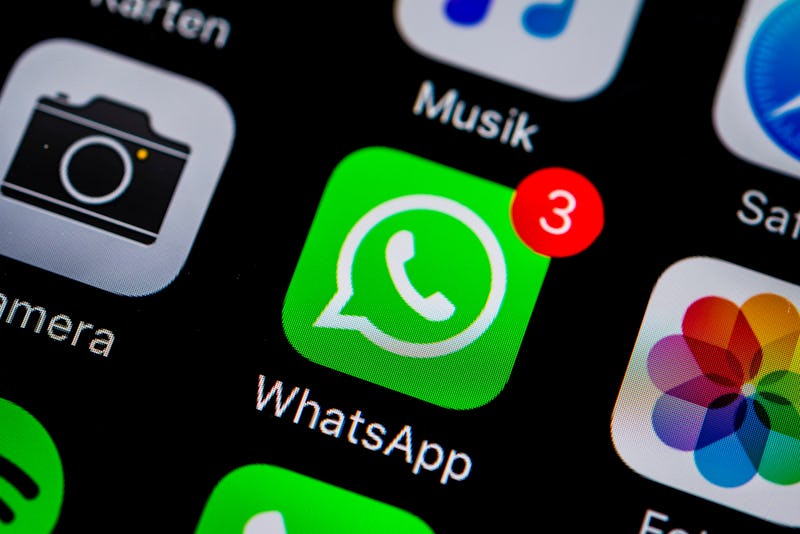 Valentin Wolf/imageBROKER/Shutterstock
In the fast-moving, uber competitive world of modern technology, it's a recurring case of "anything you can do I can do better," and this is playing out currently in the realm of video group chat. That's right, you can no longer hide behind messages, GIFs, and Emojis, the time has come for face-to-face interaction, even if it does come via a screen. WhatsApp are the latest to announce a group video call function, so the hiding behind your screen may be officially over. If you're using your app now and wondering "why don't I have WhatsApp group video calls?", here's what you need to do.
WhatsApp announcement came off the back of Instagram's news in May that it would be launching a group call feature, and the popularity of Snapchat's function that allows users to video chat with 16 fellow users. Users of the social app, which has more than 1.5 billion monthly members, will now be able to make group voice and video calls with a total of four people, by adding friends, acquaintances, colleagues, pets — whoever you want — to a video call with a click of the "add participant" button in the top-right-hand corner of the screen. WhatsApp has made various updates to the app in recent years, with the introduction of voice calls in 2015 and then video calls in 2016.
In the wake of the highly publicised Facebook data scandal, it is no surprise that security and privacy are a primary focus for the app's latest function, with WhatsApp confirming that all calls will be end-to-end encrypted. Which means what? Basically this is an assurance that only you and the person you're talking to can hear the conversation — with no interference from third parties, including WhatsApp itself. Sounds good, right? Well, if you want to get involved but you're not seeing the option to make a call, here's what you need to know.
1. Check You're Doing It Right
Open up your app and click on the video symbol in the top-right-hand corner of a WhatsApp conversation to start a one-on-one video call. Add more people by clicking the "add participant" button, and keep adding until you've added all (or three of) your favourite people.
2. Make Sure Your App Is Updated
The most recent version of WhatsApp is 2.18.80, so whether you're on iOS or Android, log on to your app store and check you have the most recent update. If not, download straight away!
3. If In Doubt, Restart Your Phone
My go-to solution for any technical issue: simply switch off your device and turn it back on. You'll be connected in no time.
4. Sit Tight And Wait
It might be that the update isn't available to you yet. If so, sit tight. It should be coming soon. Gadgets 360 reports that it's now available for users on iOS and Android, so if you're not on those operating systems, you may need to wait a little longer.
As exciting as this is, it looks as though WhatsApp may soon face even fiercer competition in the shape of Silicon Valley juggernaut Apple, which is hot on its heels with the upcoming launch of its iOS 12 update later this year, which Engadget reports will enable FaceTime users to enjoy video chat with an anxiety-inducing 32 participants. Am I the only one who feels slightly nauseous at this prospect? I think I'll stick with my sticking-out-tongue Emoji for now.