Drake & J. Lo Are Compatible... As Collaborators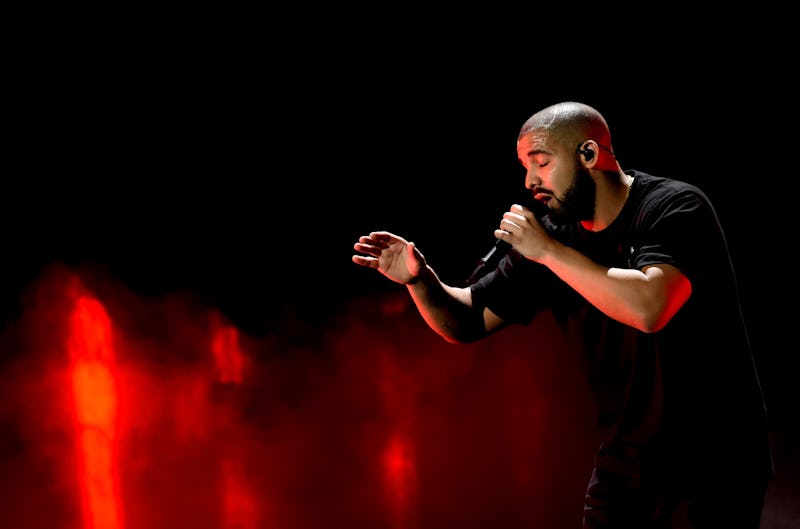 Kevin Winter/Getty Images Entertainment/Getty Images
As the rumor mill continues to churn out brilliant fan fiction about a possible Drake and Jennifer Lopez romance, let's pump the breaks. Yes, a picture can be worth a thousand words, and surely a couple of photos of two of the world's biggest stars in the span of two weeks are even more enticing. But, let's be real here. I'm not saying there's no reason for the 47-year-old, Bronx-born triple threat not to be swept off her feet by the 30-year-old Canadian actor-turned-rapper. He sat in the audience at two of J. Lo's Las Vegas concerts and hosted a "super intimate dinner" at a posh Hollywood restaurant only to leave with Lopez, according to E! News.
But, from the looks of their cuddly couch and backstage photos, the megastar artists are probably making sweet music together... literally. No amount of Instagram caption dissection or filter examination will give us proof of a true relationship until we hear it from the entertainers themselves. (Bustle has reached out to reps for Drake and Lopez, but has not yet received a response.) So let's focus on the music for now shall we?
Besides, Billboard reports that the two are "collaborating on a music project." Make sense to me! Let's take a look at their discographies, hit singles, and lyrics and dream up what smash song DrayLo could be working on.
On The 6 Meets Views From The 6
Lopez transitioned from big screen star in Selena to pop sensation following the release of her debut album, On the 6 in 1999. The homage to her humble beginnings as a dancer riding the 6 train up to her home in the "boogey down Bronx" was a breakthrough for the rising Puerto Rican star. While Drizzy has always shown love to his native Canada, his most recent album cover for Views features him on top of the CN Tower in Toronto. Perhaps they'll release a duet about their hometowns?
"Love Don't Cost A Thing" & "Fancy"
Then again, when it comes to living the good life and finding love it seems like the pair may have different philosophies. On his track "Fancy" from his debut album Thank Me Later, Drake rapped "Oh you fancy, huh? Nails done, hair done, everything did." Meanwhile, Lopez's single "I'm Real" from her classic sophomore album, J. Lo, showed she's more of a simple girl. "I'm real - what you get is what you what you see/ What you trying to do to me." Maybe they'll sing about compromise?
"Jenny From The Block" & "Started From The Bottom"
Although both of these songs can certainly be critiqued for accuracy, since Lopez and Drake were huge stars while singing about being low key, they shared a common thread.
"I Luh Ya Papi" Meets Champagne Papi
J. Lo loves singing to her beaus. From "Dear Ben" to "Love Don't Cost a Thing," Lopez makes it known when she's in love and that relationships will be on her terms. An ode to the self proclaimed "Champagne Papi" would be right up her alley. As for Drake, usually the Canadian crooner is the one venting about "Trust Issues," but putting him in the serenading seat is sure to make "Headlines."
I'll be keeping my eyes peeled for any developments on their personal relationship. Until then, let's look forward to J. Lo and Drizzy Drake making music that will last "Forever."