Why "Geek Couture" Is A Movement That Every Woman Should Get Behind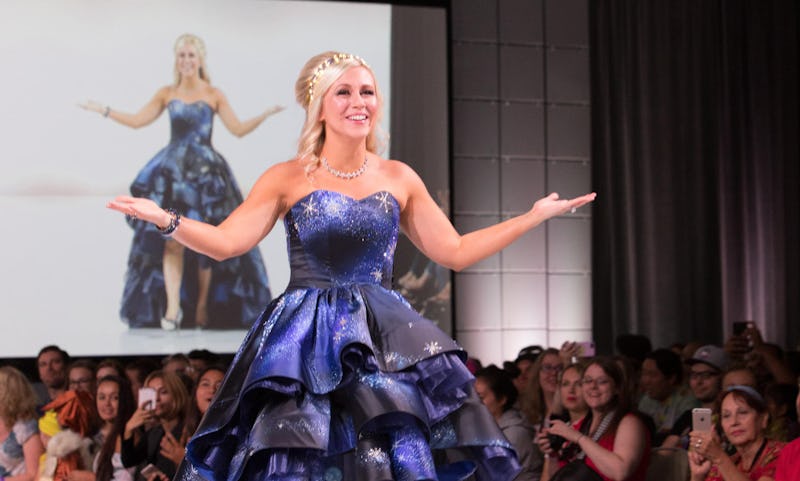 Photographer: Mark Edwards, Photo: Courtesy of Her Universe
Comic-Con and cosplay go hand-in-hand, but in every legion of hardcore cosplayers lurks another, more stylized movement. Yes, men and women cosplayers let their creativity fly in spectacular fashion, dressing up with meticulous and creative detail as their favorite sci-fi, comic book, TV and movie characters. But some of the women walking the halls of Cons all over the country are actually creating a hybrid of cosplay and fashion: geek couture. While "couture" is generally a word that rings of exclusion and exclusivity, Her Universe founder Ashley Eckstein is working to open it up a bit by giving geek couture designers a yearly platform at the Her Universe Fashion Show at San Diego Comic-Con.
"I've been coming to Comic-Con since 2007 and I've seen fans walking the halls of Comic-Con in their own original designs and using the halls as their runways and I thought, 'somebody ought to give these girls an actual runway,'" says Eckstein. As she speaks, we are standing on that runway, now making its fourth appearance at SDCC for the Her Universe Fashion Show. She's minutes away from introducing the event while wearing a custom Cinderella-inspired creation... designed by 2014 Her Universe Fashion Show winner, Andrew MacLaine.
"If you can dream it, you can do it" is the theme of the 2017 fashion show and as she stands on the runway, Eckstein embodies that spirit almost too perfectly.
"You could say I grew up Disney, and so tonight, the show is all about making dreams come true," she offers as her dress gleams and glitters. On the runway itself, 25 designers show off their geek couture in hopes of winning the chance to create a collection with HerUniverse while the "models" who start the show by showcasing the brand's more casual designs are all actual fangirls rather than women straight from central casting. From the top to the bottom, the show is all about shining a light on women (and a few men) who've come at fashion from an unexpected direction and giving them a platform to shine.
The 2017 designs range from gowns, jumpsuits, and everything in between inspired by Moana and Groot from Guardians of the Galaxy, to The Upside Down from Stranger Things and The Hitchhiker's Guide To The Galaxy (pictured below, and one of the three winners in 2017), and while you may be tempted to label these creations as cosplay, that actually undermines what Eckstein and the designers are trying to do.
"Cosplay is a costume," says Eckstein, resolutely, clarifying that geek couture is something akin to everyday cosplay. "It's geek fashion, it's not a costume, it's everyday fashion inspired by our favorite properties."
And OK, the fashion show includes some pretty creative and magnificent designs — I'm not sure any of these gowns would quite fit into the average daily routine (here's looking at you, Upside Down gown) — but they're certainly not costumes.
And what remains is the fact that the men and women designing these gowns are looking to create beautiful clothes that let them carry their passions with them loudly and proudly.
In a world that tends to reserve cosplay for nerdier locales inside conventions and "appropriate" spaces, celebrations of geek couture encourage self expression, even in the face of those who may not normally be so accepting. As every single "model" walked the runway in custom, nerdy creations, she walked with a bounce in her step. There, in front of a room of hundreds of encouraging voices, each woman found support, acceptance, and a few "woohoos" for their weird, wacky, and, frankly, gorgeous looks. And as cheesy as it sounds, that's actually pretty darn magical.