Trump Continues To Be Silent On Terrorist Attacks Targeting Muslims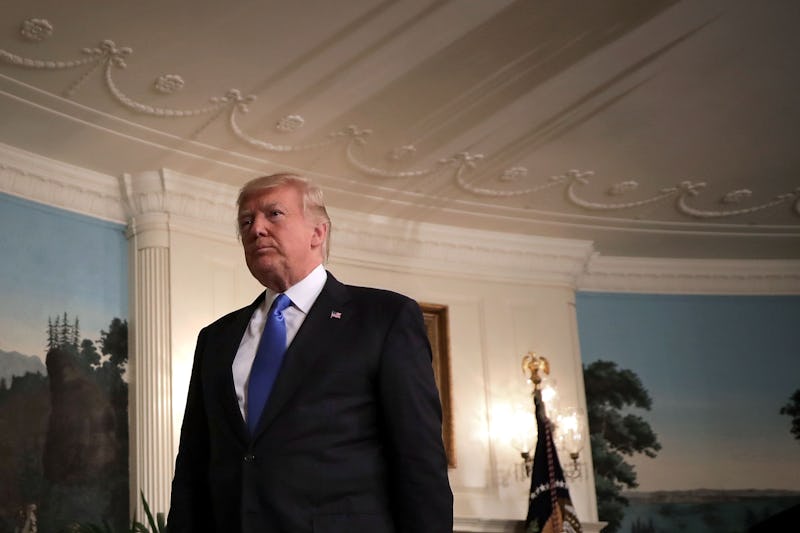 Chip Somodevilla/Getty Images News/Getty Images
On Sunday, there were two violent attacks against Muslims: the murder of 17-year-old Nabra Hassanen in Virginia, and the running down of at least nine people near a mosque in London. While Donald Trump found time to post tweets promoting his lawyer's appearance on Fox & Friends and urge his followers to vote for Karen Handel in Georgia's special election, he made no mention of either of the violent incidents. This isn't new. President Trump's silence on Islamophobic attacks speaks volumes, and it has throughout his entire time in office.
Trump's record of acknowledging terrorist attacks has a clear pattern — when attacks are carried out by Muslim perpetrators, he nearly always denounces the violence within hours of the news breaking; when terrorism is committed against Muslims by a non-Muslim attacker, however, the president remains either completely silent or waits days to offer any kind of response.
Back in February, when a gunman killed six worshippers in a Canadian mosque, Trump privately called Prime Minister Justin Trudeau to offer his condolences but remained silent publicly. In May, the president waited three days to condemn the anti-Muslim attack in Portland, Oregon, that left two men dead.
This is in stark contrast to his quick reactions to news of violence committed by Muslims. Just days after the aforementioned attack at a mosque in Canada, the president quickly responded to an incident in Paris in which an Egyptian man attacked multiple soldiers at the Louvre Museum — leaving one with mild injuries — after yelling "God is great" in Arabic. It took only a few hours for Trump to tweet about it. In December, after a Tunisian-born man ran over a crowd of people in a Berlin market, killing 12, Trump took to Twitter and released a statement within hours.
As reported by The Washington Post, by February of this year, Trump had published at least 49 tweets making reference to some kind of "terror" over the course of one year, and all except for one tweet — which denounced the July 2016 shooting in Munich that resulted in 10 fatalities — touched on attacks eventually claimed by Islamic extremist groups like ISIS. Considering the fact that early reports speculated that the shooter had ties to such a group, combined with Trump's response coming during the early moments of the story's coverage, the possibility that he may have been under the impression that the perpetrator — who was later confirmed not to be religiously-motivated — was also a Muslim extremist when he reacted to the news.
Corey Saylor, one of the directors of the Council on American-Islamic Relations, called on Trump to denounce Islamophobic attacks in February. "It is [Trump's] duty to repudiate bias," he wrote in an email to HuffPost. "President Bush went to a mosque to push back against anti-Islam sentiment in 2001. We are still waiting for President Trump to demonstrate the same leadership."
Whether the president will finally heed his critics on this matter remains to be seen.