I'll Always Be Conflicted About The Women's March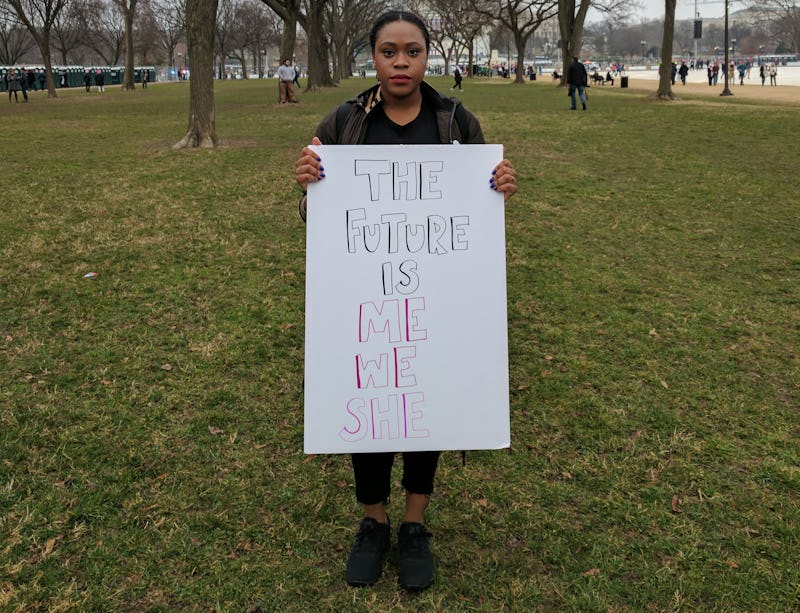 Jan. 21 was a great day. I walked nearly eight miles in Washington D.C. for my right to be seen and heard as an educated black American, as a millennial, as the daughter of Nigerian immigrants, and as a woman. I stood with my friends and screamed "This is what democracy looks like" at the top of my lungs. And I meant it. But I didn't fully believe it.
The Women's March on Washington was by all means a success. Approximately 500,000 people came out in D.C., 750,000 in Los Angeles, as many as 400,000 in New York City, and hundreds of thousands more at sister marches in other cities. Around the world, millions of people came together to be seen, to be heard, to stand for something. I was with a group of 10 other women — pillars of intelligence, strength, talent — some whom have been marching for over 30 years and some who are just starting to get to know their true selves (myself included). I felt safe. The day was good.
But as positive as the day seemed, my feelings on the march itself were and continue to be conflicted. As the co-founder of GetWoke, a company dedicated to enlightenment on Black Experiences through the act of storytelling, I felt my own story being overshadowed by mixed messages of love and a lack of self-awareness last Saturday. While I and many other women of color marched while concealing our heavy hearts, emotionally exhausted from constantly justifying black life, those around me marched excitedly, with a certain pep in their steps that I couldn't quite mimic.
The Women's March was originally called the Million Woman March — a name already used by a 1997 protest organized by and for black women in Philadelphia. The lead organizers of the Women's March changed its name after hearing warranted cries from women of color and their allies condemning ignorance and calling for intersectionality. The organizers shifted their focus, invited experienced activists of color into their planning committees and as lead figures, published a diversity statement, and called on white women to check their privilege at the door.
But despite strides toward an intersectional protest, I still felt uncertainty about my place within the march. Why was I going out of my way to attend a public event densely populated by the very women who voted Donald Trump into office? Exit polls from the 2016 election showed that 94 percent of black women voted for Clinton, compared to 43 percent of white women. I did my job. I campaigned for Clinton, and I engaged in difficult conversations with my peers. Did they?
It would be naive of me to think that every woman who attended a march on Jan. 21 voted for Clinton. The women who now deny the president Americans voted into office (popular vote be damned) scream loudly for their reproductive rights, donning knit pink pussy hats and carrying cleverly worded signs. But where were these women for Tamir Rice, Sandra Bland, India Monroe, Alton Sterling, Philando Castile, Miriam Carey, Tanisha Anderson, Eric Garner, Deeniquia Dodds, and Trayvon Martin?
Where were these women when Trump initially threatened a Muslim ban, called Mexican immigrants criminals, and told black children that their lives couldn't possibly get any worse in the inner cities in which they seem destined to be killed? Where were they while women of color took to the streets, carrying the slack of their complacent peers on their backs, signs in hand, fighting for all of our lives? Where will they be the next time a person of color is arrested or killed, our basic rights and humanity denied?
Will I see these women marching in step at the next Black Lives Matter protest, or do they limit their efforts to demonstrations that solely affect their lives and the lives of those who look like them?
When our stories are shared, our stories are humanized.
The fact that the Women's March saw no arrests nationwide has been both celebrated by marchers and weaponized against activists of color. But privilege is believing that a lack of arrests means this march was peaceful and others were not. Privilege is believing that as long as we protest in the right way, everything will go as planned. Privilege is assuming your actions are pure, while the actions of others are not. There were no arrests that Saturday because from afar, this march passed the brown paper bag test. Peaceful protests happen every day. The difference between the Women's March on Washington and a Black Lives Matter protest is that white skin in numbers is viewed as harmless, whereas dark skin in numbers incites fear and danger.
I don't know if the women's marchers will continue to show up for all of the civil liberties they claim to support, and I don't have all of the answers. But a week after the march, I watched thousands of people gather to fight for immigrant and Muslim rights in the face of hatred, Islamophobia, and xenophobia. Their signs read "We Are All Immigrants."
When our stories are shared, our stories are humanized. I stood with my friends and screamed "This is what democracy looks like" at the top of my lungs. As more and more Americans choose protest as a response to the radicalism coming from Washington, I hope those words will continue to carry the weight they deserve.