Finally, An Answer About That Confusing 'Big Little Lies' Name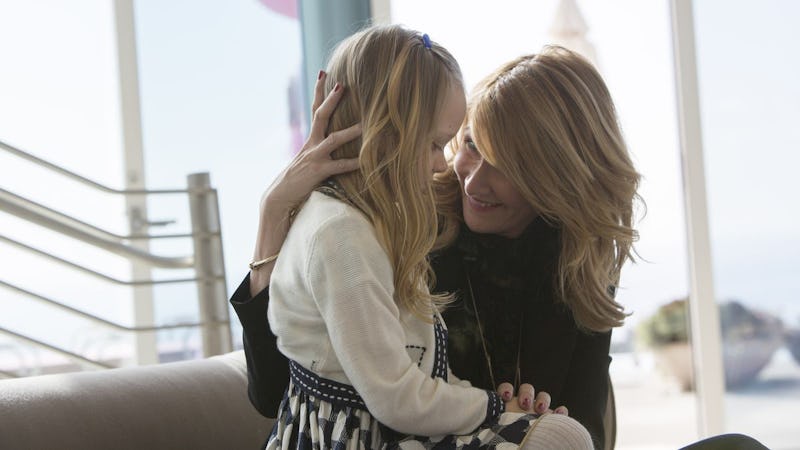 HBO
Forget who died at trivia night. There was a much bigger mystery that came out of the Big Little Lies HBO show: why is Amabella called Amabella? I mean, that's not a name, right?
I can't be the only one who originally heard Renata's daughter's name as Annabella. Because, you know, that's actually a name. Then I thought she was saying Emma-Bella — but finally, I heard Laura Dern say it enough times that I figured it out. Renata's daughter was called Amabella — and I want to know why.
Thanks to Jarett Wieselman at Buzzfeed, we finally have an answer. In Liane Moriarty's novel, Renata makes Amabella's unusual name clear right from the start, saying "That's Amabella, by the way, not Annabella. It's French. We didn't make it up."
Et voila! It's French, which explains why everyone in the English-speaking world was so confused.
And that's not the only difference between page and screen. You've probably already heard that the novel takes place in Australia, rather than California — but that's not all. In Moriarty's book, Perry looks like Tom Cruise rather than Alexander Skarsgård — but considering that Nicole Kidman, who plays Perry's wife Celeste, has been divorced from Tom Cruise for 16 years, I can understand why they didn't hire him to play the part. And it's Bonnie who spills her drink on Madeline during an argument, rather than Ed spilling his on Nathan — but I can't imagine the ever-graceful Zoë Kravitz ever doing anything quite so clumsy.
Thankfully, by the end of Big Little Lies, Amabella's secret bully had been identified, so now she can sleep safe and sound at night. And now that we understand the mystery of her name — so can we.