The Possible Reasons Why Don Jr. & Vanessa Trump Are Getting Divorced
by Priscilla Totiyapungprasert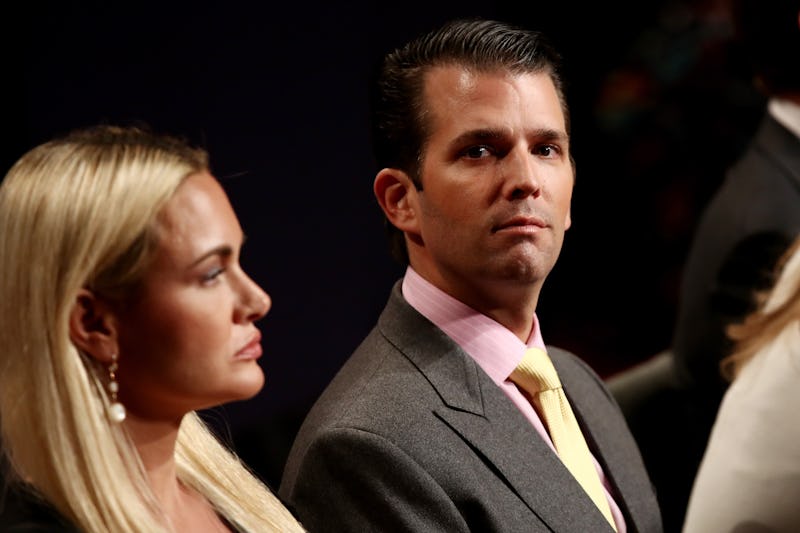 Win McNamee/Getty Images News/Getty Images
When your father is the President of the United States, your personal life will inevitably end up under the public microscope. For Donald Trump's oldest son, that's no exception. Rumors started circulating about why Donald Trump Jr. is getting a divorce ever since he and his wife Vanessa announced their separation.
On March 15, celebrity gossip site Page Six reported that Vanessa Trump filed for divorce that afternoon in Manhattan Supreme Court. Don Jr. and Vanessa, both 40, married in 2005. They confirmed the news in the following joint message to Page Six:
After 12 years of marriage, we have decided to go our separate ways. We will always have tremendous respect for each other and our families. We have five beautiful children together and they remain our top priority. We ask for your privacy during this time.
Page Six had previously covered the now-estranged couple's rumored marital problems. Now that their separation is official, people are further speculating as to why Vanessa, a former model, wants to end things with Don Jr., heir to the Trump family empire.
No doubt the most scandalous allegation to have come out so far is that Don Jr. reportedly had an affair with Aubrey O'Day, member of the pop band Danity Kane. Neither Don Jr. nor O'Day have publicly confirmed or denied their supposed romantic history. According to March 19 reports from Perez Hilton and US Weekly, anonymous sources claimed things started heating up between Don Jr. and O'Day in 2011 after they met on season 5 of Celebrity Apprentice. Bustle has reached out to the Trump Organization and to O'Day's publicist Jack Ketsoyan for comment.
Sources reported to US Weekly that Don Jr. called off the alleged affair in March 2012 after Vanessa found emails between her husband and the Danity Kane singer. Vanessa and Don Jr. then reconciled and welcomed two more children, according to the sources. Late on March 28, US Weekly reported that Don Jr. and O'Day were trying to have a baby during their alleged period of intimacy. O'Day, Vanessa, and Don Jr. have not publicly commented on the ongoing story. And again, Bustle has reached out to both parties.
Internet sleuths, however, have already poured over O'Day's old videos and social media posts for clues to Don Jr.'s reported extramarital affair. A few of the rumored hints include her 2012 appearance on "RISK! Podcast" where she discussed with "a reality star" who has a New York apartment. In 2013 she released a breakup song called "DJT," which happen to be Don Jr.'s initials. Then on election night in November 2016, O'Day tweeted that a story she didn't tell is "worth millions now." In all these instances, O'Day has never explicitly mentioned Don Jr.
But if Vanessa and Don Jr. reconciled from the supposed cheating, as US Weekly sources claim, why divorce now?
One of the rumored reasons include Vanessa's reported displeasure with Don Jr.'s social media habits. But a spokesperson for Vanessa denied this claim, reported Vanity Fair, and gave the following statement to Page Six:
Don and Vanessa have tremendous respect for each other and always have. The notion that she has had to rely on her family for assistance is absolutely false and utterly ridiculous.
Vanessa is very protective of her five children, as anyone would be, especially those in the public eye. That said, any claims that she is unhappy with Don posting photos of their children on social is not true. In fact, Vanessa is usually the first to "like" the posts that he shares. Don is a wonderful and very involved father.
While Vanessa and Don Jr. are staying quiet on the details of their divorce, there are some things we know for sure.
President Trump's daughter-in-law filed for uncontested proceeding, which means Vanessa is unlikely to fight Don Jr. over their assets or custody of the couple's five children, ages three to 10. Vanessa also hired criminal defense attorney David Feureisen, a family connection, to represent her in the divorce case, according to Vanity Fair. Her reason for choosing a criminal defense lawyer over a divorce lawyer is unknown, although Feureisen has handled divorce cases before. Madeleine Aggeler at The Cut speculated that Vanessa's choice to hire Feureisen could be preparation for possible questioning by special counsel Robert Mueller.
Meanwhile, Vanessa and Don Jr. seem to still have an amicable relationship and as they mentioned, put their children as the main priority. People reported that after the divorce filing, the pair took their children to Mar-a-Lago, Trump's Florida resort, to enjoy family time.