Joe Scarborough Was Photographed At Donald Trump's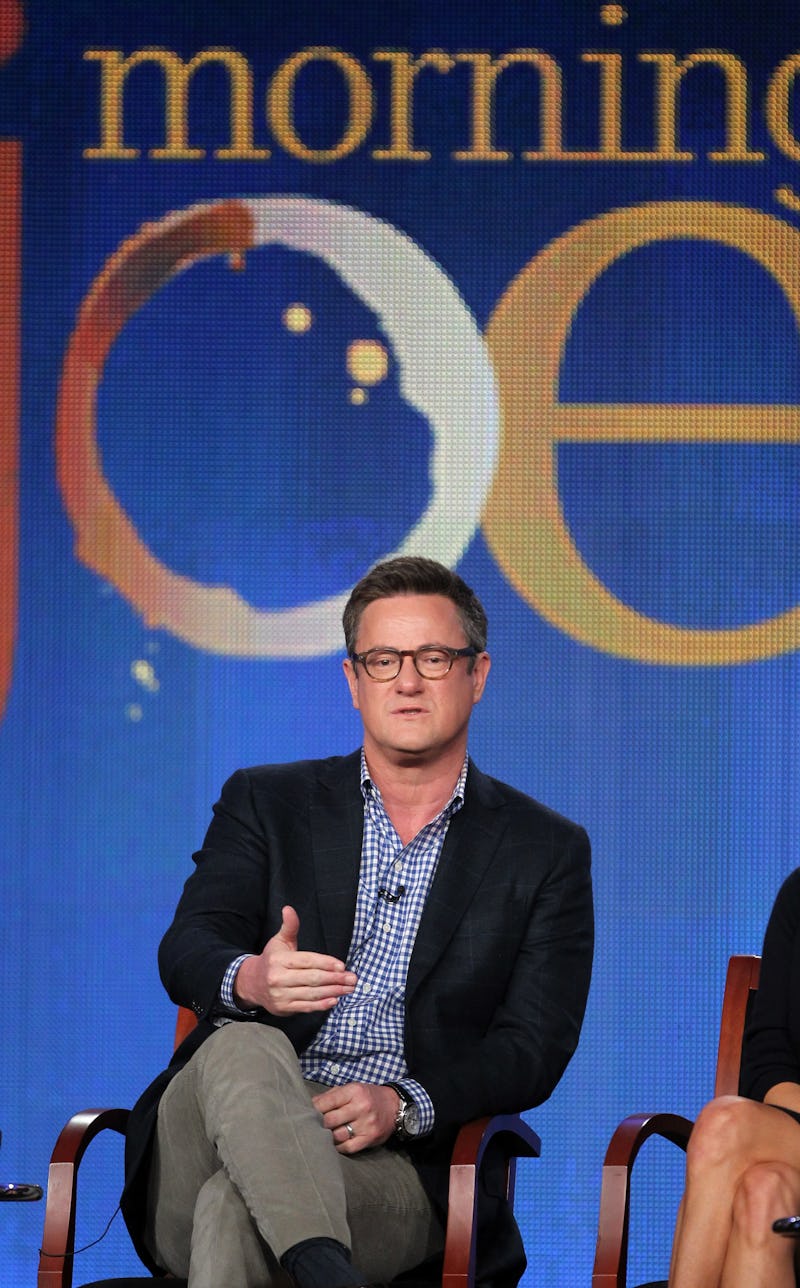 Frederick M. Brown/Getty Images Entertainment/Getty Images
Journalists entered a Twitter war Monday over a story, tweets, and photo of president-elect Donald Trump's New Year's Eve party at his Mar-A-Lago resort. The instigator was Joe Scarborough of MSNBC's Morning Joe. He took issue with a tweet that claimed he was partying with Trump to ring in the new year. Scarborough says that he was just there to schedule an interview but was not among the "revelers." So why is everyone freaking out over the photo of Scarborough and Trump? Basically, it's visual evidence that Scarborough was at Trump's that night — if not proof that he "partied."
His presence is not a huge deal necessarily — or it wouldn't be if Scarborough's protests hadn't made the whole issue go viral. The MSNBC host's presence was first mentioned in a New York Times story by reporter Maggie Haberman. She was covering the Mar-A-Lago New Year's party in a piece on Trump's future use of his Florida property once he becomes president. Scarborough was mentioned in the piece: "Joe Scarborough and Mika Brzezinski from MSNBC's "Morning Joe" were also there," Haberman wrote in a paragraph covering famous attendees.
That was then captured in a screen shot by Sopan Deb, a reporter who just left the Trump beat at CBS News and is headed to The Times. He uploaded the picture from the story and wrote, a bit snarkily, "Morning Joe's hosts partied with Trump last night at Mar-A-Lago. Last year, Trump publicly thanked them for support."
Scarborough couldn't handle that suggestion that he was somehow a longtime Trump supporter — or that he had "partied." He went on a long diatribe against Deb and called the whole thing "fake news." "One of the more entertaining aspects of media coverage of media is how so many who blast Trump for half truths attack us with half truths," Scarborough wrote. Then he tried to distance himself from Trump: "Last year I said Trump's campaign was racist, xenophobic and disqualifying. But be snide while making facts up. Partied? Not even close."
The whole drama reignited Monday morning with the posting of the photo. Haberman was sent a cell phone photo taken by someone at Trump's party. It shows Scarborough talking to Trump, but it's not the best photo. Scarborough is partially blocked by someone's wine glass. Haberman also acknowledged in a follow-up tweet that according to her source, Scarborough was in street clothes — not black tie — and left "very early."
That was still a provocation for Scarborough though and the Twitter fight led by the MSNBC host continued. There are too many back and forths between Scarborough and Deb as well as Scarborough and Haberman to really comprehend how much time was spent debating this online — not to mention the responses to everybody else on Twitter.
By the end of the argument Scarborough was also mad at Haberman and accused her of painting him in a false light by mentioning his attendance at Mar-A-Lago. "Someone showed you a picture. You email and text me when you have questions. You should've done it in this situation and checked your story," he wrote.
It was Haberman, though, who truly had the biggest insight into the photo — and the whole controversy: "You're in a photo standing among revelers. I'm not sure what's inaccurate. I also didn't and don't think it's a big deal."
Amen, surely the nation's journalists have better things to do than argue about something like this.