Here's How Hurricane Harvey Got Its Name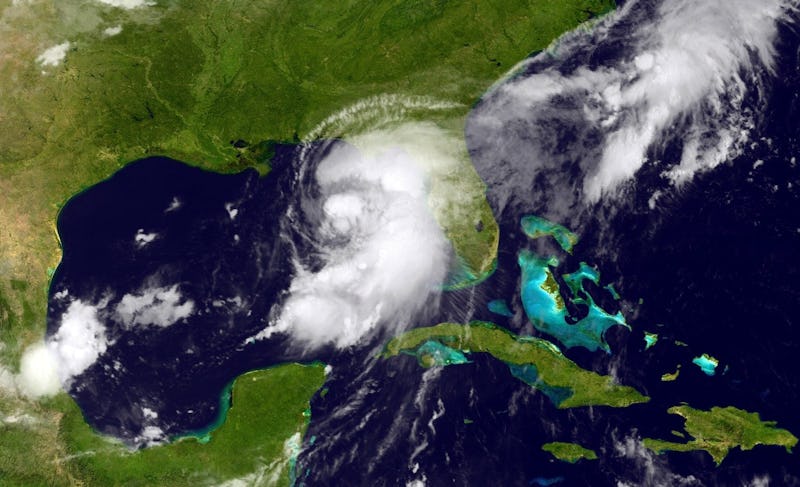 Handout/Getty Images News/Getty Images
On Thursday, forecasters upgraded Harvey from a tropical storm to a hurricane. It was headed into the Gulf of Mexico in the early hours of Thursday and is expected to gain even more strength. As the storm continues to develop, some may have wondered why exactly it is called Hurricane Harvey.
Appellation is a pretty interesting process. It basically refers to how a person, object, or phenomenon receives its official name or title. In the case of storms and hurricanes, the names aren't exactly related to the personalities of people who are then likened to natural occurrences; storms like Hurricane Harvey get named for a rather simple and understandable reason.
Meteorologists realized that by giving a storm a name, people were more likely to identify and prepare in advance for its particular characteristics — intensity, speed, potential damage to buildings, and more. This practice of naming hurricanes and storms began in 1950 in the National Hurricane Center wherein storms were given names according to a list that was approved by the institution before the hurricane season commenced. The Atlantic hurricane season normally takes place from early June to late November.
At this moment, The World Meteorological Organization organizes and coins names for storms and hurricanes. Among them was Tropical Storm Harvey, which was exhibiting sustained winds around 45 mph, but the National Hurricane Center announced Thursday that it has been upgraded to a hurricane with 80 mph winds.
So far, Hurricane Harvey has generated different warnings for different areas. There is a hurricane warning for the areas of Matagorda and Jackson counties in Texas as well as one for Brazoria County. But areas like Austin County, Colorado County, Wharton County, and Waller County have a tropical storm watch in effect.
In addition to that, there is a tropical storm warning for Chambers, Fort Bend County, Galveston County, and Harris County. According to forecasters, Hurricane Harvey may end up bringing a considerable amount of storm surge flooding to the coast of Texas.
In view of the possible damage Hurricane Harvey could render, Texas Gov Greg Abbott commanded the States Operations Center to equip itself with the necessary resources needed in the case of rescue or recovery missions.
Due to the intensity that Hurricane Harvey is presently taking on, locals in the aforementioned areas have been asked by emergency officials to relocate inland instead of remaining on the coastline to avoid harm.