Jackie Chan Brough Panda Bears To The Oscars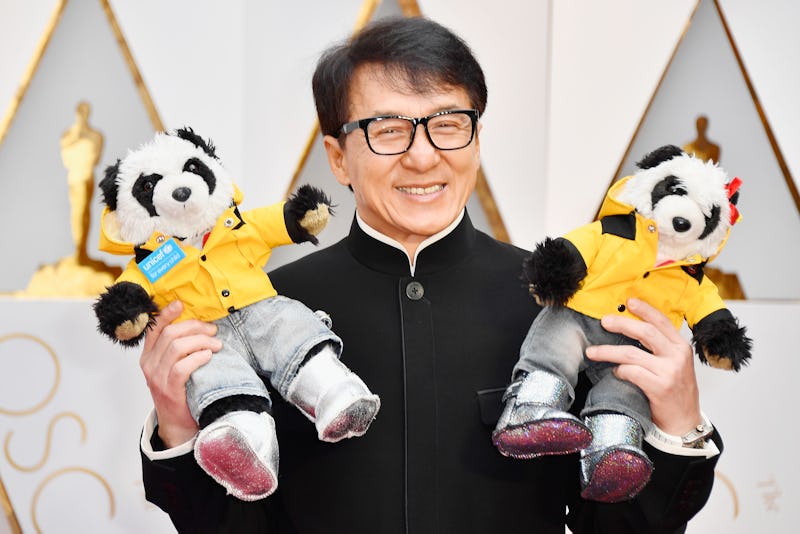 Frazer Harrison/Getty Images Entertainment/Getty Images
While you're used to seeing gorgeous handbags and jewelry on the red carpet, this actor is going with some a little more unconventional. Jackie Chan's Oscars 2017 outfit included... stuffed pandas? Why, you ask? This quirky accessory is more that meets the eye and actually means a lot to the actor.
Before I get into the stuffed panda situation, let me answer your other burning question: Jackie Chan is receiving the Lifetime Achievement Oscar, which is why he's walking the red carpet. According to The Guardian, Chan has been in over 200 movies in his career and even won an Oscar. I'd say that he's more than deserving of that honor. Now, back to the pandas.
Chan didn't take your typical date to the Oscars — instead he opted to carry two stuffed animal pandas dressed in jeans and a yellow jacket. When asked about the stuffed animals during his on-air E! News interview with Ryan Seacrest, Chan said that he is an ambassador for pandas and even has two that he raised himself that live with him at home.
One of the pandas has a pin that says "UNICEF" on it, so Chan is raising awareness for a great cause as well. Unfortunately, the adorable pandas aren't available on the foundation's website, so odds are that Chan bought the bears and outfitted them with the pin himself. You are able to a variety of different pins on the site, if you're looking to accessorize though.
Here's the full rundown on his interview, so you can hear Chan's explanation for yourself.
I honestly can't think of a more adorable way to accessorize TBH.
I can't wait to see if the pair will join Chan in accepting his award.