Why Is Mary Tyler Moore In The Hospital? — UPDATE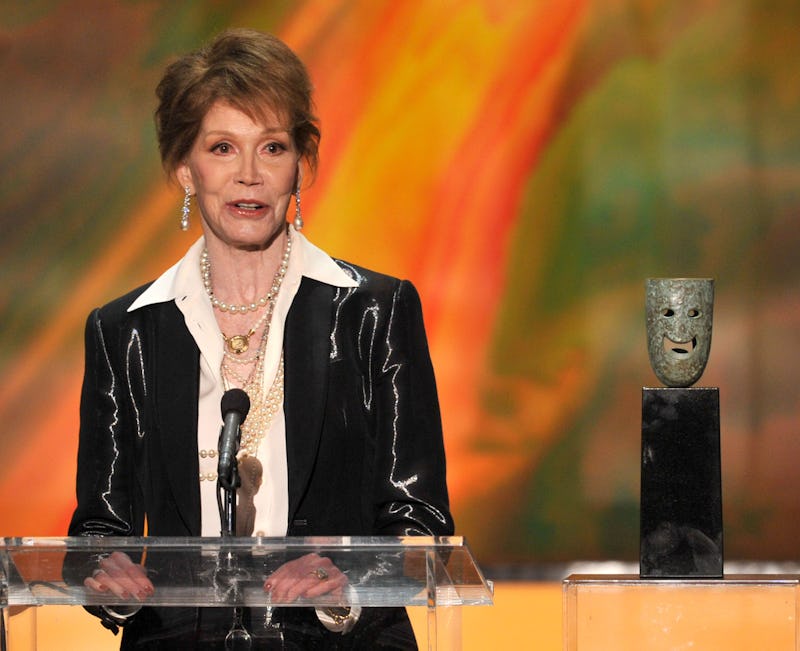 Kevin Winter/Getty Images Entertainment/Getty Images
In unfortunately 2016-sounding news, it appears that icon Mary Tyler Moore has been hospitalized. TMZ reported that she is currently in a hospital in Connecticut and that she is in "grave condition." They also relay, per their sources who are supposedly "close to the family," that Moore's prognosis appears to be quite "grim." Bustle has reached out to Moore's team for confirmation, but did not receive an immediate response. In the wake of this news, you may be wondering, why is Moore in the hospital?
Update: On Wednesday, Moore's publicist confirmed that the icon had passed away at the age of 80 in a statement to Bustle. "Today, beloved icon, Mary Tyler Moore, passed away at the age of 80 in the company of friends and her loving husband of over 33 years, Dr. S. Robert Levine," it reads. "A groundbreaking actress, producer, and passionate advocate for the Juvenile Diabetes Research Foundation, Mary will be remembered as a fearless visionary who turned the world on with her smile."
Earlier: TMZ claimed they have been informed of Moore's multiple health issues and how it's only "recently it has become critical." This is especially troubling news to hear, considering the actor just celebrated a milestone birthday at 80 this past December. TMZ pointed out that the star has struggled with her health in the past, including a 2011 brain surgery and longtime bout with diabetes. Though it should be noted that TMZ does not specifically connect the aforementioned health complications to her current situation.
What TMZ does reportedly know about what's going on now, per another source, is that the actor is on a respirator and has been on one for over a week's time. They go on to explain that they were informed that because of the bad shape she is in "family members are coming to the hospital to say goodbye." If true, this news is heartbreaking.
As TMZ asserted, the story is still developing. So, as of now, the direct reason for her hospitalization appears to remain unclear. In the meantime, celebrities, like Andy Cohen, have been sending their prayers for her to hopefully make a recovery.
My thoughts are with Moore and her family, too.