Otto Warmbier's Parents Say He's In A Coma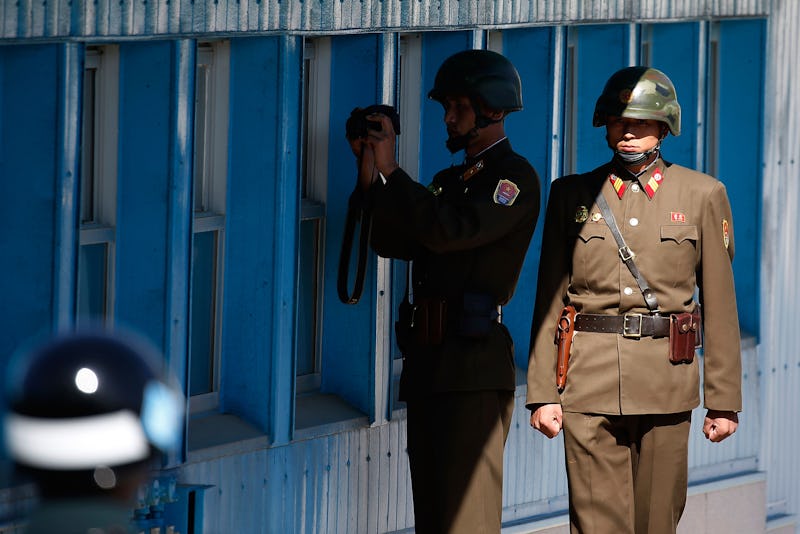 Pool/Getty Images News/Getty Images
More than a year ago, University of Virginia student Otto Warmbier was arrested by the North Korean government and sentenced to 15 years of labor. He was convicted of "hostile acts against the DPRK" — which stands for the Democratic People's Republic of Korea, although there's nothing democratic about it — for allegedly stealing a piece of political propaganda from a hotel in the capital city of Pyongyang. Now, he's being released back to the United States early, although he's in bad shape: Warmbier reportedly fell into a coma shortly after his final public appearance, and has not been conscious in more than a year.
"We have been told that he has been in that condition since March of 2016. We learned of this only one week ago," Warmbier's parents said in a statement.
Warmbier will reportedly be delivered to his hometown of Cincinnati, Ohio, on Tuesday night, although it's unclear at this point what his fate will be. The 22-year-old's family has reportedly confirmed that he contracted botulism shortly after his sentencing, and slipped into a coma not long after. Botulism is a serious form of foodborne illness, a bacterial toxin which, if left untreated, can be fatal.
It's not clear to what extent the botulism led to the coma — according to The Washington Post, botulism is not typically associated with falling unconscious or slipping into a coma — but given the available facts, it's hard not to conclude that these health ailments are related. According to reports, Warmbier's parents were told he was given a sleeping pill after he was stricken by botulism, which caused him to slip out of consciousness.
The Warmbier family gave the following statement to CNN, stating that not even they learned about his more than yearlong coma until one week ago, and condemning North Korea's "pariah regime."
Otto has left North Korea. He is on Medivac flight on his way home. Sadly, he is in a coma and we have been told he has been in that condition since March of 2016. We learned of this only one week ago. We want the world to know how we and our son have been brutalized and terrorized by the pariah regime in North Korean. We are so grateful that he will finally be with people who love him.
Warmbier's release was confirmed and announced by Secretary of State Rex Tillerson, who as The New York Times detailed, said he's being transported from Japan to Anchorage, Alaska, and will ultimately be sent home from there. He'll no doubt receive some top-notch medical care when he arrives, although at present, his long term health prognosis is a complete unknown.