The Ex-Chairman Of Trump's "Lock Her Up" 2016 Campaign Was Just Sent To Jail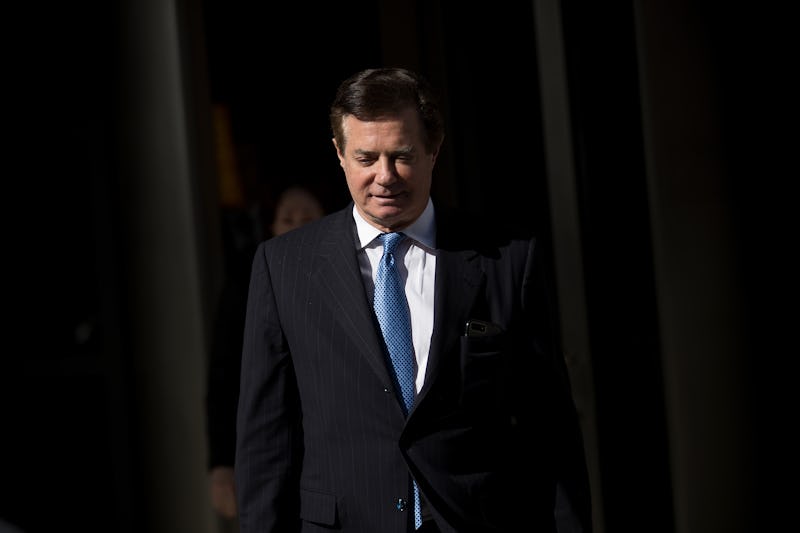 Drew Angerer/Getty Images News/Getty Images
President Donald Trump's former campaign chairman is headed to... jail. A federal judge revoked Paul Manafort's bail Friday, ordering him to await the start of his trial from behind bars. But why is Manafort going to jail just now? The order comes shortly after prosecutors accused him of witness tampering, and the judge ruled that he violated the conditions of his release on house arrest.
"I have struggled with this decision," Vox reported Judge Amy Berman Jackson said in court Friday, adding that she'd been unable to see how she could allow Manafort to remain released on bail in a way that would fully prevent potential witness tampering. "This is not middle school, I can't take his cell phone."
Jackson went on to say she "cannot turn a blind eye" to the fact Manafort had "abused the trust" the court had placed in him, CNBC reported. She added that while there was "no evidence" that Manafort posed "even a threat of harm to any person," prosecutors' charges of witness tampering essentially represented "harm to the administration of justice" and "to the integrity of the system."
According to CNBC, Manafort was taken — without handcuffs — directly from the court room to jail following Jackson's ruling. A U.S. marshal later returned to the courtroom to hand Manafort's wife his wallet, belt, and tie.
Prosecutors from special counsel Robert Mueller's office indicted Manafort last fall on multiple counts of financial and lobbying crimes, including charges of conspiracy, false statements, conspiracy to launder money, and failure to report foreign bank accounts. Shortly after that, Trump's ex-campaign chair was indicted for a second time on multiple counts in a separate case in Virginia, which centered around allegations Manafort had paid foreign politicians to lobby for Ukraine's government in the United States and included charges of bank fraud, tax evasion, and failure to register as a paid agent of a foreign government. Manafort has plead not guilty to both indictments.
At an arraignment for the first indictment he faced, a judge set Manafort's bail at $10 million and ordered him to remain on house arrest at his residence in Alexandria, Virginia, until his trial. But prosecutors alleged last week that Manafort had worked with Konstantin Kilimnik, a Russian business associate, to contact at least two potential witnesses in an effort to influence their testimony. According to Vox, prosecutors have alleged Manafort reached out via phone calls and encrypted messages to two people he'd allegedly worked with as part of his work advocating for Ukraine.
In filing two new counts of obstruction of justice against Manafort for the alleged witness tampering, prosecutors asked Jackson to revoke or, at a minimum, revise Manafort's bail. They cited their charges of new criminal counts as evidence the lobbyist and political consultant had violated the original conditions of his bail.
On Friday, Manafort's attorneys argued their client did not know who prosecutors planned to call as witnesses and thus hadn't been aware he was reaching out to potential witnesses, CNN reported. They proposed prosecutors release the names of their witnesses so the judge could order Manafort not to contact those specific people.
When asked about his former campaign manager on Friday, President Trump told reporters that "Manafort has nothing to do with our campaign" but admitted he felt "a little badly" that Manafort had come under Mueller's scrutiny.
Later that same day, Trump appeared to imply that Manafort was being treated very unfairly. "Wow, what a tough sentence for Paul Manafort, who has represented Ronald Reagan, Bob Dole and many other top political people and campaigns," Trump wrote. "Didn't know Manafort was the head of the Mob. What about Comey and Crooked Hillary and all of the others? Very unfair!"
Manafort's Virginia trial is expected to start sometime in late July, while the trial for his other indictment is scheduled to begin sometime in September, CNBC has reported. Per Jackson's latest order, Manafort will remain in jail until then.