This Trump Official Threatened 2 Senators & Now He's Being Investigated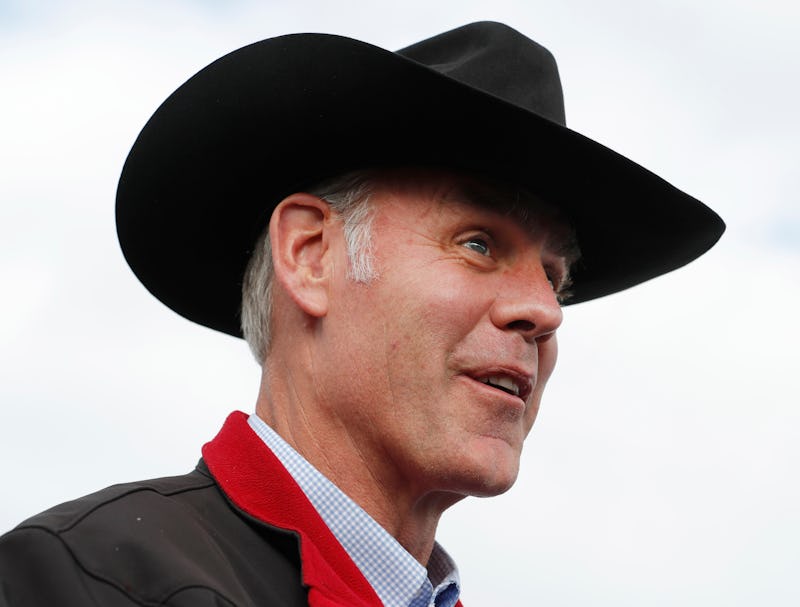 George Frey/Getty Images News/Getty Images
Secretary of the Interior Ryan Zinke is being investigated for threats he allegedly made to Alaska senators to persuade them to vote in favor of the Republican health care bill. All I can say is this never would have happened in Leslie Knope's Department of the Interior.
The U.S. Department of the Interior, the agency tasked with the management and conservation of federal lands, has confirmed that it has launched a preliminary investigation into reports that Zinke called the Alaska senators ahead of the crucial health care votes, and said that a no vote on the bill may be detrimental to some of the state's energy projects.
During the course of the debate over the Republicans' proposed health care bill, though most senators were willing to toe the party line, a few made it clear that they would not vote on the options being presented, such as a repeal of the Affordable Care Act without a replacement, or even the Senate leadership's own health care bill it presented. Among the Republican senators to declare their intent to vote nay on the bills was Alaska Sen. Lisa Murkowski. She, along with Maine Sen. Susan Collins were the two holdouts that brought the Republicans' seven-year effort to repeal Obamacare to a crashing halt.
But before the votes were cast, the Trump administration reportedly made an attempt to sway Murkowski. In a phone call meant to convince Murkowski to vote yes on the bill, Zinke reportedly told Murkowski and her counterpart, Sen. Dan Sullivan, that certain Alaskan projects may be in jeopardy if they were to break with the party and prevent the passage of the bill.
In an interview with E&E News last month, Murkowski spoke about Zinke's call, saying it was "difficult," and that "it was not a very pleasant call." She said that during the call, Zinke told her, "the president is really disappointed in what he perceives to be as your lack of support for health care reform."
Speaking about the call with Zinke, Sullivan told the Alaska Dispatch News, "I'm not going to go into the details, but I fear that the strong economic growth, pro-energy, pro-mining, pro-jobs and personnel from Alaska who are part of those policies are going to stop."
In a letter dated Aug. 3, that was tweeted out by New York Times investigative reporter Eric Lipton on Tuesday, the Interior's Deputy Inspector General Mary Kendall addressed the ranking members on the Committee on Energy and Commerce and the Committee on Natural Resources, to make them aware that her office had launched a preliminary investigation into Zinke's actions, at the request of the two congressmen.
It is unclear what the ramifications for Zinke would be if he is found to have acted improperly in his call with Murkowski and Sullivan.