Why Isn't Ariana Grande At The 2017 VMAs?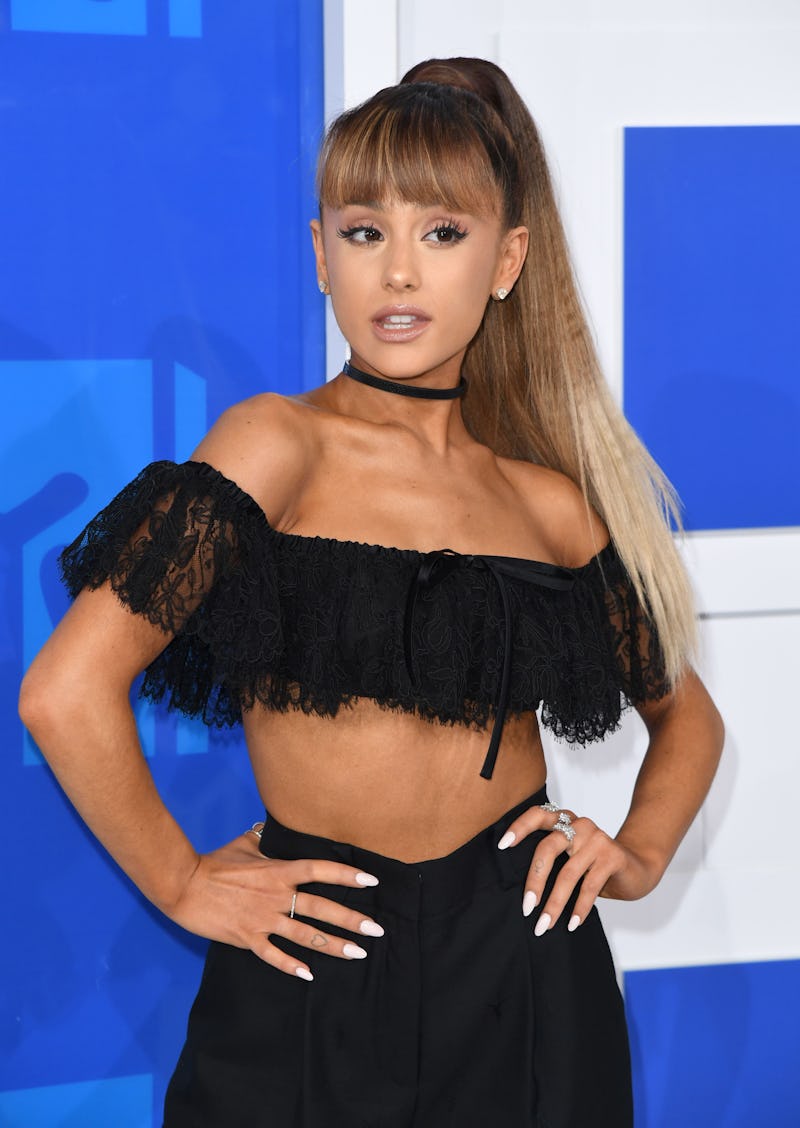 ANGELA WEISS/AFP/Getty Images
Ariana Grande's performance of "Side to Side", which included pink jazzercise wear and an appearance by Nicki Minaj, was a highlight of the 2016 VMAs. Unfortunately, Grande won't appear at the 2017 VMAs, even though she is nominated in a couple categories. The singer announced her absence in an Instagram post, which also included a throwback picture and a message thanking MTV for the recognition. If fans are wondering where the star will be instead, they only have to check her website. Grande is finishing up the last leg of a major world tour, and dates in Shanghai and Guangzhou, China, will put her far away from MTV's award show. The VMAs alternate between venues in New York and Los Angeles, and this year's event will take place at The Forum in Inglewood, California. It would be a considerable distance for the singer to travel for one evening, especially when she is not slated to perform.
It's been a difficult year for Ariana Grande, who has remained positive and continued to spread her music in the face of trials. In May, the Manchester arena where she performed was the target of a tragic terrorist attack. Later in the month, Grande returned to the city for the emotional One Love Benefit concert, which paid tribute to the victims and raised millions for Manchester Relief Fund. The star, while shaken by the attack, did not cancel further legs of the tour and has remained on the road since. The Dangerous Woman tour, which began in February 2017, has included dates in North America, Europe, Latin America, and Asia. It will conclude at the end of September in Hong Kong. It's an exhaustive performance schedule, so it's understandable why she might not be able to make it back for an awards show.
Even though she can't make it to the VMAs, Grande wished everyone attending well on Instagram. The caption on her pic, which was taken at last year's event, read: "Last year [VMAs] Happy #VMAs Day everyonnneee! We so wish we could be there with y'all and are so so thankful for the nominations [MTV]. [Bri, Scott Nicholson] and I are sending all our love !!! [bicycle emojis]. The singer took the opportunity to thank MTV for considering her in several categories, which include Artist of the Year. The caption also sends love from brothers Brian and Scott Nicholson, who are nominated for their "Side to Side" choreography.
Grande's Dangerous Woman was one of the most notable pop releases from last year, and her appearance at the 2016 VMAs was bound to make headlines. Her gym-themed performance was one of the night's best acts, and her understated outfit on the red carpet was also applauded. She also was seen getting cozy with Mac Miller, who at the time was only rumored to be her boyfriend.
Fans are still rooting for Grande to take home "Artist of the Year", even if she wouldn't be able to get there to make an acceptance speech. Whether or not she's given the Moon Person in the categories for which she's nominated, her presence will definitely be missed at this year's award show, and the performances on Sunday will need to be top notch to keep Grande's fans appeased during her absence.