Why Only Some Fans Will Get To Watch 'BiP' Tonight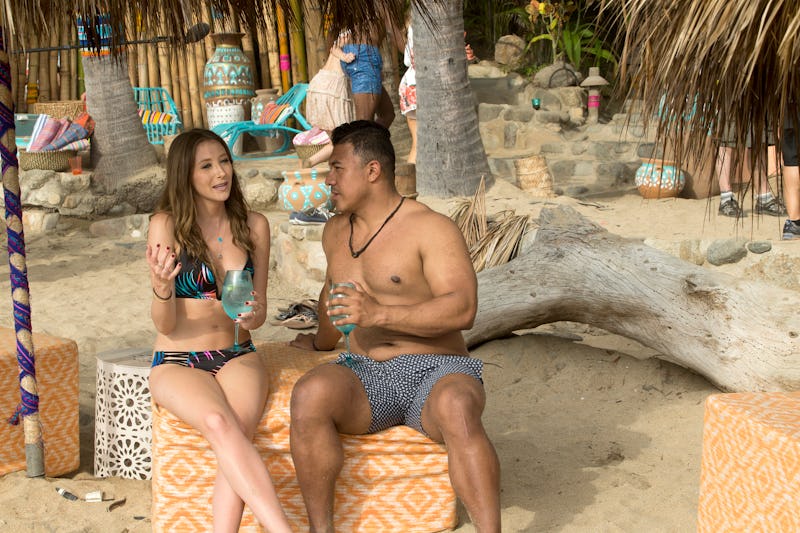 ABC/Paul Hebert
This season of Bachelor In Paradise only just began last week, and already it's facing annoying scheduling delays —well, in one city, at least. While everybody else in the country will be watching more of Taylor and Derek's awkwardly beautiful love story, I and my fellow New Yorkers will be stuck waiting around, because ABC is delaying the episode for a very, very long time. So why isn't Bachelor In Paradise on tonight in New York?
Normally, fans can expect to tune into ABC to see Bachelor In Paradise at 8 p.m. ET on Monday and Tuesday nights. However, if you live in New York (or close enough to New York that all your channels are the same), the August 21 broadcast is going to a little different. WABC-TV on Channel 7, the local ABC affiliate for the New York City area, will instead be running a pre-season football game between the New York Giants and the Cleveland Browns between 8 p.m. and 10 p.m., which means that BiP is going to be pushed back.
And yet, Cleveland's affiliate, WEWS-TV on Channel 5, is going ahead with their regularly scheduled broadcast. What the heck? It's 2017. Aren't we all supposed to be watching the same TV at the same time at this point, possibly while flying around on jet packs?
I'm not much of a football person, so naturally I was curious about why this is happening and did a little bit of research. The idea might seem kind of ridiculous to people who don't care about football, but according to the Ringer, televised preseason games can be useful for new players to learn how to handle a professional game setting with crowds and camera, or for coaches to finalize their starting line-ups and figure out how best to manage their team. You know how sometimes Broadway shows and other theatrical performances will invite audiences to their dress rehearsals or change things around in previews? Same principle, but for sports.
Of course, it's still frustrating for New York fans of Bachelor In Paradise, who won't get to see the episode until 1:05 a.m., after Jimmy Kimmel Live and Nightline — and because it's a two-hour long episode, it won't end until 3:05 a.m. Yikes. I don't know about you all, but after the pretty tone-deaf way that the cast members handled talking about consent in BiP's very special episode about this summer's production shut down, this is not the season I would stay up to watch until three in the morning. More power to you if you're planning on doing that, but I honestly think I'd rather watch football.
But don't worry, Bachelor Nation: Even if you don't feel like staying up late, you'll still be able to catch the episode tomorrow on streaming services like Hulu. Then you'll have a whole four hours of Bachelor In Paradise to look forward to on Tuesday.