Figure Skater Gracie Gold Isn't At The Olympics For A Really Powerful Reason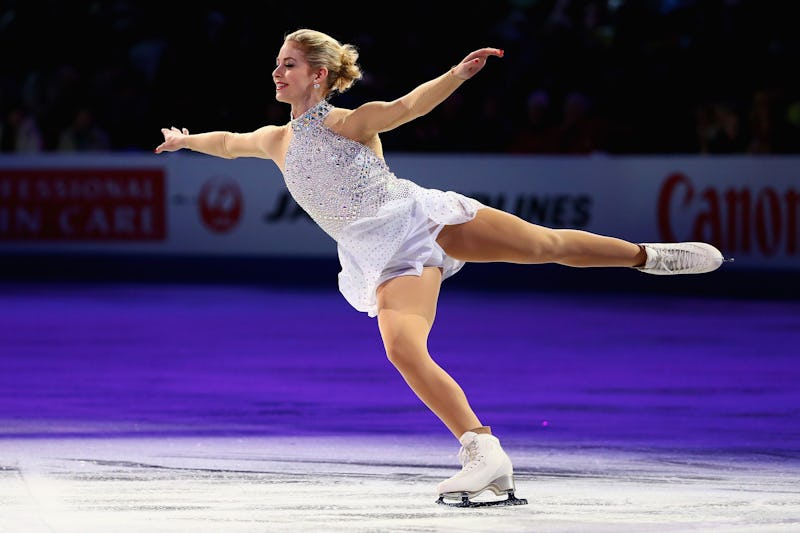 Maddie Meyer/Getty Images Sport/Getty Images
One constant of the Winter Olympics is that America really rallies around its figure skaters. At the 2014 Sochi Games, one of those young figure skating stars everybody cheered for was Gracie Gold — but she isn't at the Olympics this year. The figure skater is not competing in PyeongChang because she's taking time off to care for her mental health, an admission that took enormous bravery to make.
Gold chose not to take part in the series of competitions that lead up to the Olympics, which nixed any chances of her being chosen for Team USA this time around. In a statement to Team USA, she explained what she's been dealing with, and why she needed to take some time off to receive treatment and recover:
It breaks my heart to withdraw from the 2018 U.S. championships. I am still undergoing treatment for depression, anxiety and an eating disorder. I have not had adequate training time in order to perform at the level at which I want to. It pains me to not compete in this Olympic season, but I know it's for the best. I wish everyone the best of luck and will be cheering you all on. I want to thank everyone for the ongoing love and support. It means the world to me.
The announcement, which Gold made in November, was the first time that she'd spelled out exactly what she was battling. She'd previously referenced her struggles in various ways. In 2016, Gold talked about her weight to reporters after a poor performance at Skate America.
"You don't often see — there aren't that many — you just don't see overweight figure skaters for a reason. It's just something I've struggled with this whole year and in previous seasons," she said in front of a group of journalists. "It's something that I am addressing, but it's obviously not where it should be for this caliber of competition."
When one of the reporters pointed out that Gold was not "overweight," Gold thanked the journalist and then said, "It's a lean body sport, and it's just not what I have currently."
This was just one moment in a very difficult 2016-17 season for Gold. She first announced that she would take some time away from skating in September. At the time, she said she would "seek some professional help" because of "recent struggles on and off the ice." Later, she revealed those struggles to be anxiety, depression, and an eating disorder — all problems that come with a stigma attached, despite being so common.
After Gold's admission and the early retirement of Russian figure skating star Yulia Lipnitskaya after treatment for anorexia, other figure skating legends have admitted that eating disorders remain a problem in the sport. They have commended Gold and others for her bravery in openly admitting to everything that she's going through.
"I do think it's very brave for Yulia Lipnitskaya and Gracie Gold to be open about this," Johnny Weir, a two-time American figure skating Olympian, told Reuters. "Their telling about it will keep parents on guard, will keep coaches on guard."
Before her tough 2016-17 season, Gold won the bronze in the team event in Sochi. She also won gold at the 2014 and 2016 national championships, and placed fourth at two World Championships in 2015 and 2016. But she has since recognized that mental health is too important to ignore — and that by acknowledging it so publicly, she could turn out to be an inspiration not only for figure skating fans, but also people suffering in silence with mental health issues.