Jake Gyllenhaal's Tony Awards Snub Is Complicated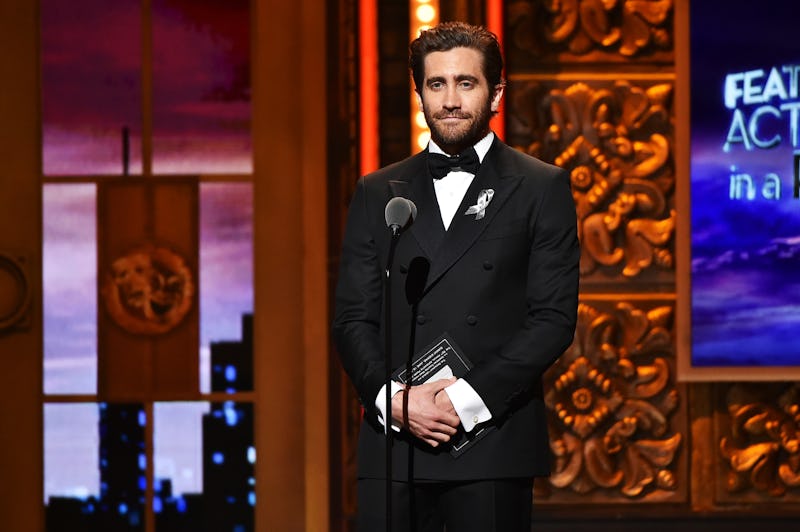 Theo Wargo/Getty Images Entertainment/Getty Images
The 2017 Tony Awards will be given out during a star-studded ceremony on June 11. As it does every season, Broadway lured some celebrities known more widely for their success in film. Jake Gyllenhaal earned rave reviews for his starring role in a revival of the Stephen Sondheim musical, Sunday In The Park With George. But Jake Gyllenhaal isn't nominated for a Tony this year. What's the deal? Well, it has to do with eligibility.
The show, which paired Jake Gyllenhaal and Annaleigh Ashford (Masters Of Sex) as painter George Seurat and his lover Dot, had a limited run that ended April 23. On the official website for the Tony Awards, the cut-off for nominations is listed as April 27. (Nominations were announced May 2.) In other words, the show hit the boards within the correct timeframe to receive a nomination. However, according to Broadway.com, Sunday In The Park With George withdrew from consideration for the 2017 Tony Awards entirely.
The same Broadway.com article also included a statement from producers for Sunday in the Park With George explaining their decision to remove themselves from consideration entirely. "With a season so full of tremendous, soon-to-be long-running new musicals and revivals, the producers feel this extremely limited, special run of Sunday stands most appropriately outside of any awards competition," the statement reads. "The production is nevertheless proud to be part of such a landmark Broadway season."
It is an interesting move for the show, since the Tony Awards are a major night for Broadway. Even with a show like Sunday In The Park With George, which has been closed for a few months, Tony nominations are acknowledgement of the hard work that goes into putting on a production, both on the cast and crew sides. It could also be argued that audiences are deprived from what Hedy Weiss from Chicago Sun Times felt would have been a good-for-TV Best Actor showdown between Gyllenhaal and Dear Evan Hansen's Ben Platt.
There are other factors involved besides a producing team's desire to be in the running. To be considered for a Tony nomination, a show has to pay. In an article for the New York Post, Michael Riedel pointed out that for a limited series run like Sunday to provide about 1600 Tony voter tickets would have put a serious dent in their box office take. He estimated that it could have cost $300,000, and the show was already set to close before the nominations even came out.
If fans are afraid Gyllenhaal has hurt feelings over losing a nomination, they needn't worry. In an interview with The Hollywood Reporter discussing the show's Tony ineligibility, Jake Gyllenhaal said, "The most important thing for us to get people here to see this show regardless, and to make sure people keep coming back to Broadway. There's no reason to usurp any of that; we should all be a community, supporting each other. It's just exciting to be doing this for this amount of time."
Without the Nocturnal Animals actor in the running, the Best Actor in Tony race comes down to Christian Borle in Falsettos, Josh Groban in Natasha, Pierre & The Great Comet Of 1812, Andy Karl in Groundhog Day, David Hyde Pierce in Hello, Dolly!, and Platt in Dear Evan Hansen.
While Jake Gyllenhaal's performance may be missed during 71st Annual Tony Awards, the talent pool for this year's nominations will make for an interesting night.