This Is Why Kenya Moore Isn't on 'RHOA' This Season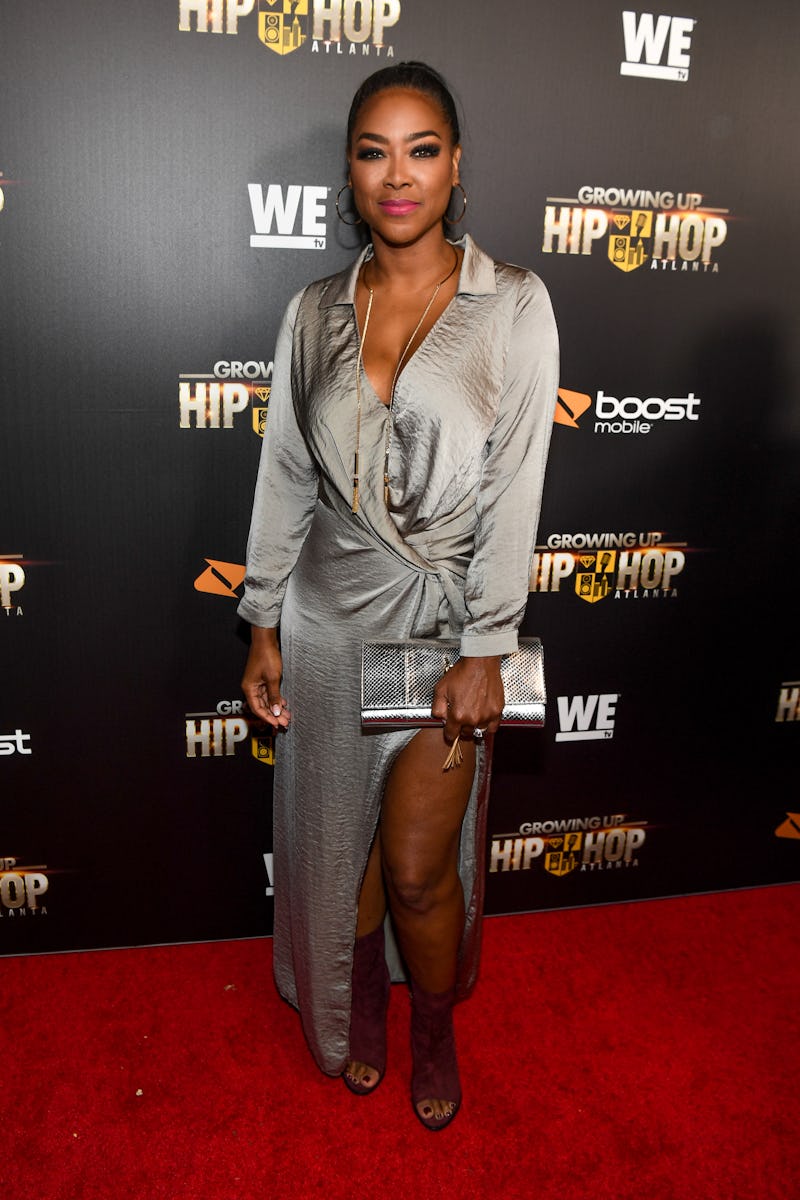 Paras Griffin/Getty Images Entertainment/Getty Images
It's hard to believe that The Real Housewives of Atlanta Season 11 has already started airing on Bravo. And although Nene Leakes, Cynthia Bailey, Kandi Burruss, and Porsha Williams are returning, there's been a significant cast change. Former housewife Kenya Moore won't be on RHOA Season 11 due to a disagreement over the contract.
That said, the couple is experiencing a big life change, and it's probably better that they have time to themselves off camera and able to live their lives on their own terms. Moore became pregnant earlier this year, according to another People article, which she announced back in April on a RHOA Season 10 reunion episode. "We will definitely be welcoming a boy or girl in late this year," she said. "Oh my God, I said that! I don't want to talk about the details because I'm still very nervous about everything so I want to get past a safe place."
This is the 47-year-old's first child, according to an interview she did with People, and she became pregnant after undergoing IVF. "I don't have a horror story," Moore said. "It's weird because you hear other people's troubles with the injections and the hormones. And for me, it was a pretty simple process." She spoke frankly about undergoing in vitro, saying that she was initially afraid of the needles but soon became accustomed to them.
Moore gave birth to her daughter, Brooklyn, on Nov. 4, per Bravo. However, there were some complications. The former housewife tested positive for preeclampsia, she revealed on Instagram. According to Mayo Clinic, preeclampsia is a pregnancy complication caused by high blood pressure. Per the same report, black women are at higher risk of developing this condition, as are women over 40. "I gained 17 lbs in ONE week due to severe swelling and water retention, high blood pressure, and excess protein in urine," Moore wrote on Instagram. "This is NOT normal! I took more tests. Baby is fine but if they come back higher #babydaly will have to come same day."
In another Instagram from Nov. 8, Moore revealed that she can't walk yet, post-delivery. "#brooklyndaly came early and the reality is it will take weeks for me to be able to walk without the excruciating pain of a C section and to heal from the multiple cuts to my uterus," she wrote in the caption. The post itself is a relatable AF video of her riding an electric wheelchair around Target to buy some baby supplies.
So, while the former Miss USA winner may not be on this season of RHOA, it sounds like she's got her hands full as a new mom. As for what this season will look like, they're welcoming newcomer Shamari DeVoe, whose husband Ronnie DeVoe was in New Edition. And although Eva Marcille was a friend on Season 10, she joins RHOA Season 11 as a fellow housewife. What's more, the Season 11 trailer shows Eva prepping for her upcoming wedding while Nene's husband, Greg, battles cancer. And that's all just from the trailer. So the show will definitely have a enough drama to keep fans entertained.
In the meantime, diehard RHOA fans can still follow Moore on Instagram and see how she's doing in her new role as first-time mom. It's probably just as fun as watching a RHOA marathon, too.