The Murder of a Muslim Teenager Isn't Being Treated As A Hate Crime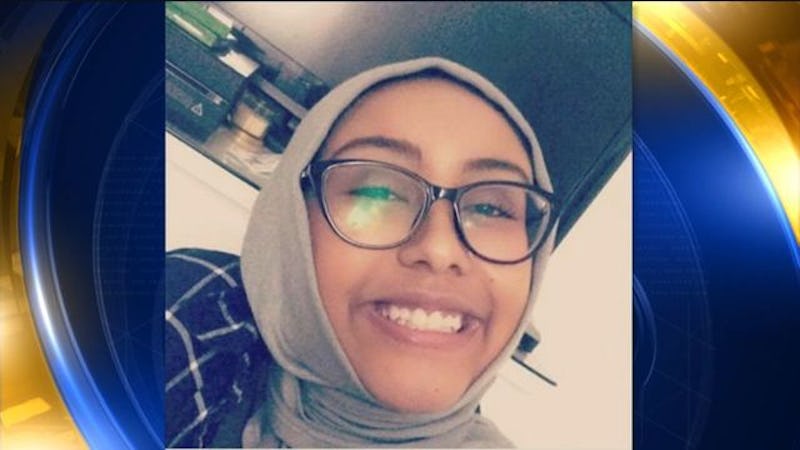 Fox 5 DC
According to a Fairfax County Police Department spokesperson, the investigation into the slaying of a 17-year-old girl in Virginia is not being investigated as a hate crime at this time. "Based on the information that detectives have, there's no indication that this was a hate or bias crime," FCPD spokesperson Don Gotthardt tells Bustle of the investigation into the murder allegedly committed by a 22-year-old man. Gotthardt declined to identify the victim, but media reports have named the deceased teenage girl as Nabra Hassanen.
Early Sunday morning, after she attended a Dulles-area mosque's midnight Ramadan prayers, Hassanen and her friends were confronted by a motorist as they walked back to the mosque from a nearby IHOP. The motorist confronted the group and all but one — Hassanen — ran back to the mosque. Remains believed to belong to the girl were later found in a nearby pond.
After reports spread that the Hassanen's murder may be under investigation as a hate crime, the FCPD tweeted, "We are NOT investigating this murder as a hate crime"; however, Gotthardt says that if, as the investigation progresses, the murder does seem to have been motivated by bias, detectives will "exhaust all investigative leads." Under the Hate Crimes Prevention Act of 2009, hate crimes are defined as "crimes in which the perpetrators acted based on a bias against the victim's race, color, religion, or national origin," as well as "those based on biases of actual or perceived sexual orientation, gender identity, disability, or gender," according to the Federal Bureau of Investigation's website.
According to the Southern Poverty Law Center's 2016 hate census, last year saw a dramatic increase in the number of anti-Muslim hate groups in the U.S: from 34 in 2015 to 101 in 2016. Overall, the SPLC report notes, the number of hate groups in the U.S. rose from 892 in 2015 to 917 in 2016. The Pew Center's analysis of the FBI's anti-Muslim hate crime statistics showed that in 2015, American Muslims faced the same level of bias-related violence as they did in the post-9/11 era.
Members of the Fairfax County Muslim community said they were taken aback by the killing. "We are devastated and heartbroken as our community undergoes and processes this traumatic event," Rizwan Jaka, chairman of the All Dulles Area Muslim Society, the mosque where Hassenen attended prayers, said in a statement. "It is a time for us to come together to pray and care for our youth."