FA President Prince William Hasn't Been At The World Cup & This Is The Reason Why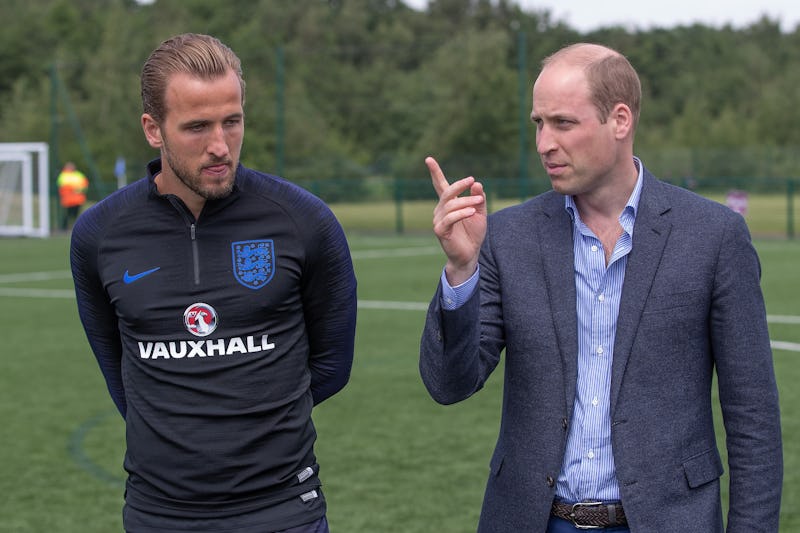 WPA Pool/Getty Images Sport/Getty Images
The Royal Family are usually a mainstay at the World Cup. Prince William and Prince Harry both attended England's group match against Algeria at the 2010 World Cup in South Africa, while Prince Harry made the trip to Rio to watch England's match against Costa Rica in the 2014 World Cup. But things are different for this year's competition in Russia. One royal in particular is known for being a major football fan, not to mention president of the Football Association, so why is Prince William not at the World Cup?
He's been tweeting his support of the team from the Kensington Palace account, writing after their penalty shoot out win against Colombia: "I couldn't be prouder of @england - a victory in a penalty shootout! You have well and truly earned your place in the final eight of the #worldcup and you should know the whole country is right behind you for Saturday! Come on England! W." As Kensington Palace shared, he also watched England's group stage game against Panama with the Crown Prince of Jordan during a visit to Egypt and refrained from checking the score all day, so as to keep it a surprise.
But despite his devotion to the beautiful game, it's unlikely England fans will see him in the stands in Moscow, and it turns out the reason is political. As Theresa May announced on March 14 in Parliament, the UK government is boycotting the tournament due to its ongoing investigation into Russian involvement in the poisoning of former Russian agent Sergei Skripal, which took place in Salisbury earlier this year.
In her statement, now published in full on Gov.uk, May announced that "the UK government concluded it was highly likely that Russia was responsible for this reckless and despicable act" against Skripal and his daughter, Yulia, after the Russian state declined to provide an explanation as to how what the BBC called a "Russian-made nerve agent" was used in the attack. In outlining the response of her government, which involved the expulsion of 23 diplomats, she announced that "there will be no attendance by Ministers — or indeed Members of the Royal Family — at this Summer's World Cup in Russia."
"Many of us looked at a post-Soviet Russia with hope. We wanted a better relationship and it is tragic that President Putin has chosen to act in this way," May said in her statement. Russia has continued to deny its involvement in the attack.
The position of the government was later reiterated by Foreign Affairs Committee Chairman Tom Tugendhat, who confirmed the stance with Sky News in mid June. "That's right, including the Royal Family," he said of the ongoing decision to ban British officials from attending. "I think that's right because actually, that would be a political endorsement of the Putin regime."
The Royal Family has to remain neutral when it comes to UK party politics and they are not allowed to vote or express political opinions in public. Although avoiding the tournament might seem like a political statement, it's in line with their role in supporting the British government. And while I'm sure Prince William will be feeling a little disappointed not to have the opportunity to see his team play in person, there's always Wimbledon, which kicked off on Monday and is always a favourite among the Royals and their celeb pals. Or, you know, he could just watch it down the pub like the rest of us.
As for the other royals, judging by social media, he's not the only member of the family who's getting stuck in to this year's tournament. Princess Eugenie shared a hilarious Friends meme on her Instagram account featuring Baddiel, Skinner & Lightning Seeds' legendary "Three Lions (Football's Coming Home)" song in celebration of England's victory against Colombia. Here's hoping England continue their winning streak so we hear more from the young royals.