Ivanka Trump's Gender Equality Speech In Saudi Arabia Missed A Crucial Point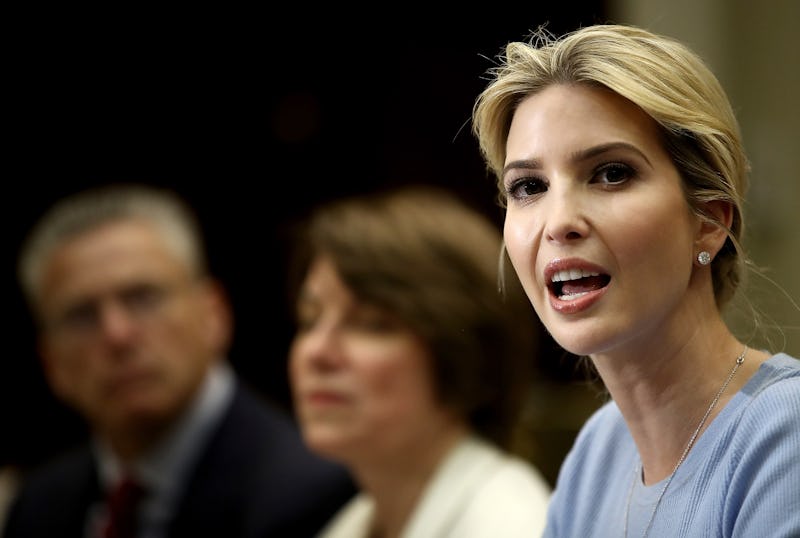 Win McNamee/Getty Images News/Getty Images
On Sunday, Ivanka Trump delivered a speech on women's empowerment and gender equality in Riyadh, Saudi Arabia, while her father, President Donald Trump, met with Arab leaders. Surrounded by a retinue of high-ranking women, including Princess Reema bint Bandar of Saudi Arabia, Ivanka emphasized involving more women in the Saudi workforce and praised recent efforts from the Saudi regime to bolster gender equality. Though she also highlighted the need to do more, some Saudi activists criticized Ivanka's female empowerment speech for a compelling reason.
"Saudi Arabia's progress, especially in recent years, is very encouraging but there's still a lot of work to be done and freedoms and opportunities to continue to fight for," Ivanka said. Certain audience members, such as Shaima Hamidaddin of Misk Foundation, a center focused on advancing technological sciences in Saudi Arabia, praised Ivanka's message. For example she called Ivanka "fabulous," and applauded female professionals in Saudi Arabia in a tweet. However, The Washington Post noted that others thought Ivanka's speech missed the point when you consider the reality many Saudi Arabian women — especially those not in the audience — face each day.
The country — where women continue to remain barred from driving and going out without a guardian is prohibited — has been a focal point for many human rights organizations. Although a recent decree from the King Salman relaxes the repressive requirement for a male guardian, the order still does not allow women to travel out of the country on their own.
All too frequently, women's empowerment speeches in the country neglect the need to speak with or represent Saudi women themselves. Since Saudi women are most immediately and intimately aware of their status in the country, it only makes sense to listen to them instead of limiting one's reach to a narrow, privileged segment of Saudi society.
Activist Loujain al Hathloul lamented the power imbalance she perceived in the audience. Sitting in that audience, she noted, was a matter of social privilege. Hathloul asked whether the women's presence and contribution at such an event reached women who weren't able to attend. "Is their contribution in such events helpful to us Saudi women in general, not princesses or business owners or rich women? Does it actually help us? I doubt it," Hathloul said.
Another activist Aziza al Yousef noted that all the women Ivanka convened with "have a guardian." Yousef is one of the Saudi women working on undoing the guardianship system within Saudi society. Yousef told The Washington Post, "If Ivanka is interested in women empowerment and human rights, she should see activists, and not just officials."
Like Yousef, Hathloul described male guardianship as "the biggest wall in front of Saudi women" and believed that the women who were allowed to meet with Ivanka had done "something to reach that level, they worked for it." She went on to ask, "[W]hat are they doing in real life to change the laws that are restricting women from actually developing themselves?"
To be fair, Ivanka's speech is inspirational as far as the general sentiment is concerned. Yes, equality is a fundamental human right and transgressions on that front should never be tolerated. But the speech falls slightly flat in a country where a power chasm between men and women decides who gets to sit in front of Ivanka and listen to her, and who doesn't. The women present in the audience, like Hathloul and Yousef noted, are women who were allowed by their male guardians to be there.