Why Jacksonville, Florida, Was Ranked The Worst City For Reproductive Freedom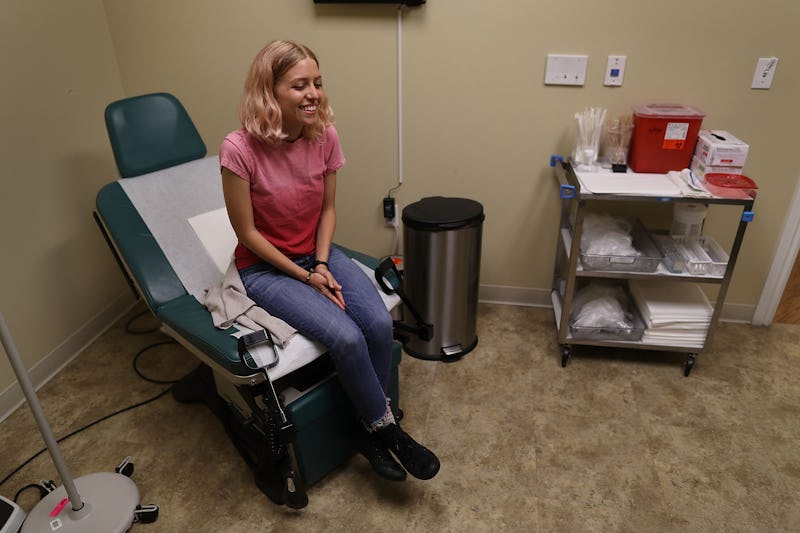 Joe Raedle/Getty Images News/Getty Images
On Wednesday, the National Institute for Reproductive Health released a landmark report on the state of reproductive rights in America's cities. In addition to identifying the cities with the most progressive policies on reproductive health, the institute also determined that Jacksonville, Florida has the worst reproductive health policies in the country.
"Certainly, the score that Jacksonville has is one that we hope they will work to improve, and that's one of the reasons we did this report," NIRH Director Andrea Miller tells Bustle. But why exactly is the state of reproductive rights so dire in Jacksonville, and what steps might that city take to change?
To come up with its rankings, the NIRH identified 37 public policies that concern reproductive health, then determined which of those policies were active in which cities. In most cases, the policies in question were those that promote reproductive health and freedom: paid family leave, public funding for contraception, lenient abortion laws, and so on. In a few cases, though, the NIRH also looked at policies that it believes inhibit reproductive health, such as abstinence-only education or heavy regulations on abortion clinics.
Each of these policies was grouped into one of six categories: Protecting Abortion Clinic Access, Funding and Coverage for Reproductive Health Care, Supporting Young People, Supporting Families, Advancing Inclusive Policies, and Taking a Stand. The policy was then assigned a point. Researchers added up the total number of points in each city, and ranked them on a .5 to 4.5 star scale, with more stars indicating a higher level of reproductive freedom in the city. Jacksonville was the only locality to receive a one-star ranking — lower than any other of the 39 cities considered, including Louisville, Kentucky; St. Louis, Missouri; and Memphis, Tennessee.
Why Cities?
There are several reasons why the NIRH looked at city policies, rather than state or federal ones. In addition to the fact that local policies often play a much bigger role than federal ones in shaping Americans' lives, enacting changes at the city level can be an effective way for localities to "break free" of state or federal policies with which they disagree.
"Cities can be real engines of change and spaces for innovation," Miller tells Bustle. "We've been really heartened to see that even at a time when the federal government is exceedingly hostile to reproductive health and rights, and access to services ... there are many cities that are doing very positive things, and they can do very positive things."
Miller cited Cleveland and Columbus, which have enacted progressive reproductive policies despite being in a state run by an anti-abortion Republican governor. So far, however, Jacksonville has not been one of those cities.
Jacksonville Laws
Looking at Jacksonville's scorecard, it's not hard to see why the city ranks so low for reproductive freedom. With regard to abortion, the city doesn't have any so-called "bubble laws" — ordinances aimed at keeping abortion clinics and the physicians, patients and staff who enter them safe from harassment. In fact, the city offers no protections whatsoever for abortion clinics, according to the NIRH, and insurance plans for city employees don't cover abortion.
Jacksonville does, however, have plenty of "crisis pregnancy centers" (CPCs) — that is, counseling centers aimed at convincing pregnant women not to have abortions. CPCs have drawn controversy because, although some of them openly proclaim that they are pro-life, some of them don't. A handful of cities regulate CPCs to ensure that pregnant women aren't deceived about what kind of services they offer; Jacksonville, however, is not one of them.
In Jacksonville, no public funds are allocated to family planning services or STI prevention. There are no supportive breastfeeding policies, public schools teach abstinence-only education, and there's no paid family leave — though the city's Republican mayor recently proposed a six-week paid leave for city employees. The city offers few health resources to undocumented immigrants, and it's legal for both the city and private employers to discriminate against workers based on their reproductive decisions.
Bustle has reached out to Jacksonville Mayor Lenny Curry and the City of Jacksonville for comment on the state of reproductive rights in the area.
How Did It Get This Way?
It's hard to pin down any one reason why Jacksonville ended up this way. One obvious suspect is party makeup: At the legislative level, Jacksonville is dominated by the GOP. Republicans hold 12 of 19 seats on the Jacksonville City Council. To get some perspective, this would be analogous to one party controlling 63 seats in the U.S. Senate, which hasn't happened since 1969. The city has a Republican mayor as well, generally votes for Republicans in elections (though not overwhelmingly so), and is located in a state with a Republican governor.
However, the policies that matter most to reproductive health aren't always enacted legislatively. In some cases, city agencies have great authority to enact policies that promote reproductive health — or inhibit it.
"You may be able to have a Department of Education-level decision ensuring that there is support for pregnant parenting youth, so that young people who do become pregnant can continue in school, because that's such a critical element for their family future," Miller tells Bustle. "Agencies can make determinations to fund innovative programs, to expand access to contraceptives, or to enhance the services available at the family planning clinic-level."
It's Not All Bad
Despite all of this, the NIRH did applaud Jacksonville for one thing: passing anti-discrimination protections for LGBTQ residents in February. Miller says that this is reason to be optimistic that the city can improve its overall record on reproductive health and move in a more progressive direction, noting that notes that the treatment one receives based on their sexuality and gender identity "is intimately linked to whether and how you can make decisions about having a family or not, and in what ways to do that."
"That was really an historic move by Jacksonville, and it shows that this kind of progress is possible," Miller tells Bustle. "The fact that they've done it means that they can do more. And that gives us real hope."
How To Get Better
So, how might cities like Jacksonville improve their policies on reproductive health? Miller says that citizen activism is key.
"In most of the cases, the kind of polices that you see in place — specifically the kind that have gone through city government on the legislative side — have involved a great deal of advocacy and engagement between advocates and community members and lawmakers," she says. And this is one of the reasons why it may be best for activists to focus their efforts on city governments.
"The fact is, one of the unique characteristics of city government is that it's the government that individuals often have the greatest access to. You may go to the grocery store with, have your kid in the same daycare, or run into someone in the park who's on your city council — or who's your mayor," Miller says. "Those are tremendous opportunities to engage and help make change."