Why Joe Biden & Bill Clinton Are Putting Your Favorite Social Media Sites On Blast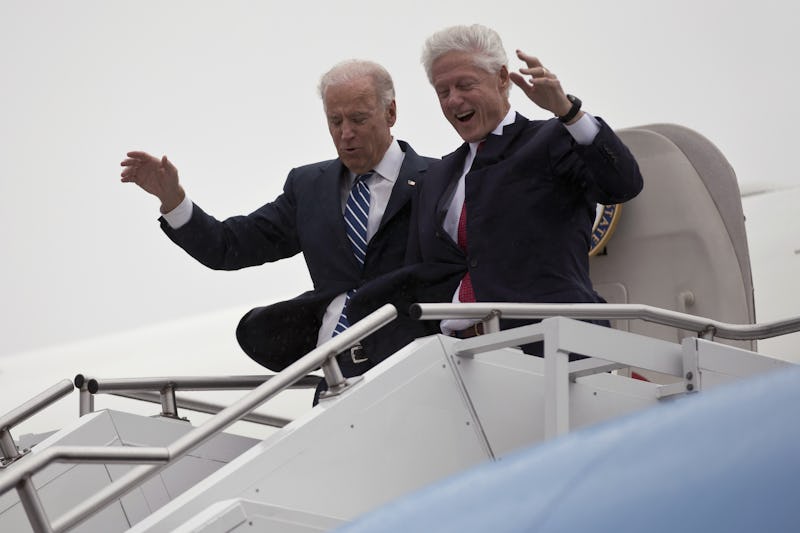 Matt Rourke/AP/REX/Shutterstock
The political implications of social media sites like Twitter and Facebook have been a hot topic throughout the last year, particularly in the aftermath of the 2016 presidential election. And it's clear that at least two previous Democratic occupants of the executive branch have that same topic on their minds ― former Democratic president and vice president Bill Clinton and Joe Biden are criticizing social media for the impact it can have on national and international politics.
Clinton and Biden each authored op-eds that ran Tuesday, in The New York Times and Foreign Affairs respectively. Both men took the opportunity to comment on what they consider to be new challenges and risks that massive social media networks pose to American politics and government, one year after a 2016 election season in which the role of Russian trolls, bots, and conspiracy theories on platforms like Facebook and Twitter played a highly visible role.
First, in The New York Times, mainly writing about the Supreme Court's upholding of the Trump administration's travel ban, Clinton came out swinging in forceful terms, characterizing social media networks as "fever swamps," and specifically referencing Twitter, Facebook, and Snapchat.
All too often, tribalism based on race, religion, sexual identity and place of birth has replaced inclusive nationalism, in which you can be proud of your tribe and still embrace the larger American community. And too often resentment conquers reason, anger blinds us to answers and sanctimony passes for authenticity. These trends are fueled by our Snapchat, Twitter and Facebook worlds ... Too many social media sites are fever swamps of extremist foreign and domestic invaders.
Clinton continued, decrying the erosion of trust that comes with viral misinformation can "offset all the benefits of our interconnectedness."
Biden, whose piece will run in the January 2018 issue of Foreign Affairs, had a similar point that's nowhere near as scathing as Clinton's words. Biden argues that social media companies need to take more responsibility for their impact, and embrace more transparency about where political ads come from and who funds them.
Social media companies such as Twitter, Facebook, and Google must provide greater transparency about who funds the political advertisements on their platforms, work harder to eliminate automated and bot-generated content, and invest in the technological and human resources to root out fake foreign accounts that spread disinformation.
One of the major stories throughout the 2016 presidential election was the influence campaign reportedly mounted by the Russian government, an effort which multiple U.S. intelligence agencies have concluded was undertaken to benefit then-candidate and current president Donald Trump. Trump has denied any allegation of collusion with the Russians, and moreover has sometimes insisted he wasn't really helped by their efforts.
Twitter bots were a particular source of pro-Trump rhetoric, propaganda, and sometimes wholly false stories during the election season, as detailed by NPR. It's nothing new for internet misinformation to go viral, take hold, and influence people's opinions, of course ― that's one of the undeniable pitfalls of the rapid-fire, easy availability of information in the digital age.
But thanks to Trump ultimately winning the presidency, and the glaring spotlight that's been shone on alleged Russian influence and interference ever since, it's not hard to see why both Biden and Clinton would be preoccupied with the subject. Several major tech companies have testified on Capitol Hill on this subject recently, including Facebook, but CEO Mark Zuckerberg and COO Sheryl Sandberg opted not to appear, instead sending their legal counsel to answer questions.
Disclosure: Bill Clinton's son-in-law Marc Mezvinsky joined Social Capital, an investor in Bustle Digital Group, in mid 2017 and joined the Board of Bustle Digital Group in early 2018.