Kathy Griffin's Anti-Trump Photoshoot Received Widespread Backlash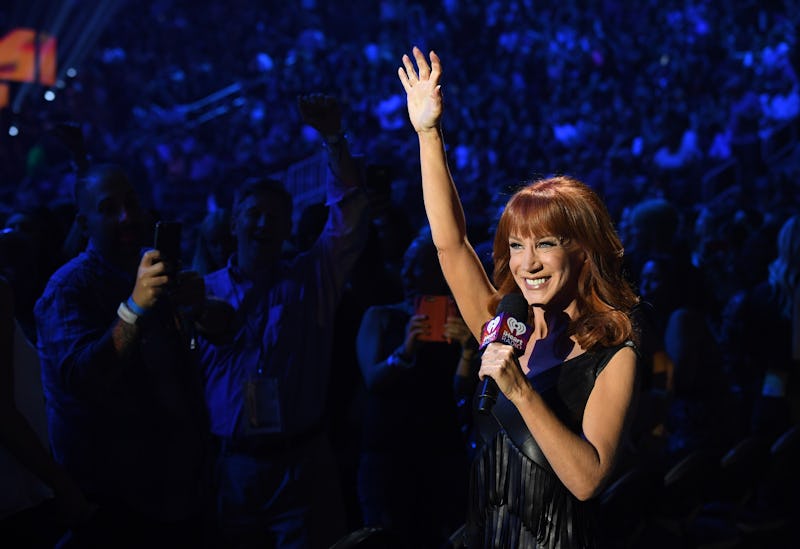 Kevin Winter/Getty Images Entertainment/Getty Images
Poking fun at the Trump administration has become a pastime for many Americans. The comedy comes in part from sources like Saturday Night Live and the multitude of late-night talk shows, but one comedian might have just crossed an undrawn line. On Tuesday, Kathy Griffin's photo shoot with a bloody Trump head drew harsh criticisms from both sides of the aisle for the violence it seemed to portray. Update: Griffin has since removed the photo and apologized on Instagram. She writes, "I am sorry. I went too far. I was wrong."
Earlier: TMZ was reportedly the first to publish the controversial photos, which show Griffin, the 56-year-old comedian, holding what appears to be a model head of President Trump covered in blood. Photographer Tyler Shields took the photos. Seemingly acknowledging the photos, Shields tweeted a link to the TMZ story on Tuesday with the caption, "Friend text me this 'I hear Tijuana is beautiful this time of year.'"
Meanwhile, Griffin also acknowledged the photos on her own Twitter account. Her tweets included a video clip of the photo shoot, in which she raises the bloodied Trump head for the camera to see. Likely in response to the backlash she received, Griffin clarified that she doesn't "condone any violence," and that she was "merely mocking the mocker in chief." Still, from a glimpse of the photos, it's clear why they sparked such a debate online, with both Trump's son Donald Jr. and Chelsea Clinton condemning them.
It's one thing to oppose a president, but it's another to publicly show a symbol of violence against him. That's the line that Griffin and Shields may have crossed with their photo shoot. Griffin has been outspoken about her distaste for Trump before, tweeting that he should resign, among other things.
Surely, she's not alone: On Tuesday, Trump's approval rating sat at 41 percent, according to Gallup, with most of the country disapproving of his work. Still, the gory photo shoot didn't sit well with many Americans.
Crude scare tactics like the one employed by Griffin can advance the divisive discourse — and perhaps even culture — that has run through the country since the most recent presidential election. On the right, incidents like Trump himself inciting violence at a political rally have been similarly criticized. That's not to say Griffin incited violence, but rather, we should condemn vicious attacks from both sides of the spectrum that have fed into the polarized political atmosphere.
Ultimately, healthy debate should exist within a democracy, but as with most things, there is a line — and Griffin may have just found it.