Kazuo Ishiguro's Nobel Prize Win Was A Huge Surprise — But Not Because He Doesn't Deserve It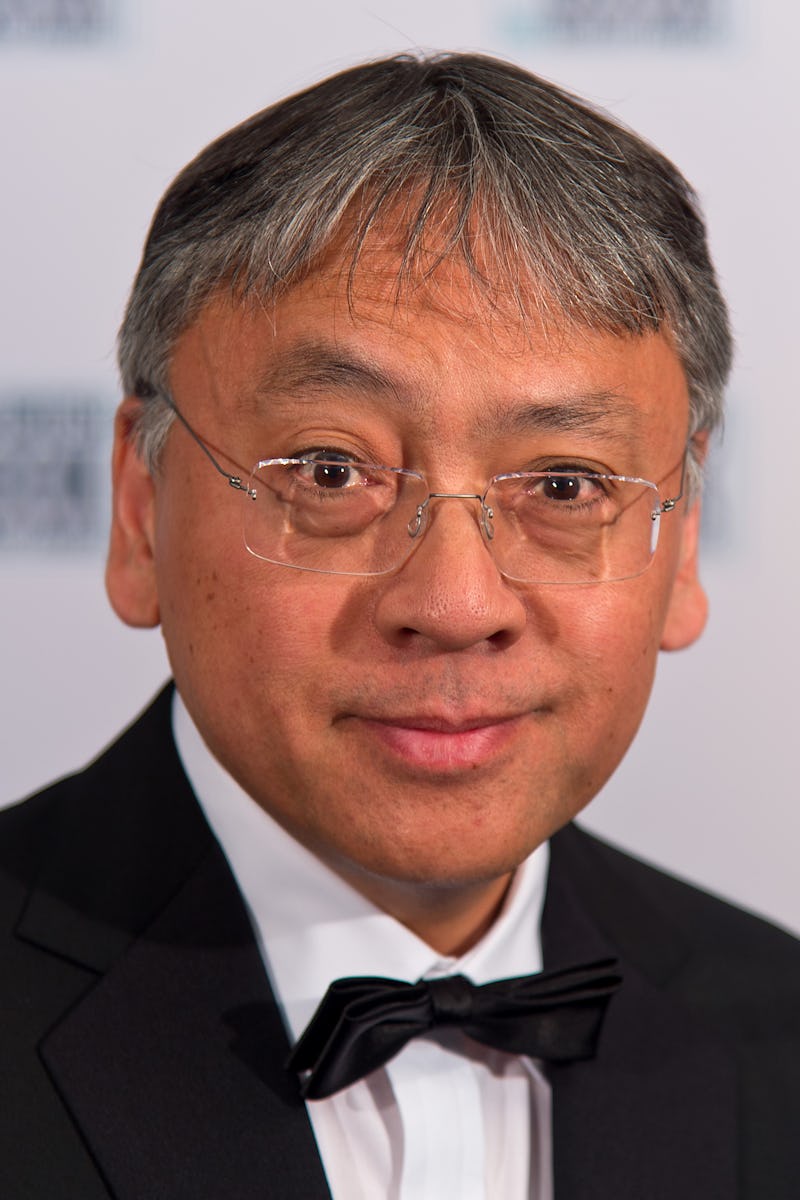 Ben A. Pruchnie/Getty Images Entertainment/Getty Images
On Thursday morning, the Swedish Academy announced that Kazuo Ishiguro won the 2017 Nobel Prize for Literature — a prize pick that might have some readers, especially those who follow the yearly Nobel Prize awarding religiously — surprised. The Swedish Academy, which has awarded the Nobel Prize in Literature 110 times to 114 Nobel Laureates since 1901, is notorious for selecting authors who don't write in English and have little-to-no fanbase in English-speaking (and reading) countries. As Alex Shephard wrote in New Republic, "The Nobel Prize in Literature is often awarded to a writer that most people, even most well-read people, have never heard of, and yet there is enormous interest in the prize." However, recent years have seen a change in the trend.
Perhaps no Noble Laureate pick was more shocking to book-lovers than last year's choice of iconic American singer and songwriter Bob Dylan — who expressed shock himself at being chosen for what many consider the most prestigious prize in literature. But four of the past five years have seen the Nobel Prize for Literature awarded to writers who, if not writing predominantly in English, have a large body of translated work and a wide readership in English-language countries — the most recent being Ishiguro.
If you're unfamiliar with Ishiguro's name, the British novelist, screenwriter, and short story writer who was born in in Nagasaki, Japan in 1954, before moving to England with his family at five-years-old, is best known for the novels Never Let Me Go, The Remains of the Day, and his most recent book The Buried Giant. All-in-all Ishiguro has written seven novels, four of which have enjoyed Man Booker Prize nominations and one Man Booker Prize win, for The Remains of the Day in 1989. His other novels include A Pale View of Hills, An Artist of the Floating World, The Unconsoled, and When We Were Orphans. If you recognize many of these novels, you're not alone. Many readers were surprised this morning to learn that the Nobel Prize winner was an author they were not only familiar with, but had read — and enjoyed! — the work of. Young adult author Patrick Ness probably summed it up best in his tweet:
Though many have come to love the Nobel Prize precisely because it is often awarded to authors who are lesser-known in the United States and other English speaking countries, it is lovely to see an author of Ishiguro's acclaim and popularity win the prize. After all, literature is meant to be enjoyed by all — and it's wonderful to see an author who has spoken to so many people in his career win such a prestigious honor.
Sara Danius, member of the Swedish Academy, who announced Ishiguro's win Thursday morning, said in an interview that she hopes the world will be pleased by the Academy's 2017 pick. Now, in light of Ishiguro's Nobel Prize win, readers across the globe will certainly be familiarizing themselves with his work even more.