Why Kendall Jenner Thinks Kylie Having Stormi Has Changed Their Relationship, Too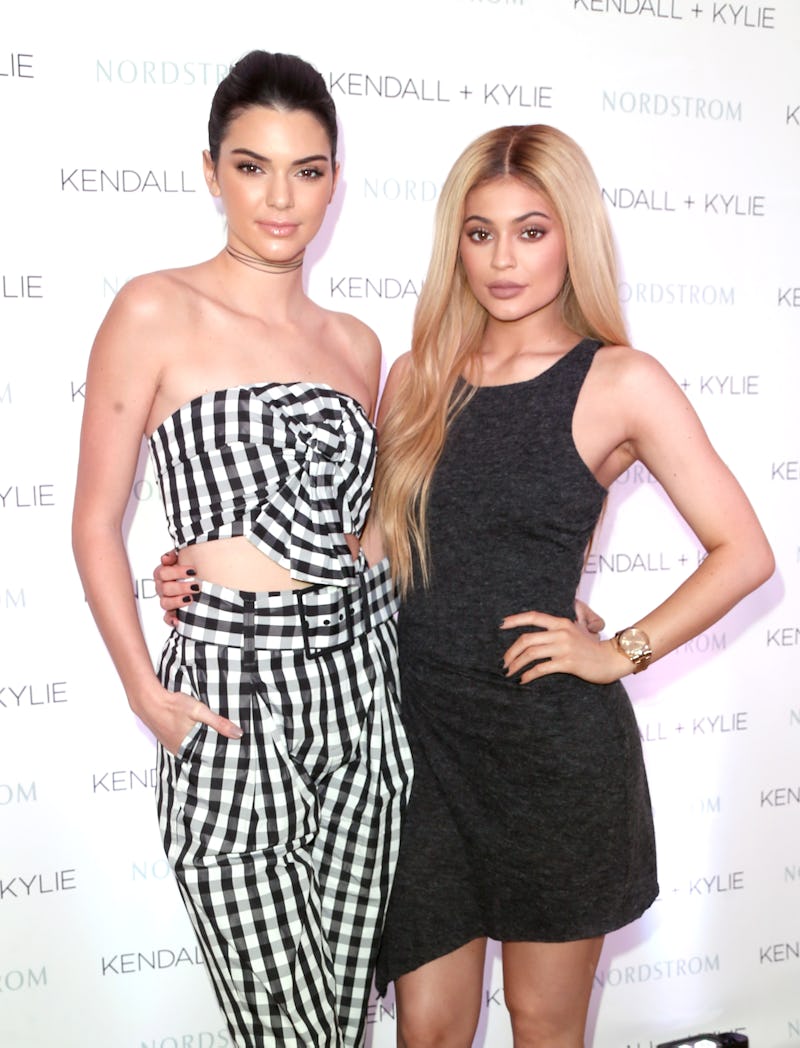 Frederick M. Brown/Getty Images Entertainment/Getty Images
After watching them grow up on Keeping Up With The Kardashians, it's really cool to see how far Kendall and Kylie Jenner have come now that they're both adults. And it sounds like their relationship as sisters is only getting better. In a new interview, Kendall opened up about how her relationship with Kylie has changed since Stormi was born, and it sounds like Kylie becoming a mom has been positive for the entire family.
Kendall shared her thoughts while talking to Lana Del Rey over the phone for Elle — which is awesome in itself — and according to her, it has been "weird" to see her younger sister become a mom before she did herself. Kylie's pregnancy was definitely shocking to fans, too, but if you ask Kendall, it ended up being the best kind of surprise.
"It's obviously a bit weird that your little sister is having a baby before you. I didn't expect it to happen like this," she said. "But it's beautiful."
She also admitted that although she and Kylie have always been close, her niece being born has made them even closer, mostly because she says it seems to have softened Kylie up a bit.
"It's brought us closer together," Kendall said. "We've always been very close, but we would butt heads all the time. This has made her a bit more loving toward me."
It's funny that Kendall talks about Kylie becoming more loving toward her, since every relationship is a two-way street, and it wouldn't be surprising if Kendall changed a little with the addition of Stormi, too. But that's so typical of how sisters work, and no relationship is perfect.
Although during much of what we've seen on KUWTK Kendall and Kylie have been inseparable, fans have also seen them fight — and if you have a sister, you can probably relate to their smackdowns. There's the time they fought over Kendall borrowing Kylie's dress for dinner before the ESPYs back in 2015, and when Kylie was jealous of Kendall's modeling career when they were younger, as well as various other sisterly spats over the years. There have been more recent fights, too, like the one Kendall told Del Rey about in the same interview.
Apparently, there was a major tiff when Kendall first started spending a lot of time with Hailey Baldwin, who's now friends with both Kendall and Kylie. At first, though, she was more Kylie's friend, until Kendall "stole" her away.
Kendall said:
"She was actually best friends with Kylie, and I was good friends with her cousin Ireland. Hailey lived in New York, and whenever we were there, we would hang out with her ... [I] stole Hailey from Kylie. From then on, she was my homie. At first, Kylie was mad; I had to bring them back together and be like, 'No, it's okay, guys.' But it's all good; that's our love story."
This is just more proof that all sisters, even the ones who seem super close on reality TV, fight — especially sisters who also seem to double as each other's best friend — and it sounds like things are better between them than ever now that Stormi's here.
Over the last couple of months, their family's dynamic has changed dramatically now that there are three new Kardashian-Jenner babies in the mix, so it'll be interesting to see how Kendall and Kylie interact on future seasons of KUWTK.