Why Pride Marches Have Turned Into Resistance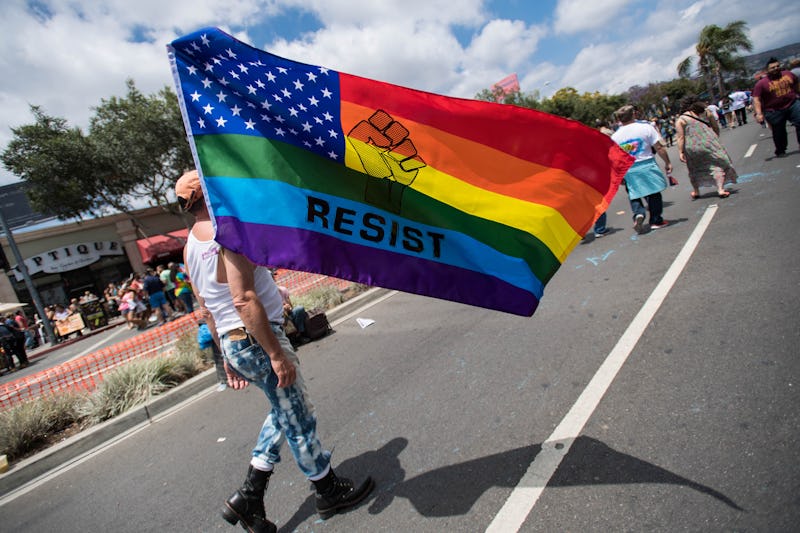 Emma McIntyre/Getty Images Entertainment/Getty Images
Since New York City's first Christopher Street Liberation Day in 1970, LGBTQ pride parades have increasingly become annual mainstays of many American cities. But for many activists around the country, with a presidential administration seen as hostile to LGBTQ rights, they want not just a celebration but a show of resistance in 2017. That's why many of the displays that would have been parades are recast as defiant marches this year.
Case in point: Los Angeles' ResistMarch. After the Women's March, Los Angeles LGBTQ activist Brian Pendleton suggested on Facebook that this year's pride march be a protest, a repudiation of the Trump administration's agenda that he felt would hurt LGBTQ Americans. Six months later, tens of thousands of Angelinos showed up for it on June 11
"The premise of pride has always been rooted in political resistance and civil rights," says Stephen Macias, a spokesperson for the Los Angeles ResistMarch. "That's one of the things that's been lost in the celebrations and the floats and the enthusiasm we have as we come to celebrate every year."
Macias hearkens back to that first parade in 1970, which was started after the Stonewall riots, a signature moment in the history of gay rights. That year, in addition to the New York march after Stonewall, Los Angeles had a march in solidarity. "The march that we had, that started around Hollywood and Highland, was indeed the place where the very first march was held in 1970," Macias says. "That march was not a parade. That march was a protest to being abused by our police department, to having our civil liberties compromised as Los Angeleans [sic], and to having really our basic quality of life jeopardized."
Even with the notable gains since the 1970s, and recent progress on issues like marriage equality and Don't Ask Don't Tell, many activists across the country see the current moment as reminiscent of the old fight for LGBTQ rights, before the country warmed to them.
"Pride feels different this year," Cathy Renna, a spokesperson for Capital Pride, Washington D.C.'s LGBTQ march, and an attendee of pride marches for over 25 years, tells Bustle.
After feeling a sense of support from the Obama administration, the community doesn't feel it can rely on the White House the same way. "We've just spent eight years of time where we saw progress, and we had hope. And we thought that with several mainstream issue hurdles, like the repeal of Don't Ask Don't Tell and marriage equality, successfully dealt with," Renna explains, the White House would only be "more supportive of the community." Then, Election Day happened, and the community knew it would be facing Trump.
"Basically, with the election results, we saw a huge brick wall thrown up in front of us, and are now seeing attacks," she says. "I have not felt a struggle like this since the Reagan years."
The Washington D.C. march last week became yet another gathering for activists around the country to swarm to the capital and protest Trump, just like the Women's March, the Science March, and the March for Truth, among others. In addition to the usual pride parade on Saturday, there was an additional protest on Sunday, and an air of activism around the proceedings. Renna estimated the turnout as close to 200,000 people.
For marchers, the current political situation not only focuses LGBTQ activism, but it expands it. "I think there's a realization by a lot of groups now that so many groups are being attacked," Richard Pfeiffer, a coordinator for Pride Chicago.
Chicago's march, coming on June 17, is not explicitly branded as a protest march like those in Washington and Los Angeles, but Pfeiffer says there is certainly a strong political undercurrent this year — in fact, he tells Bustle, "more so now than since November."
Pfeiffer says the drive towards activism isn't just out of what's directly affecting the LGBTQ community. "Physical attacks, verbal attacks, not just on us but on all other groups of people in society, whether it's Muslims or Jews or LGBTQ people or whoever," he says has motivated the change in tone. "And I think there's a realization by all these groups that we're all in this together."
"Pride hasn't always served the full diversity of the LGBTQ plus community," Sue Doster, co-president of Interpride, a national organization that coordinates with pride marches around the country, tells Bustle. "And I think prides are really starting to realize that maybe some of the groups on the margins, specifically queer people of color and trans among others [have been left out]. So I think some prides are trying to figure out how to bridge that gap."
Since the first parades in the 1970s, not only has the community evolved to welcome more members and causes, but they have built up visibility, power, and organizing infrastructure. LGBTQ activists have the capability to fight back in ways they couldn't decades ago.
"People understand that we are a group who is going to cut through the noise by the very nature of who we are, by the very nature of who we need to be, and by the very nature of where we need to go," says Macias. "We've built up a strong infrastructure. I'm proud of who we are. We should be celebrating on Pride Day because there's a lot to celebrate, and now it's time to take some of that political capital we've gained over the years based on blood, sweat, and tears and just work it out for more people."