Kate & William Named Their Son Louis Arthur Charles & It's Super Unexpected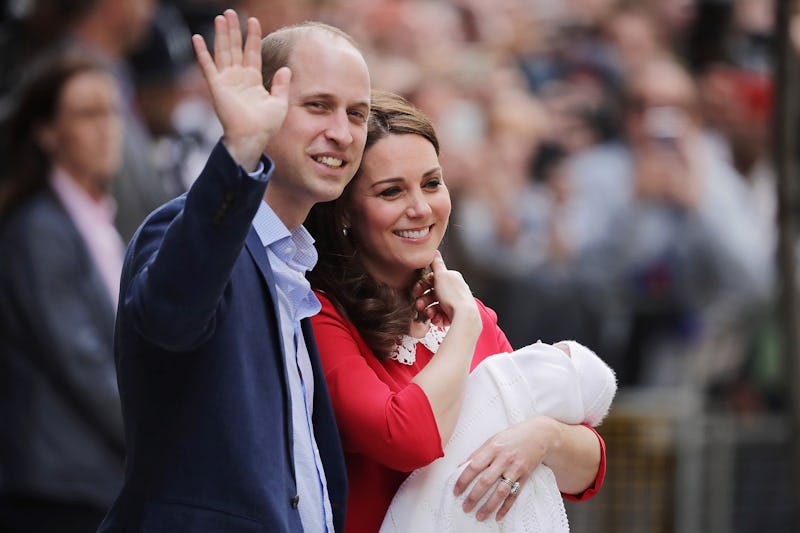 Dan Kitwood/Getty Images Entertainment/Getty Images
On Friday, the Duke and Duchess of Cambridge announced that they have named their third child. The little boy, who was born on Monday, will be named Louis Arthur Charles. Prince William and Kate's choice for a baby name surprised the world, in part because "Louis" has a stronger historical association with the French throne.
"The Duke and Duchess of Cambridge are delighted to announce that they have named their son Louis Arthur Charles," said Kensington Palace in a statement. "The baby will be known as His Royal Highness Prince Louis of Cambridge."
Bookmakers accepting bets on the child's name had listed Arthur as the most likely choice, followed by Alexander. Prince William and Prince Charles both have Arthur as a middle name — as does little newborn Louis, we now know — while 4-year-old Prince George's first middle name is Alexander. Hours before the royal family's announcement, AOL.com reported on a rumor that the boy's name was Albert.
But Louis it is. The name has been held by 18 French kings but never by a British monarch, CNN reports.
Still, it does have a family legacy. Louis was the name of Prince William's great-great-uncle, the Earl Mountbatten of Burma, who served as the last Viceroy of India in 1947. He was assassinated by the Irish Republican Army in 1979, nearly 39 years before William and Kate's new son was born.
It's suspected that the newborn prince is named after this long-deceased uncle. Prince Charles called the earl his "honorary grandfather," according to The Daily Mail, and was deeply wounded by his death. Charles gave a speech about the assassination in 2015, saying that it had "seemed as if the foundations of all that we held dear in life had been torn apart irreparably." Louis was also the name of the murdered earl's father, Prince Louis of Battenberg, who was the Duke of Edinburgh's maternal grandfather.
Because the name is French, Express reports that the baby's name is pronounced "Lou-ee," not "Lou-is." That's the same pronunciation used by his apparent namesake.
It took four days for the royal couple to announce Louis' name. The delay is customary; usually the family waits at least a couple of days before making its baby names public. Louis' siblings' names were both announced two days after their births. Queen Elizabeth II waited a month to tell the world that her son would be called Charles.
Louis was born on Monday at 11:01 a.m. at St. Mary's Hospital in Paddington, an area of West London, and weighed 8 pounds and 7 ounces. Shortly afterward, Kensington Palace released a statement saying that Prince William had been present for the birth and that both Princess Kate and their new son were "doing well." Louis' older siblings met their brother for the first time later on Monday at the hospital.
Prince Louis of Cambridge is fifth in line to the British throne, after Prince Charles (his grandfather), Prince William (his father), and his older siblings, Prince George and 2-year-old Princess Charlotte.
Prior to 2013, Louis' birth would have disrupted Princess Charlotte's place in line. However, the passage of the Succession to the Crown Act five years ago means that gender is no longer a determinant in the order of succession. This is the first birth of a royal baby boy to take place under the new rules.
Louis' birth won't be the only big event for the royal family this spring. On May 19, Prince Harry (who is sixth in line to the throne after his newborn nephew) will marry Meghan Markle, an American actor known for her work in Suits.