Meet Maria Gimena, The New Face Of Torrid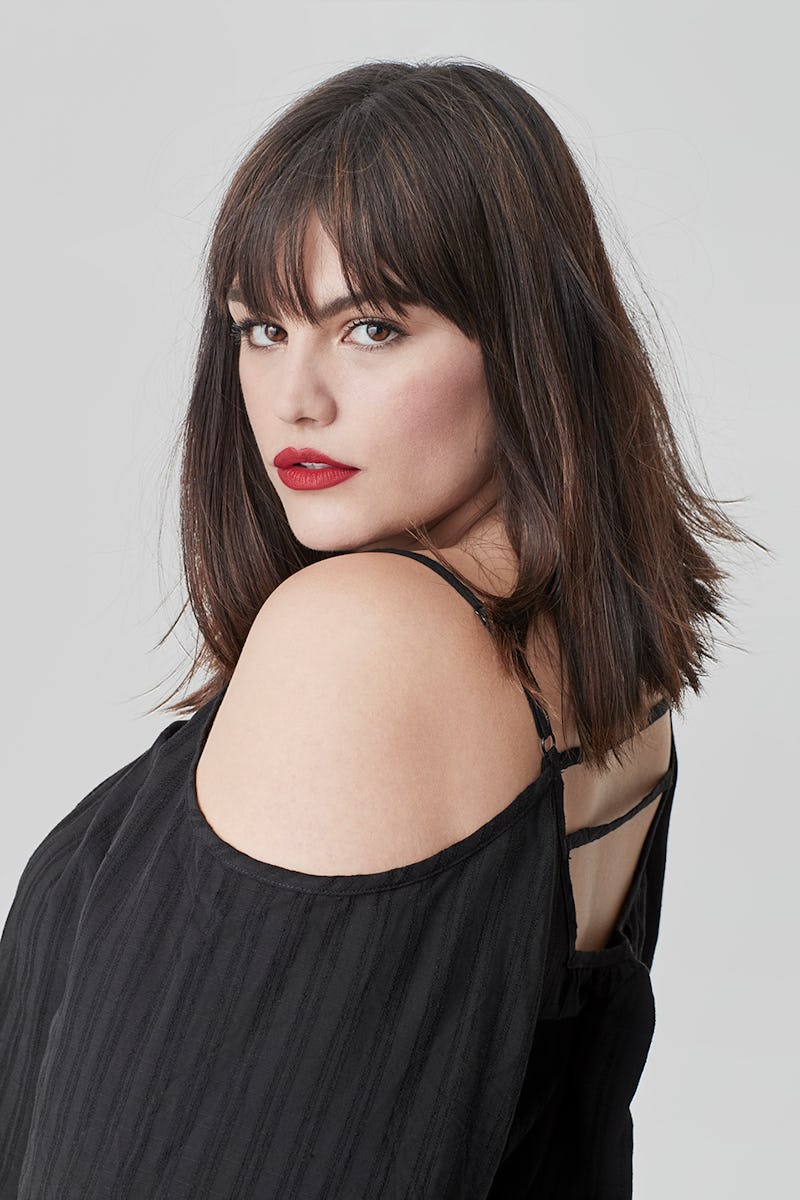 New Jersey resident Maria Gimena has been crowned the winner of Torrid's 2017 Face of Torrid model search, beating out more than 10,000 other entrants to become the retailer's newest brand ambassador. Fans of Torrid chose Gimena from four finalists, and the new Torrid top model will be working "exclusively and proudly" with the plus size retailer.
Gimena, who works as a health office administrator, says after Torrid sent out a casting call in May 2016, she was nudged by a coworker and made the decision to enter.
"It was not that [entering] was a difficult decision to make, but rather me not thinking that I was good enough," she tells Bustle. "Growing up I never saw anyone that looked like me in the fashion industry, so I never felt that I was tall enough or skinny enough to be a model."
Gimena says when she went to the live casting at Palisades Center in West Nyack, NY, some of that intimidation swamped her.
"Walking in I was immediately taken aback by the amount of beautiful women and remember thinking 'What am I doing here?! And how are some of these girls not already models?'" she explains.
In 2016, Torrid, which offers plus size clothes for sizes 10 to 30, chose Texan model Lyanna Lynette as its winner. She's still featured in their campaigns today, and because of the 2016 competition's success, Torrid opened 2017's model search with the goal of involving the public in choosing their next "face of." Judges whittled the pool from 10,000 all the way down to ten, and finally to four ladies, who battled it out on social media to earn Torrid fans' votes.
Gimena says the fierce competition didn't breed contempt between the contestants. "[Meeting] the Top 10 was also an epic experience despite our differences and the fact that we were technically competing against one another," she says. "We all totally clicked and supported one another, which was genuinely beautiful."
Another beautiful part of the competition for Gimena came during the social media portion of the model search. She tells Bustle, "This year Torrid did something different in that they let the fans choose who they wanted to see as the Face of Torrid so I was ready to expect the unexpected. It was beautifully overwhelming how many messages I got from people telling me that they were inspired, and that's all I've ever wanted."
Like many plus size folks, Gimena struggled to maintain a positive body image in a world where the encouraged ideal is thinness for everyone. In a recent interview with People, she talked about some of the negative messages she received throughout her lifetime.
"One of my classmates I had a crush on came up and told me I had such a pretty face but my body did not match it," she said. "That day I promised myself to work hard to obtain what I wanted and to not let other people's perception of what I should be or do define me. Today, I stand proud in my body and skin, stretch marks and all!"
As the 2017 winner, Gimena will receive a modeling contract with Torrid as well as a full Torrid wardrobe. Gimena hopes to not only be a visibly plus size mode, but also a visibly body positive role model.
"For once in my life I was speechless and extremely excited because this to me feels like a one in million opportunity," she says. "To know that I was picked by the fans out of so many amazing women it's just unreal to me. Torrid as a brand is an incredible platform for me to reach so many people and inspire them to do great things!"
When asked how the future looks from where she's standing, she says, "Bright!"
She adds, "I hope that with Torrid's help I can inspire other people to [pursue] their dreams with confidence; I'm a firm believer that we are our thoughts so if we keep a positive mind and we work hard anything is possible. [...] I will be representing Torrid at events, store openings and of course their amazing campaigns. Looking forward to an awesome year and hopefully making everyone who voted proud!"
There's no doubt Gimena will do just that.
Images: Courtesy Brand