Why The New Show 'Dietland' Is Definitely Going To Remind You Of 'Buffy The Vampire Slayer'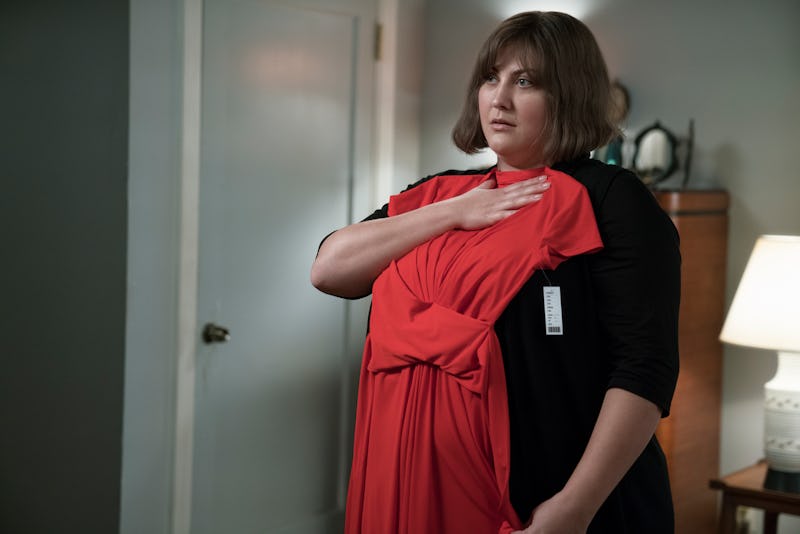 AMC
Sarai Walker's best-selling novel Dietland first hit bookstores back in 2015, and yet the subversive, feminist tome has never been more timely. The story delves into body positivity while seeing a group of women bring misogynistic, criminal sexual assaulters to violent vigilante justice, which sounds like the every woman's extreme fantasy come true after the #MeToo movement gained international awareness. It's almost as if showrunner Marti Noxon could see into the future with Dietland — this book needed to be adapted for television right now, and a not a minute before.
Based loosely on Walker's novel of the same name, the sarcastic yet brutally realistic satire Dietland, which premieres June 4 on AMC, follows Alicia "Plum" Kettle (Joy Nash), a ghost-writer for Kitty Montgomery (Julianna Margulies), the editor of one of New York's hottest fashion magazines. Labeled "morbidly obese" by her doctors, Plum struggles with her self-image and sets out on a wildly complicated road to self-acceptance by choosing to get gastric bypass surgery. At the same time, everyone is buzzing over news reports about men accused of sexual abuse and assault who are disappearing and meeting untimely, violent deaths. The darkly comedic series tackles almost every single issue that modern women face today — from pushing back against the patriarchy, dealing with casual and institutionalized misogyny, rape culture, and unrealistic beauty standards. And that's exactly why Noxon is so shocked that she was able to bring this story to life.
"It's a little bit against all odds that we made this happen," Noxon says. "It's so unlike anything else on television. It doesn't really fit into a lot of categories. The closest we can come up with is Devil Wears Prada meets Fight Club, so the fact that we were able to sell it and make it and get it on TV feels kind of miraculous."
Noxon says the series is "fulfilling" in a way she's never felt before, and that faced a lot of challenges in bringing the first season to life. "Emotionally, this has been a difficult time to live through, to look at your own experiences and then in some instances look at places where you could have done better and been a better advocate for yourself or for someone else," Noxon says. "And then having to translate all of that in real time to the screen was really emotionally wrenching."
But the end result is a first season of a series that she knows the world needs right now. "That took a lot of the pain out of it, but it was a painful time," she adds. "It took a pound of flesh, so to speak."
Fans of Noxon know to expect greatness from her work. The brilliant mind behind shows like UnREAL and Girlfriends' Guide to Divorce has a stellar track record in bringing overt feminist themes to life, which she has made a pillar of her career since cutting her teeth as a writer on Buffy the Vampire Slayer. But nailing down the tone of Dietland was tricky, and after directing and writing a lot of the 10-episode first season she was shocked to realize that her latest series had more in common with her first job than she anticipated.
"In a weird way, I feel like I've come full circle back to Buffy because this show kind of exists in an alternate universe," Noxon says. "It's not quite on the ground. It's surreal and funny and unexpected. It just feels like nothing I've ever done before but it encompasses all the things that I'm clearly obsessed with."
And getting to bring this novel to life in the current climate changed everything for Noxon.
"I obviously wish that it wasn't, that these stories weren't out there," she says. "But of course being a woman who is alive and paying attention, I knew that they were. I just hope that we keep the conversation moving forward because change is really scary and there is an inevitable drift back to the status quo, you know?"
She lets out a nervous laugh, but continues, "I hope that the show helps people keep a conversation alive and tell their stories. In the bigger picture, it's really about anybody who is from a marginalized population, not just women and not just fat women."
But she knows that the #MeToo and Time's Up movements from the past year will affect how women watch Dietland and that people will consume the story differently now than when the book first came out. To Noxon, that's the most exciting part.
"We were actually writing and filming while everything was happening," she says. "We were able to adjust to reflect it, that there is a conversation happening, that it isn't in a vacuum. It just sharpened how we wrote and talked about issues like sexual assault and those grey areas that are so hard to navigate as human beings but also in conversation. We were hoping that we could create more empathy for people in these situations. But again, there is this idea that there has been this great reckoning when you're like, it seems like only one really bad guy has gone to jail."
That's why seeing a whole group of bad guys get their comeuppance is so satisfying in the world of Dietland — it's the kind of justice reality still hasn't seemed to grasp. Of course, Noxon and the writers aren't advocating for violent, bloody vigilante justice in the real world. Murder is the extreme, fictionalized answer to real world problems like sexual assault and abuse, and obviously Noxon isn't telling viewers to murder people in real life for their crimes (she makes sure to clarify that she is most definitely not encouraging viewers to do that, in fact). But there are still lessons and takeaways that audiences can learn from Dietland about how people can better handle these tougher issues.
"Plum's journey is one where she finds her real voice," Noxon says. "I always feel like you read stories about situations where you feel so frustrated because you're like, 'Why didn't that person just walk away? Why didn't they use their voice?' It's so often because we've been taught not to have a voice, in certain situations we don't have the right to say 'no.' I hope that people watching the show will just be much more mindful about, 'I not only have a right, I have a responsibility to myself to say when I'm uncomfortable and the other person, it's not my problem when someone is putting sexual pressure on me. It might be their problem.'"
While Dietland's themes of sexual assault and misogyny feel so incredibly important, it's actually the central story of Plum learning to embrace body positivity that Noxon wants to hit home the most for anyone watching.
"The biggest message is that you are not a thing," Noxon says of how the show handles weight loss culture, specifically in the women's magazine scene. "Someone says that in the first episode to Plum. 'You are a woman and you should decorate yourself the way that you want in the way that pleases you.' That's all we're saying — that other people's bodies are not your property and you should respect whatever journey they're on with their body. Get your laws off women's bodies and get your judgments off them."
Noxon pauses to laugh, and then adds, "That's my hope at least." And she's doing her best to make that hope reality, one show at a time.