Why You Won't See Melania On The Campaign Trail Leading Up To The Midterms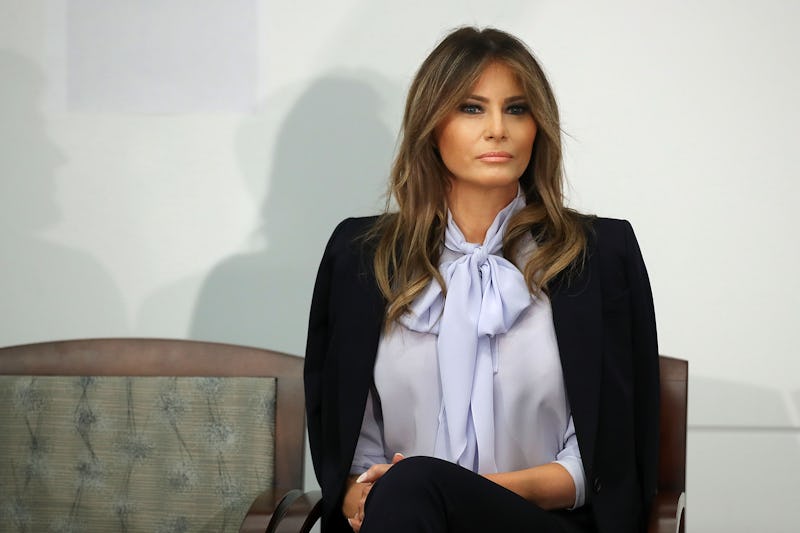 Chip Somodevilla/Getty Images News/Getty Images
Unlike some first ladies before her, Melania Trump won't campaign with the president before the midterms this year, her office confirmed on Thursday. According to a statement from her communications director, Stephanie Grisham, Melania is going to be consumed by her other duties, including preparing the White House for Christmas.
"Due to her schedule as a mother and First Lady, especially with the holidays coming up, there are no plans for her to campaign at this time," Grisham wrote in an email to Newsweek. Grisham added that they "don't share her schedule until it is appropriate" and that Trump has been working on Christmas plans for the White House since June."
Twelve days remain before the Nov. 6 midterm elections, and President Donald Trump has a packed campaigning schedule in that time, with rallies planned in Charlotte, North Carolina; Murphysboro, Illinois; and Fort Myers, Florida in just the next six days. According to ABC, Melania Trump has not made any appearances ahead of next month's election, and did not campaign heavily in 2016, either.
"If the first lady wasn't a massive presence on the presidential trail, it's not likely she would be in the midterms," Republican strategist Doug Heye told The Washington Post. "It appears that she isn't terribly interested in campaigning."
Former first ladies have typically been more active on the midterm campaign trail during their husband's second term when their approval rates are typically higher than the president's, according to The Post. In 2010, Michelle Obama hit a number of blue states ahead of the election, but turned out in full force in 2014, with another campaign tour and a series of "get out the vote" events. Laura Bush similarly got involved in 2002 and campaigned harder in 2006, headlining about a dozen GOP events before May, according to Roll Call. That's not to say Republicans wouldn't also like to have the current first lady stumping for them, "if she was willing," former press secretary Sean Spicer told The Post. "The list would be endless," he added.
Trump's interests appear to be focused on other projects these days, including her "Be Best" initiative. Earlier this month she traveled to four African nations — her first major solo trip abroad — to spread her campaign internationally. To that end, Trump planned to visit schools and hospitals, focusing on maternal and child well-being, as well as the role of the U.S. Agency for International Development (USAID) in the region. That's also where, in an interview with ABC, she explained her personal connection to her "Be Best" anti-cyberbullying campaign: "I could say I'm the most bullied person on the world."
Trump has also used her campaign to address the opioid crisis, visiting mothers and babies affected by the epidemic in a hospital in Pennsylvania last week. On Wednesday, she attended a White House bill signing to enact treatment and enforcement options for addressing the crisis. Ultimately, whether it's anti-cyberbullying awareness or Christmas planning, according to The Post, Trump appears to be more focused on her own initiatives than those of Republicans.
"It's clear that it's planned and methodical," Heye told the paper. "She's trying to do this on her own terms."