Three White Men Are Running New York City. Melissa Mark-Viverito Wants To Change That.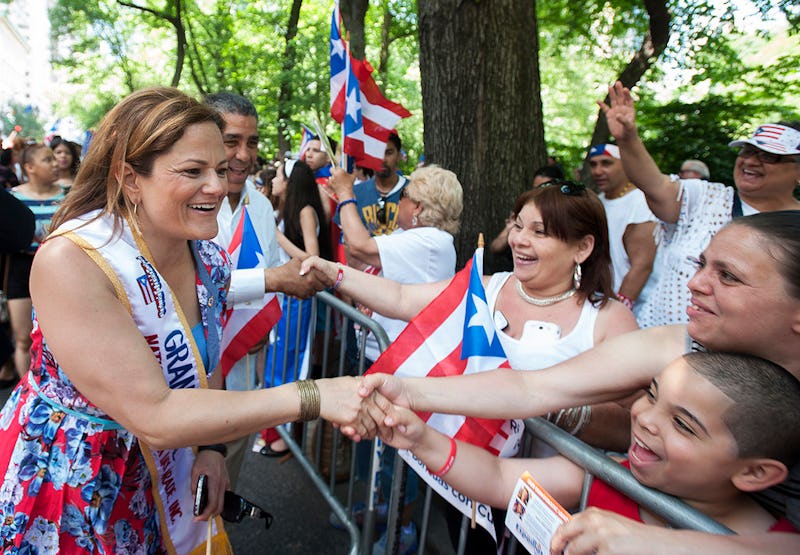 Courtesy of Seneca Strategies/William Alatriste for the New York City Council
Letitia James' election as New York attorney general means she'll soon be the first black woman to hold statewide office in New York, joining a long list of women who became "firsts" in the 2018 midterms. Seeing so many ground-breaking women — and women of color — elected to office this month has compelled former New York City Council speaker Melissa Mark-Viverito to declare a run for public advocate to succeed James, Bustle can exclusively report.
Mark-Viverito isn't exactly new to politics: she served on the city council for more than a decade before departing at the end of last year, and as council speaker was the first Latina to hold citywide office. But following the historic momentum of the midterms, she says it would be a shame for New York City to not have any female representation at the top — the public advocate is first in line to succeed the mayor.
"To me, being outspoken is something that comes naturally because it was nurtured in me...nobody is going to silence me or quiet me."
During her run as speaker, she didn't shy away from vocally disagreeing with Mayor Bill de Blasio on criminal justice reform and immigration. In fact, she was the first citywide official to call for the Rikers Island jail, infamous for violence and allegations of inmate abuse, to be closed when she brought up the plan in her 2016 State of the City speech; Mayor de Blasio eventually agreed, though "somewhat begrudgingly," as the Gotham Gazette reported.
"To me, being outspoken is something that comes naturally because it was nurtured in me — being able to be a strong woman and say that nobody is going to silence me or quiet me," Mark-Viverito, 49, tells Bustle, adding that she was raised by a group of strong women in Puerto Rico.
Much of Mark-Viverito's career has focused on addressing issues that disproportionately affect women. Last year, she co-founded 21in21, an initiative aimed at electing more women to the city council, where women currently make up just 22 percent of members. She also championed legislation that put free tampons and pads in the city's public schools, shelters, and prisons.
While her work in politics has centered around New York City, she's recently taken her "outspoken" nature to Washington, D.C., where she was arrested while protesting outside the office of Sen. Jeff Flake (R-AZ) during Supreme Court Justice Brett Kavanaugh's confirmation hearings. Her personal experience as a survivor of childhood sexual abuse compelled her to go to D.C. and stand with other survivors in opposition to Kavanaugh's confirmation — though she says she didn't necessarily expect to be arrested.
"I'm really, really distraught personally about the direction this country is going in, and that we've normalized these behaviors that many of us continue to fight each and every day to overcome," she says.
James heading to Albany in January leaves three white men at the head of New York City's government: Mayor de Blasio, City Council Speaker Corey Johnson, and Comptroller Scott Stringer. Whoever fills James' shoes as public advocate will be the final citywide elected official — and Mark-Viverito believes it should be another woman of color.
The role of public advocate is different than most elected positions, as the representative is meant to act as a "watchdog" who provides oversight for city agencies. Mark-Viverito describes the New York City Housing Authority as a "humanitarian crisis" and New York City transportation as "a disaster," but says she wants New Yorkers to define her agenda if she's elected.
She faces a tough race, though. New Yorkers will vote in a special election to replace James in February, when Mark-Viverito will compete on a crowded ballot that includes two other women so far: Nomiki Konst, an activist and journalist; and Dawn Smalls, an attorney and former Obama White House appointee. There won't be a primary, as The New York Times notes, so it's every man and woman for themselves.
Regardless, Mark-Viverito hopes to break down another barrier for women in politics next year and keep the momentum from the midterms going. She says a Latina serving as public advocate would show young Latina girls that they can be leaders, as well as push other cities to elect more diverse city officials. As council speaker, she says fellow Latinas frequently thanked her for giving them a voice in city government.
"They didn't feel invisible anymore," she says.