Why Meryl Streep's Natural Makeup Is Important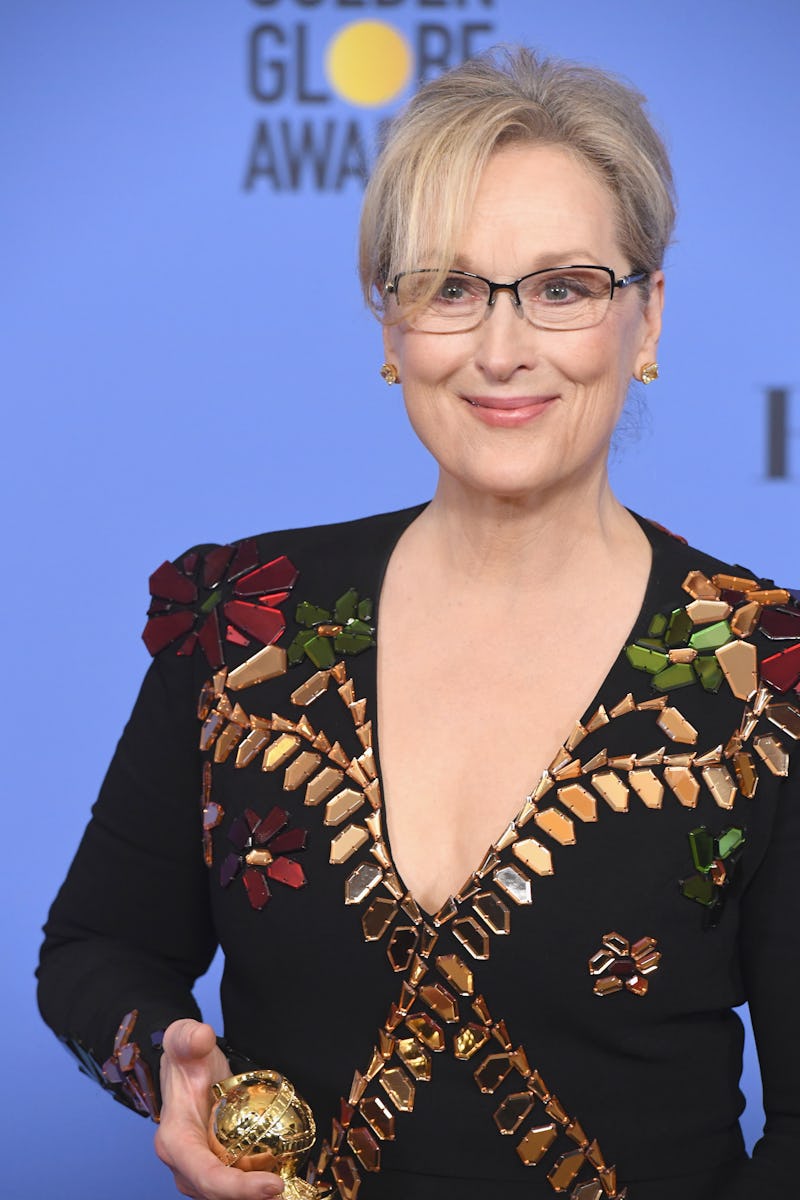 Kevin Winter/Getty Images Entertainment/Getty Images
After Sunday night's Golden Globes red carpet, people are freaking out about two things: Kerry Washington's dress, and the "No-Makeup makeup" trend that took the entire show by storm. Celebrities from Emma Stone to Kristen Bell to Jessica Biel paired their black tie gowns with simple, understated makeup, proving that our favorite beauty look (because it's the easiest to achieve when we've overslept) has officially made it to the big leagues (read: red carpets).
One celeb who was also wearing little makeup on Sunday night was the woman of the hour herself, #Queen Meryl Streep. She showed up on the red carpet (before delivering the most epic speech of all time) in a black bejeweled long sleeve Givenchy dress and light, simple makeup that made it look like she was totally bare-faced.
For Streep, understated makeup isn't just some trendy thing she's trying out this year. It's basically a way of life. She's been wearing minimal makeup since she first stepped onto a red carpet in the 1970s. We've seen the 30-time Golden Globe Nominee (and eight time winner) play nearly every character imaginable — a secretary of state, a nun, a devil in Prada — but at awards shows, she consistently shows up as the most important character of all: herself.
Like her acting ability, Streep's classic beauty look is utterly timeless. Red carpet after red carpet, she wears minimal nude eye makeup with sheer lipstick in either pink, nude, or peach. She's also one of the few celebs who repeatedly rocks glasses at awards shows, and as a fellow four-eyed chick, I respect the hell out of it.
The fact that Streep has stayed true to her natural, no-makeup makeup look for nearly five decades is significant because it means that she hasn't changed her beauty style as she's gotten older just because society (aka the internet) tells her she should.
If you type "makeup for women over fifty" into Google, you'll be bombarded with articles full of tips for how to use makeup to "not look old." Most of them imply that once you hit "a certain age" (a thinly veiled euphemism for "get old") you're pretty much stuck going the minimalist makeup route. "Stay away from dark lipsticks," "Don't use powder blush" and "Don't overdo your makeup!" are just a few of the mildly offensive tidbits of advice that are out there.
Personally, I'm calling bullshit.
Women of any age should be able to express themselves with whatever makeup they want, and it's not society's place to tell them what color lipstick they should and shouldn't wear.
Streep is an important example because she's worn minimalist makeup forever, not just because she's over 65 and feels like she suddenly should. Clearly, Streep is someone who does whatever the hell she wants (case in point: the speech) and has always marched to the beat of her own, incredibly cool, yet classic, drum.
Images: Getty Images