Why This 'Rise' Breakout Is The "Happy Trans Kid" That TV Has Been Sorely Missing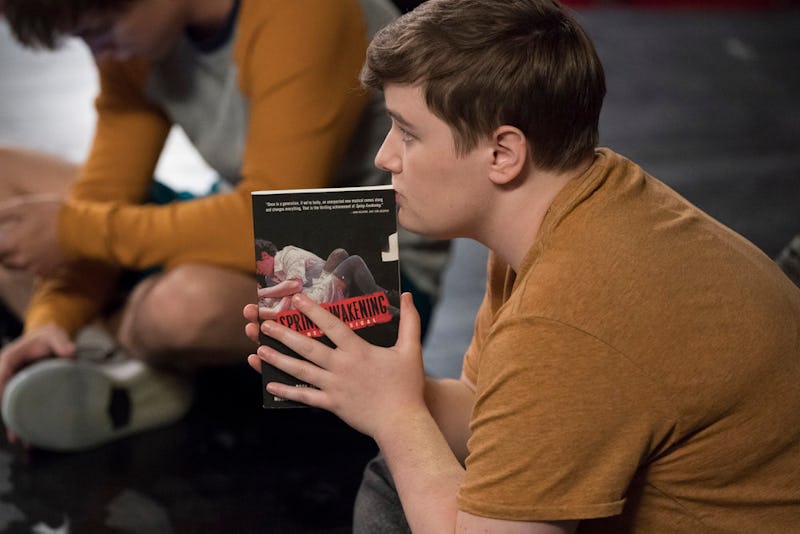 Virginia Sherwood/NBC
While NBC's Rise has drawn comparisons to Glee, High School Musical, and Friday Night Lights, but you don't have to be a fan of any of those to be its perfect audience. If you love to sing and dance and feel, you'll probably love it. Because, as Rise breakout star Ellie Desautels tells Bustle, it showcases how integral the arts are to nurturing happy, fulfilled human beings. Without a creative outlet, students may never explore themselves fully or reach their true potential. They may never have a truly safe space in which to explore. And in this positive framework, Desautels gets to play an unfortunately rare character type: the not-tragic transgender teen.
Desautels' character Michael (who uses he/him pronouns) is going through changes, yes, but it's not presented as a sad business. "I think that people are going to be surprisingly pleased with Michael on Rise regarding his confidence in himself and, you know, the fact that he is unapologetically himself and he doesn't let anyone get in the way of that," the actor (who uses they/them pronouns) says. And finding this space to stand out within the school plays a big part in building his sense of self. "He stands up for himself," they say. "He found this community of theater geeks to be himself with, and he's in a safe environment ... and it's just happy. The world definitely needs to see that. I think we need to see more happy trans kids on TV."
Besides the whole singing-and-dancing bit, the specific role was a big reason why Desautels was invigorated to do the show, as improving trans representation on television is one of their passions. "When I heard that the creators wanted a trans actor on the show, that made me feel really confident in the fact that they were going to portray the character accurately, since they wanted an actor that had the experience," Desautels says. "So that was really exciting, because if I could get that role, I would be actively involved in improving trans representation on TV… I was like, 'Oh, I can act and do that at the same time?' So that was really excited that that could be my job."
For example, Michael's arc this debut season of Rise is largely about his transition, but it's also about his life as a whole. "What's really great that people are going to see in the first season is that his story is not just about being trans," Desautels says. "He rekindles a friendship that has fallen apart a little, and when that friendship is rekindled, he realizes that his friend is kind of going through a rough situation in her life." Michael is there for his friend, and it's a seminal moment for him, the actor teases. "It's really a beautiful story that you see Michael go through because you would expect for a trans character for it all to be about his transition, but it's not," they say. Michael is given a safe space, but he also provides one.
And speaking of safe spaces, the cast of Rise is as tight off-camera as they are on. ("We are a bunch of goofballs," Desautels says.) In fact, it reminds Desautels of the good times they had when doing productions back in high school. Though many high schoolers can identify with the theater kid experience, Desautels is concerned that fewer and fewer young artists will get the chance to do so, explaining that their own hometown Board of Education nearly cut their music department entirely, including the beloved marching band.
"The idea that that could be taken out of my life was really disturbing because that was where I expressed myself," they say. "They're learning who they are, and to have an outlet like that taken away from them would be really horrible. That's why arts in high school is so important, and that's why we're telling this story."
A main source of conflict on Rise is the fact that Spring Awakening, a tale of teens growing up in a repressed society, is the chosen musical. Many adults in the district deem it inappropriate, but the cast and theater directors are passionate about performing the show at this exact moment in time. And Desautels is passionate about not shying away from mature content, either.
"I recently went to Levittown, PA, to the school that Rise is based on, and I watched them do Chicago. They handled the content really well. They're not up there swearing and snickering," they say. (Chicago is a satire about tabloid culture that features a good deal of talk about sex and murder.) "I think it broadens the teenager's horizons and it… they can be prepared for mature content later on." And you know what? No one in the audience seemed to care particularly about the swearing and the sexual content. They care about the performances and the passion.
"I don't think that people should look down on teenagers because they're young — they're just learning who they are," Desautels continues. "So that mature content helps, I guess, adults look at teenagers in a different way."
At its foundation, Rise isn't a glossy song-and-dance series — it's really a cry to save the arts. "I think that is kind of the point we're trying to make," the actor says. "You can see how hard it is for high schools — for most artists, even — to continue to fight for their art. That's what so many people are doing in our country right now. You can't do art and be censored," they say.
Desautels wants Rise's audience to keep that fight in mind as they watch, especially as it pertains to artists on the precipice of adulthood. The arts are an outlet, but they can also be a lifeline. And Michael's Stanton High School journey should serve as a fictionalized reminder that the self-discovery of adolescence (or anytime, really), isn't tragic, but it certainly makes all the difference to have a support system that lets you really be yourself.
Additional credits: Stylist: Michael Kozak; Groomer: Margina Dennis