Why "Nevertheless, She Persisted" Is My New Mantra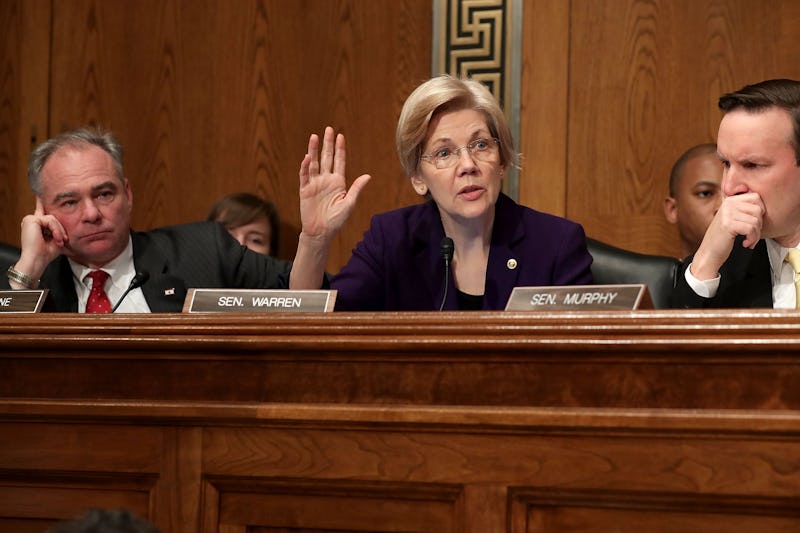 Chip Somodevilla/Getty Images News/Getty Images
Senate Majority Leader Mitch McConnell messed with the wrong woman. When Massachusetts Sen. Elizabeth Warren was silenced on the Senate floor during a debate about the Attorney General nomination of fellow senator, Jeff Sessions, it instantly became a galvanizing force. Warren was attempting to underscore concerns about Sessions' fitness for the position by reading a letter from Coretta Scott King, the wife of Dr. Martin Luther King, Jr., who accused Sessions of "[using] the awesome powers of his office in a shabby attempt to intimidate and frighten elderly black voters." Warren was silenced, Republicans say, due to a Senate rule against impugning other senators. In words that have since become infamous, McConnell told reporters:
She was warned. She was given an explanation. Nevertheless, she persisted.
I've been thinking a lot lately about Election Day. Not its startling conclusion, exactly, but the morning and afternoon beforehand, when I was working on election coverage and watching my Facebook feed fill up with posts from Pantsuit Nation. It was so moving to see millions of American women sharing stories of mothers and daughters who went to the polls together, who left stickers at Susan B. Anthony's gravesite, who believed we would finally have a president who looked like us. One of my favorite posts was a picture of a man who wore a kilt to his polling place. Why? "I thought the women should wear the pants today."
Clinton's loss is difficult, as I've argued before, to separate from institutional sexism, and I've grappled with feeling defeated in the months since November. And then last night happened, and McConnell inadvertently gave millions of American women the words we needed most.
"Nevertheless, she persisted" summarizes exactly what American women should do in the age of Trump. It is what women have always done, in the face of inequality and in the face of powerlessness: fight anyway. It's also a distinctly realistic motto: "nevertheless, she persisted" acknowledges the bitter reality that women in the United States still do not have equal political representation and, statistically, do not have equal pay (though part of the latter is due to women disproportionately working in professional fields that pay less rather than black-and-white wage discrimination). It would be naive not to feel discouraged. Yet we must continue, to fight for what is ours and to fight for what is right.
Hillary Clinton, for example, dealt with decades of sexism and was attacked in a spate of ugly ways. In spite of this, she spent her career advocating for issues like children's rights, healthcare, and women's rights, even when the personal attacks reached a fever pitch. But Hillary's time in public service has ended, and the rest of us must pick up the slack.
Thankfully, we have a rich history to draw from of other incredible women who spent their lives doing the same thing. When I first heard McConnell's quote, I thought of Rosa Parks, who remained in her seat at a time when taking a stand for civil rights meant risking death. I thought of Harriet Tubman, who escaped slavery and then returned to slave plantations 13 times to save other people. Both women faced terrible adversity; neither quit.
Sen. Warren understands this, but she's not alone. "Nevertheless, she persisted" can also be said of women like Sally Yates, the acting Attorney General stripped of her post for refusing to defend the travel ban she considers unconstitutional; the lawyers (which, according to reports,are an overwhelmingly female group) who turned up at airports nationwide to help families separated by the travel ban, and the millions of women who marched after the inauguration.
After the evening of Nov. 8 American women may not be optimistic about the chances that we'll see a woman in the White House sometime soon. We may not be optimistic about the odds that Sessions will fail to be confirmed, or that Trump will take responsibility for the things he's said about women, but we still have to fight back, to call our representatives, to run for office ourselves.
We may be concerned and worried about the future of our country — but nevertheless, we have to persist.