Protests Outside Of Tom MacArthur's Town Hall Send A Grave Message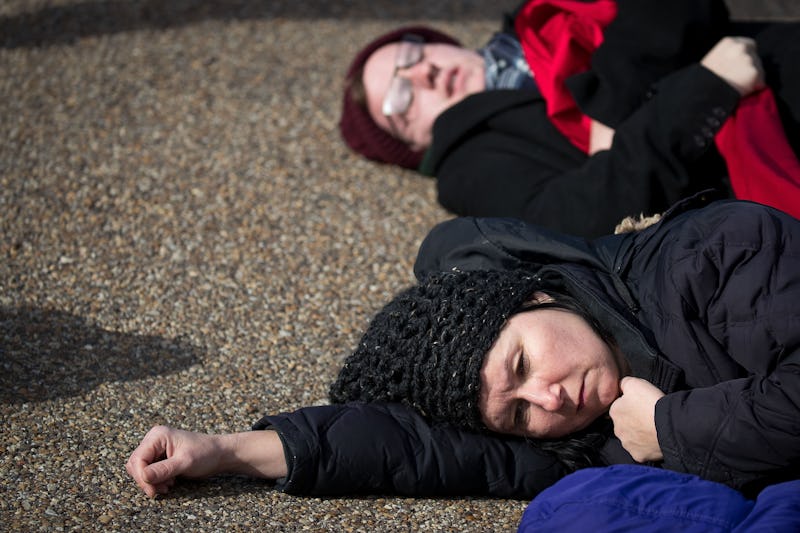 Drew Angerer/Getty Images News/Getty Images
The American Health Care Act has been criticized for its potential to take health care coverage away from millions of Americans, including those with pre-existing conditions like cancer, diabetes, and post-traumatic stress disorder. On Wednesday, protesters took their concerns straight to one of the men responsible for crafting the bill, and organized a die-in outside of Tom MacArthur's town hall to represent the millions of Americans who they believe could lose their lives if the AHCA is passed.
Representative McArthur is one of the men who created the AHCA's MacArthur-Meadows Amendment, which would allow states to seek waivers to opt-out of ensuring affordable coverage for people with pre-existing conditions. MacArthur hosted a town hall meeting in New Jersey to speak with constituents about the controversial measure, and he was immediately greeted with people carrying cardboard cut-outs in the shape of tombstones.
"No STD treatment," one of the signs, read, referencing the MacArthur-Meadows Amendment's potential to prevent survivors of sexual assault from seeking STD and HIV-prevention medication because the treatment could qualify them as having a pre-existing condition.
"Died of Trumpcare," another cardboard tombstone read, an homage to the 24 million Americans who the Congressional Budget Office estimates would lose health insurance under the new plan (although these figures are based on the initial draft of the AHCA, before the inclusion of the MacArthur Amendment).
Right before the start of the town hall, as protesters lined the streets outside, dozens lay on the ground, holding the cardboard tombstones above their heads in an organized die-in that expressed their opposition to the new health care bill. This displayed a chilling visual representation of the devastating effects the AHCA could have on some of the most vulnerable Americans.
Once the town hall began, MacArthur faced animosity, boos, and heckles, as well as some tough questions about his role in the reinvention of the AHCA.
"This is your health care bill," one attendee told MacArthur. "It was dead in the water. It would have stayed dead in the water but it was the MacArthur Amendment that brought this thing forward."
MacArthur insisted that the AHCA is an attempt to fix the "failing" Affordable Care Act, and that the new health care plan would still cover people with pre-existing conditions, although the American Medical Association has disputed this claim.
All 300 seats in the John F. Kennedy Center were reportedly filled, and constituents reportedly stayed for well over three hours to continue pressing the representative about the AHCA's implications for everyday citizens.