Cecile Richards On Why Planned Parenthood Is Ditching The "Pro-Choice" Label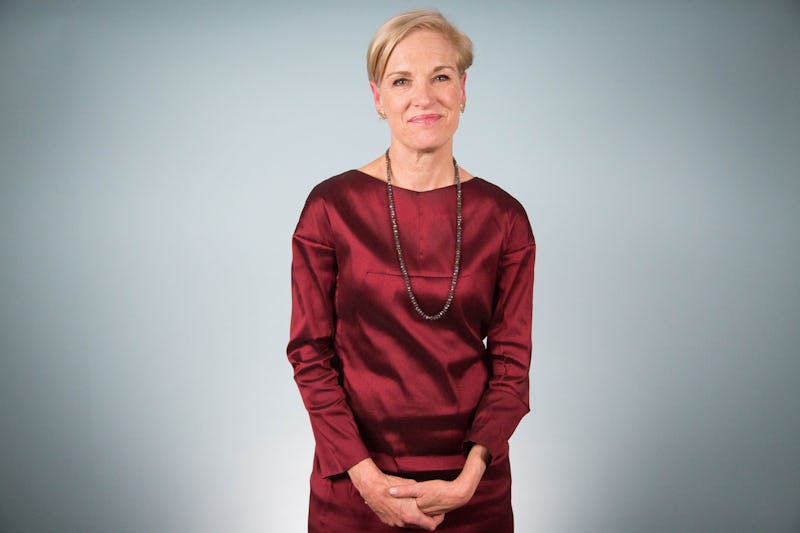 Lauren Betesh/Bustle
On Wednesday, Planned Parenthood president Cecile Richards sat down with Bustle for a wide-ranging interview about reproductive rights, women's health, the current state of political affairs surrounding her organization's federal funding, and of course, women's constitutional right to an abortion. A telling strategic development emerges in the interview when Richards explains why Planned Parenthood left "pro-choice" behind as a label, arguing that in this day and age, young people aren't responding to it in the way they once did.
Specifically, Bustle's Emily Shire asks Richards about Planned Parenthood's 2013 decision to distance itself from the traditional "pro-choice versus pro-life labels" that have defined the reproductive rights debate in America for decades. Richards responds that Planned Parenthood has been evolving its expression of long-standing ideals on reproductive rights to suit the times, in part because of to young peoples' resistance to such black-and-white labels.
"I think the language is completely outdated, and in fact, we found by talking to younger people that they are so against being labeled in any way," Richards says. "And I think in some ways the 'pro-choice versus pro-life' labels miss the point here. Because abortion and pregnancy — these are deeply personal issues that most women will have to think about or deal with in their lifetime, and what the vast majority of people in this country believe is, women need to be able to make their own decisions about their pregnancy without the interference of politicians ... [or] members of Congress who aren't in their situation and can't appreciate what they're dealing with."
Richards also notes that by rejecting political language around abortion, people may feel less boxed into "binary" expressions of their beliefs.
"We really think it's important that women have all their health care options, and that they have a trusted provider to talk to about those options," Richards says. "And that's why we've really quit using political labels that are really frankly very binary, in which most people don't feel like they reflect how important and personal these decisions are."
It's no stretch to say that women's reproductive rights in America are in a more perilous situation now than at any other time in recent memory, what with a Republican-controlled Congress and executive branch, as well as a conservative-leaning Supreme Court that could feasibly see more than one vacancy in the next several years. So the way abortion is talked about is crucial.
Planned Parenthood decided to shift the language years ago because of how personal feelings surrounding pregnancy and abortion are and found that ditching the label was the best way to articulate those feelings. Obviously, your own decision of whether or not to employ the label of "pro-choice" is a matter of personal preference. But the most prominent women's health care provider in the United States was open to adapting, all while still upholding its basic ideals.