Why Plus Size Shoppers Deserve Expensive Clothing, Even If We Can't Afford It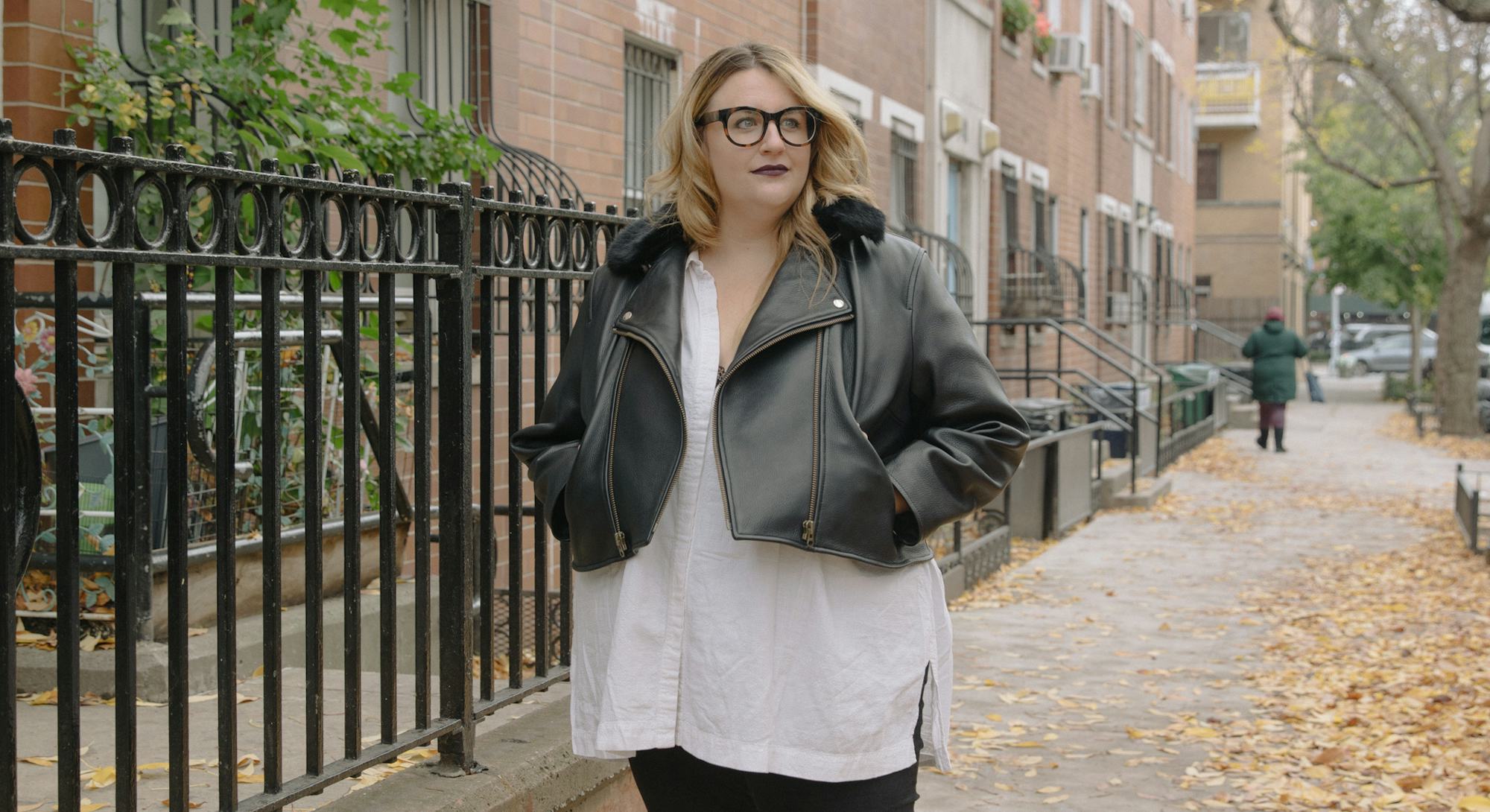 It's hard to convince a plus size shopper that she deserves nice things. I speak with authority on this, as I'm currently recovering from over two decades of beelining to the back of any store that carried my size, sifting through the racks to find the cheapest non-hideous option, and telling myself not to spend more than $30 because one day, I'll finally do what fashion and men and media want me to do: Lose weight.
My shopper's mindset and the market have both changed dramatically over the years, thanks in no small part to the work plus size women — activists, bloggers, celebrities, influencers, and regular ass people on Instagram — have done to create a demand for it.
All told, it's a fascinating timeline: An activist movement led by women of color, and queer people dedicated to fat acceptance and body positivity led to the birth of online communities dedicated to plus size fashion, most famously LiveJournal's Fatshionista community. At the time, most of the chatter was about DIY fashion and culling resources, but eventually, those communities led to the rise of plus size fashion bloggers. Social media gave those bloggers a platform to reach an unprecedented number of plus size consumers whose previous access to fashion imagery was limited to magazines that barely included them. The idea that plus women could both find and style clothing became real — and eventually, more plus size options began popping up on the market.
One downside of plus size women being included and celebrated in an industry is that we're now subject to the same aspirational ideals historically found in mainstream advertising. Whitewashing and lack of body diversity are ever-present issues in capitalism's version of plus size fashion, a far cry from what fat activism and the DIY-focused Fatshionista envisioned. Despite that, there's a bright spot: At least part of the fashion industry seems ready to accept that, despite the world's best efforts, many fat women are going to stay fat — and they want their fat bodies laced in the same high quality trends as everybody else.
The plus market as it stands right now is dominated by fast fashion: My wardrobe, for instance, is almost exclusively ASOS Curve, a UK-based fast fashion website that I feel strikes a successful balance of trendy, quality, and affordable. Other plus size women I know shop at places like Eloquii, Forever 21, and Old Navy. All of these brands serve a purpose in a plus size woman's wardrobe, but they don't necessarily offer the investment pieces that the growing base of discerning plus size shoppers crave.
That considered, imagine the thrill of discovering a luxury leather jacket brand that doesn't make plus sizes: It caters to them. The sensation of being prioritized as a consumer sparks a particular joy that feels long overdue after years navigating a market tried to convince us that we actually enjoyed choosing from a series of poorly designed afterthoughts — but really, just didn't care.
All 67 designer and creator Jeff Cafone does care — and coincidentally, he also doesn't look like the kind of guy who would know a damn thing about plus size women's fashion. He's not plus size, has likely never spent significant amounts of time shopping inside of a Lane Bryant, and probably doesn't have a presence on Fatshionista. He could easily be mistaken for a photographer, or professional-skateboarder-turned-menswear designer. As he talks about his growing plus size luxury leather jacket business, All 67 ( a recent rebrand from Cafone's first eponymous line), his place within the rapidly-growing plus size industry comes into clear focus. So does his commitment to putting his diverse customer base front and center, a rarity in the plus fashion industry.
"All 67 represents the inclusivity and community-driven vision I have for my brand moving forward," Cafone explains. "Most people know where the '67' comes from: It is the most widely cited number of the percentage of women who are considered technically plus size in America. As a non-plus male designer, I don't want to center myself. I think it's important to be conscious about my position in the community, and I want the name of my brand to reflect my mission and message."
All 67, as Cafone explained, is a reference to the most widely cited number of the percentage of women who are plus size in America, as well as a nod to a 2016 Refinery29 campaign of the same name. The research behind the campaign showed "67 percent of U.S. women are plus sized, but only 2 percent of them are represented in the mainstream media." The multi-platform initiative quickly went viral, giving plus size women across the country more language with which to define their community.
"Switching brand names really demonstrated his thoughtfulness around his entry into plus sizes," Sarah Chiwaya, blogger at CurvilyFashion.com, Associate Fashion Editor at Plus Model Magazine, and consultant for the All 67 brand, tells me. "From the outset, Jeff was really transparent that he wanted people who really knew the plus community, because he wanted to do things right. Putting the focus on his customer and the community at large instead of making it an ego driven thing was natural for Jeff, but I know from experience that it is pretty rare in fashion."
In its current form, All 67 specializes in luxury, designer-quality leather jackets. The brand has two flagship jackets, The Black Moto and The Suede Moto, both available in sizes 12-30. The brand's focus is ready-to-wear, but it also offers custom options for customers who want a jacket that is 100 percent unique to their own personal aesthetic. For buyers in New York City and Los Angeles, jackets are fully customizable, down to every last inch. For those shopping online in the rest of the country, choices in lining, leather accents, and zippers are all available. The brand works with customers through every step of the way, including mailing fabric swatches along with process photos and updates.
Even though I'm based in NYC, I went through the process for a ready-to-wear as most of All 67's customers across the country would (albeit IRL instead of online). As I pored over fabrics and zippers, I couldn't stop thinking about how 10 years ago, the idea that I'd be able to do this — have a designer take what I actually want into consideration — would be inconceivable. I also thought about how many items I didn't want that I'd bought instead.
"When I first started exploring the idea of making jackets solely in plus sizes," Cafone explains, "I went out and bought every moto-style piece I could find. I was shocked at how poor and few the options were. Most were fake leather and cheap materials, poorly designed and constructed, and the fits were generally floppy and lacking shape. That was a huge surprise to me."
Of course, to plus size women (myself included), it's no surprise at all that a garment that's ubiquitous in straight sizes would be virtually impossible to find in plus. It's a struggle that applies to the search for both classic pieces (like a moto jacket) and trendier items (for instance, overalls).
All 67 isn't the only brand attempting to remedy this. Independent contemporary labels like Universal Standard, Monif C, Zelie For She, Jibri, Maria Rinaldi, and more are all attempting to offer the plus customer higher quality options that they previously wouldn't have been able to find. Just as All 67 caters to those who want to invest in a luxury staple, each of these brands offers a different point of view to a specific kind of plus size shopper. Premme is another example: Conceived and co-founded by former plus size bloggers Nicolette Mason and Gabi Gregg, the contemporary brand launched with great success in July 2017 — traffic at launch was so high, the site crashed.
"Premme is a destination for statement dressing and the bold, daring pieces that have been sort of elusive in the plus size fashion world," says Mason. "We love color, we love texture, we love adding details that we've never seen before in plus — like our Jay Glitter Suit or our Extra Essential Moto jacket, which has yellow faux fur trims. We are not, and don't see ourselves ever being, a place where a customer could get their essential, classic pieces. We have some amazing friends in this business ... and we think we're all part of the same mission of showing the plus size customer that they're allowed to have options and create their own sense of style, rather than just taking whatever fits them."
One point of contention that many shoppers have with the newfound surge of independent, high quality niche brands is price point, an understandable criticism in a market where all shoppers — fat or thin — have been trained to want more for less. Simple economics make it impossible for brands like Premme and All 67 to lower their price points.
"We do get some feedback that the product is expensive, but because I know what goes into making each item — from multiple rounds of fits, to creating unique patterns for 7 different sizes, and so on," Mason says. "I know that feedback is coming from people comparing our product to big box stores which are producing much higher volumes of product than we are, and therefore, can make their margins even tighter. It becomes less expensive per item for a brand to produce 10,000 of the same style than it is to produce 1,000, or 500, and so on. We, and most small brands, cannot compete with enormous chains."
"Our ready-to-wear jackets range from $348 to $498, and custom starts at $1200," Cafone says. "I know that many customers may feel the price is high, or at least higher than what they are used to from plus brands. But the jackets are investment pieces."
Chiwaya, who has an All 67 jacket, was able to make a case for such an investment. "I've had faux leather motos I've liked before, but they all fall apart after a season or two," she explains. "Having a gorgeous, real leather jacket that actually fits right has been a game changer. I've been wearing mine multiple times a week ever since I got it. The jacket is one of the priciest things in my closet, but I'll literally wear it forever."
Despite sound reasoning to invest in these higher-end items, it's hard to ignore the fact that for many, the idea of spending that much on a jacket, or $100 on a dress, is absolutely off the table. However, from a market perspective, there's one word that makes the presence of All 67, Premme, and other high quality independent brands important: Options.
"Everyone deserves to invest in themselves and have the option to purchase high-end pieces that will last a lifetime, regardless of what size they happen to wear," Cafone says. "We're providing that option."
Mason echoes that sentiment. "The plus size consumer should have access to the same options and choice," she says, "Rather than being limited to four brands that dictate how they should dress. There's a lot to say about choice and the power to create your own image, and I can say that being able to dress how you want is incredibly empowering."
Another empowering element that these brands share are their demonstrated commitment to diversity. Unlike many major brands that typically cast plus models from agencies, All 67 cast primarily non-models in its latest campaign, instead featuring plus size fashion bloggers, editors, influencers, and entertainers, including blogger Alissa Wilson, influencer Anna O'Brien, Orange Is The New Black actor Lea DeLaria, Renee Cafaro, Ashleigh Nicole Tribble, and me. Together with women of different body types, races, and identities, All 67 created imagery that showcased what its products look like on range of bodies, imagery that's actually reflective of the 12-30 size range the brand offers.
In it's most basic terms, an All 67 leather jacket is a luxury item offered in a broad range of plus sizes that many won't be able to afford. However, it's also representative of a growing market that serves plus size customers who were once convinced that they had no reason to splurge on high-end items — and even if they did have a reason, there was nothing to choose from anyways. It's a symbol of the potential for plus size women to be represented more accurately in the media and merchandise they consume. It's the result of the work of countless plus size consumers tweeting and writing blogs and reaching out to brands and telling them exactly what they wanted in their size. Above all, this expensive, fancy leather jacket is a choice — and it's one that I'm happy we're finally able to make.