Why You Should Pay Attention To This New Size-Inclusive, Sustainably-Made Clothing Brand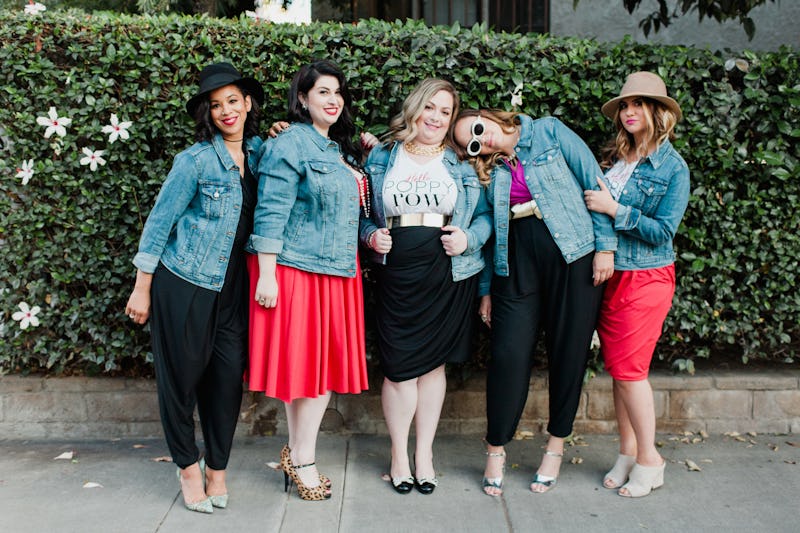 Imagine going shopping with your best friend as two women of completely different shapes and sizes who need to find completely different outfits. Maybe one of you is looking for the perfect outfit for the first day at a new job, and the other needs something cool-yet-comfortable for a long flight to visit family. The one thing you both have in common is that you want clothing that you can wear and feel like your own, beautiful self in.
For most shopping pals, this type of trip could take all day. But Poppy Row is here to change this. Built on a mission of size-inclusivity, the LA-based brand aims to help women of all sizes have a one-stop shop to find the basics and outfit-building pieces we all need.
While working as a celebrity stylist and style educator, Poppy Row's CEO and founder, Crystal Cave, realized that there was no easy way to find great, quality basics, especially in sizes over 16. So she decided to make them herself.
As a stylist, Cave learned to appreciate the importance of a capsule wardrobe, meaning you have 37 pieces or less in your closet. "The idea is that you can do more with less," she explains, "I think the statistic is that we only use about 20 percent of our closets, and I do find that to be true from what I've seen. So really if you think about it, you're using the same pieces over and over again, so the capsule collection functions as the pieces that you're going to everyday instead rather than having excess space in your closet."
For this reason, Poppy Row's inaugural collection is a modular capsule of five staple styles (a classic tee, a wrap top, a pair of pants, a skirt, and a slouchy blazer) in three colors that are all built to work with one another and can create over 100 outfits.
Pieces like the Present Top and Hangover Pants can function on their own or be styled together as a jumpsuit.
The Present Top can also build a wrap dress with the brand's Swipe Skirt, which comes with a hidden pocket.
With the exception of the Hangover Pants, each of the pieces are available in the brand's signature color ways: Midnight Black, Poppy Red, and Fabulous Fuchsia. The pants are only available in black at this time, though every style is available in sizes 2 to 28.
Cave explains that this collection is made to encourage shoppers to stock their closets with more basics than trendy pieces, because they'll stay in style season after season. Cave believes the smaller selection of items will actually help her customers build up their personal style. Instead of being distracted by what of-the-moment trends magazines and social media say they should be wearing, they can focus on creating outfits with pieces they know that they already love. She calls her line "essentials with personality" because shoppers can make each piece their own by choosing the color that best suits their style and pairing it with pieces from other brands or other staples that showcase who they are.
Cave explains that essential basics should be luxury items because they are what remain season to season. Poppy Row's prices range from $48 to $119 —what the brand describes as "accessible," yet still higher than fast fashion price points. And sizing has no effect on prices; an item costs the same whether it's in a size 2 or 28. Cave explains thatUnlike most brands who base their grading on a size 4 or 6, Poppy Row bases all of its sizes from a size 16, as her experience has taught her that this reflects the average woman's measurements.
Poppy Row's prices also reflect its care of the environment and the world. "The big thing [that drives our prices up] is labor, and the other if fabric. But I think labor is actually one of the most prevalent pieces," Cave explains. "For me, it's really important that employees are paid a livable wage because that's a really big issue on the labor side." When selecting a manufacturer, Cave paid visits to each factory, ensuring that the production partner cares for its employees and shares her values of ethics.
Cave keeps her supply chain as local as possible so as to put less waste into the environment through transportation, but also to have a hands-on relationship with all of her partners. Every single element that goes into the line is as ethical and beneficial as possible. All of Poppy Row's fabric is sourced in LA, and everything is manufactured in the USA.
Cave knew that she needed to find the perfect and most sustainable fabric, so she turned to Factory 45, a program that educates fashion entrepreneurs on fabrics as introduces them to ethical suppliers. After comprehensive research and many visits to fabric suppliers, Cave selected Tencel as the fabric of Poppy Row. She learned that Tencel is sustainably-made from eucalyptus and its cultivation process is a closed-loop system that puts out less waste. All water used is recycled, even throughout its dyeing process.Each item in Poppy Row's inaugural collection is 90 percent Tencel with 10 percent Spandex stretch to keep the clothes as comfortable as athleisure. "What I really liked about the Tencel is that it kind of feels like cotton, but cotton, though considered quite natural, has a lot of harmful effects on the environment from its production." Tencel can also be washed the same way as cotton, and Cave suggests drying on a low heat or air drying.
Plain and simple, Poppy Row's founders want their clothing to help shoppers benefit the world and personalize their closets through simplification. But the brand's most significant aim is to make its shoppers feel good about themselves. Cave says, "I really want a woman to just feel like herself at the end of the day. So whatever that is, to feel completely expressed as her full self."
As Poppy Row's head designer Corinne Brothers explains, "These pieces are just the beginning, meant to help plant the seeds of body awareness, self love and acceptance."
The capsule collection is currently available for preorder through a waitlist on the brand's site, with shipments expected to fulfill in June. Poppy Row had held a Kickstarter page for its preorders throughout February, and surpassed their initial goal.