Prince Harry's Story Of Grief Makes Me Feel Less Alone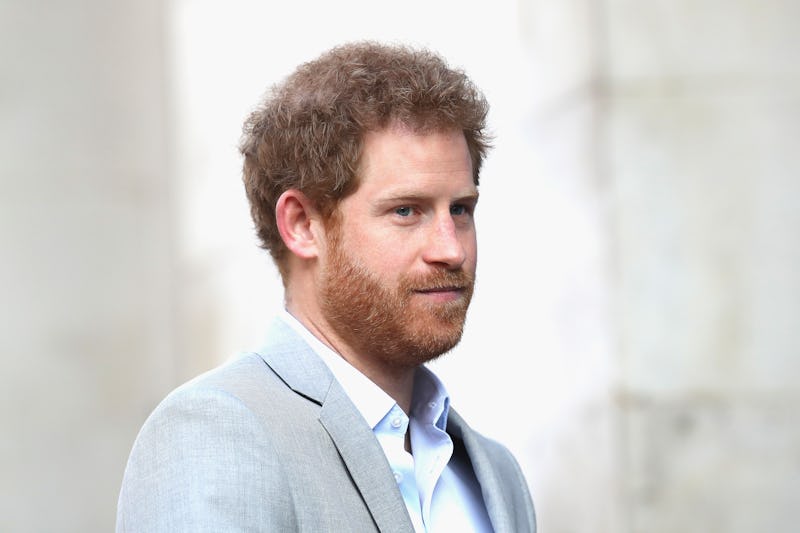 Chris Jackson/Getty Images Entertainment/Getty Images
It's easy to look at Prince Harry simply as a handsome member of the royal family, who also happens to be currently dating a beautiful American actor. But before becoming the man he is today, he was a little boy dealing with the death of his mother, Princess Diana, in an extremely public way. Losing a loved is always difficult — let alone having to endure it alongside the entire world — so to be able to read an interview where Prince Harry opens up about his struggle with grief is beyond relatable as someone who also experienced death at a young age.
While talking with The Telegraph's Bryony Gordon for her podcast, Mad World, not only did Harry shine a light on mental health and the unfortunate stigma that comes with it, but he discussed what it was like for him as a 12-year-old boy losing his 36-year-old mother. "I can safely say that losing my mum at the age of 12, and therefore shutting down all of my emotions for the last 20 years, has had a quite serious effect on not only my personal life but my work as well," Harry confessed.
The aftermath of death isn't really something you ever come to terms with, but it is something you learn to live with. Your life is never the same, but, for lack of a better word, becomes different. I know this, because, like Harry, I also lost a family member at way too young of an age. At just 16, my brother died in a car accident in 1999. I was only 13 at the time — basically the same age as Harry when Princess Diana was killed in a car accident alongside her boyfriend, Dodi Al-Fayed, in 1997.
When that kind of loss happens to you at such a young age, it's hard to process. Children are already experiencing so many feelings and trying to understand the world as it is, so to add the emotions of a death on top of that, well, it's a lot to handle for someone so young. It truly shapes the person you become.
Of course, losing a brother is far different than losing a mother, but I can relate to Harry having to say goodbye to someone so near and dear as a child. Burying a parent or a sibling is something a child should never have to go through. When it happens, your world is completely flipped upside down. I remember having no idea how or what to feel. I was beyond heartbroken, of course, but my emotions were a mess. That strange feeling I was trying to understand was one of the most complex and difficult things someone will ever face — grief.
Clearly, Harry felt the same way. So much so, that he found it easier to ignore grief altogether, rather than face it. "My way of dealing with it was sticking in my head in the sand, refusing to ever think about my mom, because why would that help, it's only going to make you sad, it's not going to bring her back." I'm a big believer in the idea that everyone grieves differently. Harry's process was the complete opposite of mine. I faced grief head-on — and with help from my mom and dad.
Unlike Harry, I had both of my parents to help me through my grieving process. I'm sure Prince Charles was there for Harry, but I am lucky enough that my mom and dad were there for me. They could've become absent or chosen to fully focus on their own grief, but, thankfully, my parents helped guide me and my sister — and still do. I don't know if I'd be where I am today without them.
When you suppress grief (and for so long), it's going to come back in some way shape or form. Like Harry said, "I have probably been very close to a complete breakdown on numerous occasions when all sorts of grief and sort of lies and misconceptions and everything are coming to you from every angle." Eventually — and only recently — Harry did seek help. "It was only three years ago, from the support around from my brother and other people, saying, 'You really need to deal with this,'" he revealed. "It's not normal to say that nothing has affected you."
I never went to therapy, but that doesn't mean I'm against it whatsoever. I watched my parents go to their own kind of therapy weekly by attending Compassionate Friends meetings, where bereaved parents open up about losing children. To be able to talk with someone who understands exactly how you're feeling is a type of therapy in itself. The support group did wonders for my parents, and despite myself not attending a support group, I made friends on my own who, like me, know what it's like to lose a sibling.
As Harry said brilliantly, "There's nothing better than being able to share your experiences, and ask for advice from someone who has actually been through it, rather than a compete stranger or someone who doesn't actually get what you've been through."
I applaud Harry's candidness. It's not easy to open up about the loss of a loved one, how that death makes you feel, and the fact that you're not OK as a result of it. I identify so much with the things Harry has spoken on. That's what makes this interview so special. It shows that anyone who has had to deal with death at a young age that you are going to struggle with it — and there's nothing wrong with that. To know that you're not alone in how you're feeling or grieving is such a comfort. "The experience I have had is that once you start talking about it, you realize that actually you're part of quite a big club," Harry said about sharing his feelings. And, sadly, that is the truth.
His words are also important, because they show anyone who has suffered loss as a child that there is nothing wrong with talking about it or how it makes you feel, no matter how awkward it may make someone else. Trust me, I've made quite a few people uncomfortable when I talk candidly about my brother and his death. But, hey, this is my reality and I, nor anyone else, should feel shamed for it.
That's something Prince William taught Harry. "My brother was a huge support to me, and kept saying, 'This is not right, it's not normal, you need to talk about this stuff, it's OK.'" William is so right.
I thank Harry from the bottom of my heart for no longer hiding behind a façade. His openness about grief is going to help so many other young individuals who have and are experiencing death in a similar way. To know that they are not alone will be helpful in magnificent ways.