The Reasons Why Prisoners Are Going On Strike Are Incredibly Important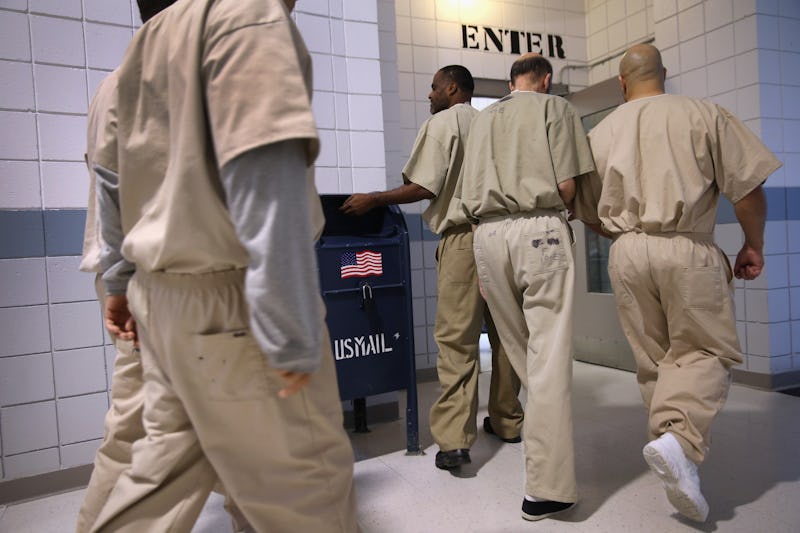 John Moore/Getty Images News/Getty Images
It's no secret that prison can be rough, to say the least: There's little privacy and you're vulnerable to ambushes from other inmates. But the current conditions and prison labor system is increasingly exploitative, advocates argue, and people currently incarcerated across the United States have decided that they have had enough. According to Vox, this is part of why prisoners will be striking from Aug. 21 to Sept. 9. Per an explanation and list of demands posted on Twitter, inmates will refuse to work and may go on hunger strikes as well to protest poor prison conditions.
Both men and women behind bars have declared the strike in response to a riot that took place earlier this year at Lee Correctional Institution, a prison in South Carolina; seven prisoners were killed and 17 injured, according to the Associated Press. On the site for the national protest, organizers wrote that the strike calls for "humane living conditions, access to rehabilitation, sentencing reform and the end of modern day slavery." They also pointed to understaffing as a supposedly severe issue.
The issue of inmate labor recently popped into headlines when prisoners were voluntarily recruited to help fight the biggest wildfire in California's history. They were paid, but barely — the volunteer firefighters were given a base of $2 a day at a rate of $1 per hour when actually put to work against an active fire, according to Newsweek. The rate stunned some, but low wages for prison workers isn't anything new. According to Vox's German Lopez, cheap or free inmate labor is pretty common in the United States, due to "an exemption in the 13th Amendment, which abolished chattel slavery but allows involuntary servitude as part of a punishment for a crime."
The press release lists 10 demands, which include minimum wage for work to proper channels for grievance resolution to giving every prisoner the chance for parole. The final demand calls for a restoration of voting rights to all imprisoned citizens. The release goes on to say that if the demands aren't met, the strikes would include peaceful sit-ins, work strikes, and spending boycotts against agencies that see profit from prison labor.
"Prisoners want to be valued as contributors to our society," Amani Sawari, a spokesperson for the protests, said to Vox. "Every single field and industry is affected on some level by prisons, from our license plates to the fast food that we eat to the stores that we shop at. So we really need to recognize how we are supporting the prison industrial complex through the dollars that we spend."
The demands likely won't be easy to meet. Addressing and funding each of the problems will require deeper pockets for many state systems that are already hurting for cash. It's unclear how many prisons and inmates within them are planning to participate in the strike, but according to Vox, protests can be expected in at least 17 states.
This isn't the first time a nationwide prison strike has been planned. In 2016, the largest prison strike in American history erupted across 12 states on Sept. 9, the anniversary of the bloody 1971 riot at Attica Correctional Facility in New York.