Why Queer Buddhist Rapper Nitty Scott Is Catching Everyone's Attention, Including Cardi B's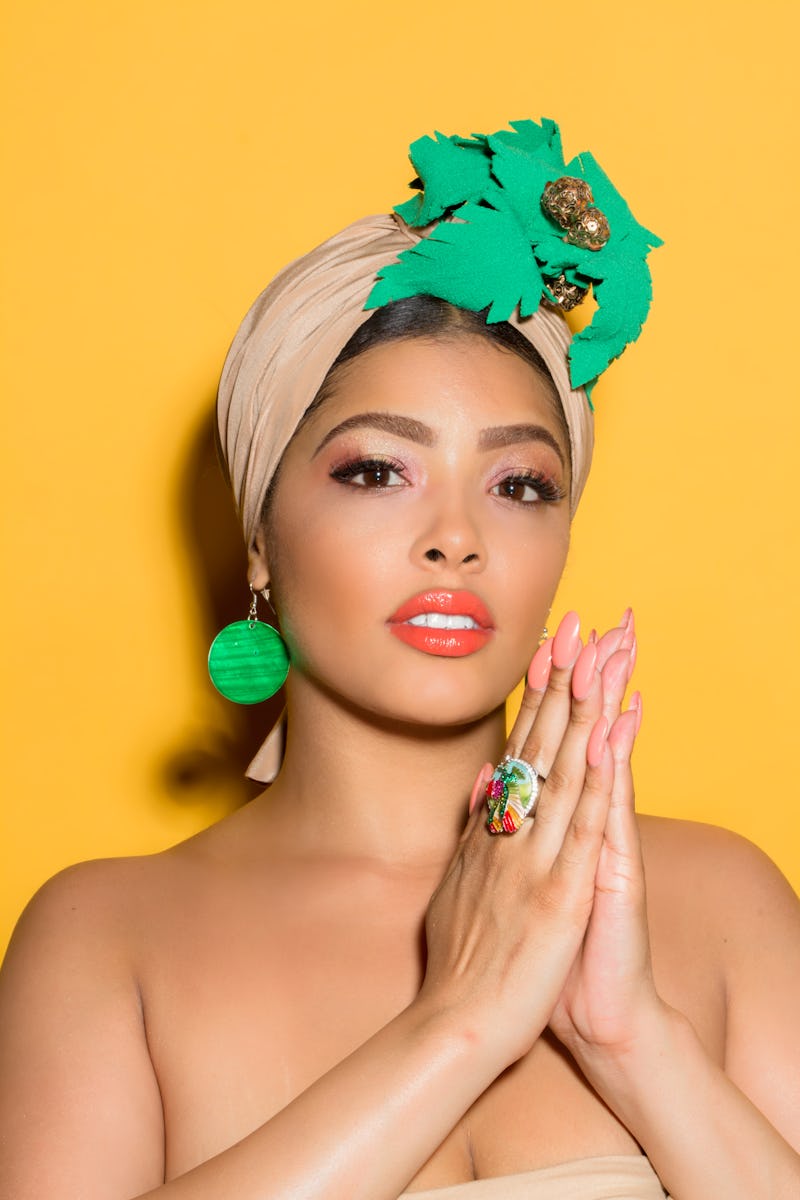 Andrew Fennell
This past July, when Nitty Scott dropped her second full-length album, the 27-year-old Afro-Latina rapper and poet thought the ode to black femme agency might alienate listeners. Instead, Creature! — an album that uses her own life as inspiration for a character she calls "Negrita in Wonderland"— received the best reviews of Scott's career. Remezcla dubbed the album a "rich proclamation of Afro-Latina womanhood" and XXL called it a rebirth and "must listen."
"It's interesting, because [Creature!] resonates with an entire community, especially Afro-Latina women," Scott tells Bustle. "There's no black or brown girl who has heard the album that doesn't see herself in it."
That said, it was the sheer number of people who connected with the album that truly surprised her; many listeners turned out to be people who Scott thought Creature! couldn't speak to. But instead, according to Scott, those listeners have "been completely inspired, entertained, and educated by the project; more so because the project is about me embracing the intersectionality of my existence. And that is universal." Since the release of Creature!, Scott has been on the road, hitting summer festivals and performing alongside this year's other big female MC, Cardi B.
Nitzia "Nitty" Scott began her career in New York in 2010, after her freestyle over Kanye West's "Monster" went viral. She released her first mixtape, The Cassette Chronicles, in 2011, immediately followed by another mixtape, Doobies x Popsicle Sticks, with her debut album, The Art of Chill, following in 2014.
Although Scott is currently basking in the fantastic reception her new album is receiving, she's also quick to recall that she hasn't always had the creative freedom that she had on Creature!. Earlier in her career, Scott felt pigeonholed and misplaced by record industry veterans, who told her she couldn't be sexy and intelligent at the same time — a disconnect that inspired Creature!'s examination of Scott's experiences as a black American, Puerto Rican, bisexual, feminist.
"As a woman in hip-hop, it has been very difficult to have people accept my identity and my vision as what I want to do," she says.
In fact, many music industry professionals attempted to push Scott to drop her unique style and be more like whatever female artist was popular at the time — unfortunately, this is not uncommon for many women artists, especially in hip-hop.
"I've seen it happen to a lot of other women as well, where people [or labels] will approach you like, we love you, but we'd like a little bit more of this or of that," Scott says. "[Many people in the music industry would] rather sit there and brainstorm on how you can be more like — insert successful female rapper here."
Though she notes that this kind of pressure is applied across the board in the music industry, Scott adds that male artists often have more freedom and aren't pressured to fit into cookie cutter identities.
"I don't see male artists being told that this is the picture of what a male rapper should be. They're allowed to be what they are and to fall on whatever part of the culture that they do. And I just wish that women artists were afforded that a little more," Scott says. "It's very insulting and it makes it very hard for women within hip-hop to have their own identity and voices."
These days, Scott is completely in charge of her art and her brand. In addition to writing, recording, and performing, she's also fully managing her career — Scott books her own shows, schedules her own interviews, and makes her own business decisions, which is incredibly rare for someone who has headlined a major tour in Japan, had her songs appear in studio films, and worked with major brands like Sprite and Miller Lite.
"I think it's really cool to see a young black female who belongs to many other communities as well, really out here just navigating it for myself," she says. "I hope that I can empower other artists, and women especially, to do the same, because it really is the best way to keep your narrative pure."
One creative decision Scott recently made was executive producing the short film for her single, "La Diaspora," a colorful video with big-screen quality that features Scott in an indigenous utopia that celebrates diasporic identity and tribal life in the pre-colonized world.
"It's important because it's not a narrative that begins with slave ships and pain — a story that we've seen way too many times," Scott says. "I wanted to depict indigenous joy in a pre-colonized world and remind people that there is a reality where our ancestors were living communally, and being in alignment with the earth and living in very sustainable spiritual ways. That nostalgia is a collective thing that many women of the diaspora feel."
The video and Scott's thoughts tap into a larger story: Many women of color today are exploring and embracing indigenous spiritual practices that have been shunned, demonized, and replaced with Western ways. Scott herself was ostracized by her religious family for being part of the LGBTQ community and began questioning the "conflicting" messages about religion and spirituality that she her received throughout her life from her family's religions, Christianity and Islam. She then discovered and connected with Zen Buddhism, as well as brujeria, which has been a longtime practice in her family.
"Around the time that I put out The Art of Chill... I discovered Zen Buddhism. I don't consider myself a strict Zen Buddhist, but I definitely apply the principles to my life," she says. "The practices bring me peace."
During Scott's spiritual journey, she also realized that most indigenous religions are shunned due to colonization and racism. "After that, I continued to read about the anti-black roots in calling religions like Vodou and Santeria evil," she says. "I remember my mom telling me that there is a long line of practicing Santeria in my family. And I realized that is why I gravitated towards it."
Which brings us back to Creature!, and Scott's surprise at how so many people, from so many different walks of life, related to her story.
"It doesn't matter if I come from the barrio of the Bronx, or if I'm saying that I'm a bruja and bisexual, and talking about mental health — all the things that I'm talking about as far as my experience," Scott says. "It's more universal than I thought it was."