Rachel Being Bachelorette Is Exciting, But Scary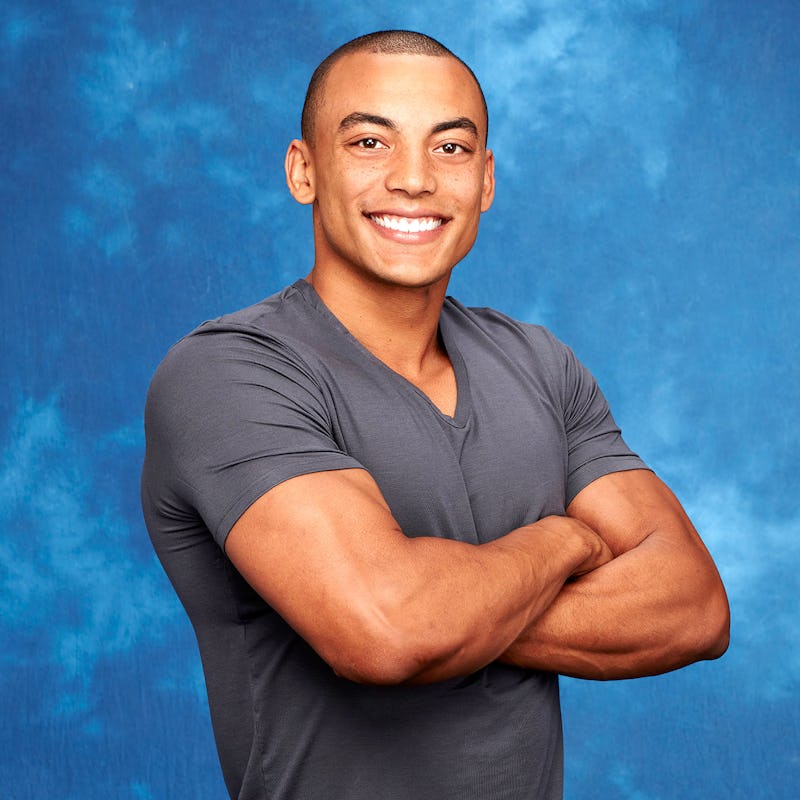 ABC
During JoJo Fletcher's season of The Bachelorette, contestant Christian Bishop stole fans' hearts, even if he couldn't ultimately steal JoJo's. Though he's since moved on from the show to found esports media company GG Studios, he's still an active member of Bachelor Nation with a lot of thoughts on its most recent announcement. As told to Bustle Associate TV Editor Martha Sorren, here's what ABC's decision to cast Rachel Lindsay as the first black Bachelorette meant to Christian.
I think it's amazing that Rachel will be the Bachelorette. It's a big transition for ABC, though it's exciting, it's also nerve-wracking. I'm kind of nervous for her, because I know how mean and critical people can be. There's also a lot of pressure on Rachel as the first black contestant to lead the show as Bachelorette or Bachelor. What if the ratings drop? Will the response be, "No we can't do it. We can't cast people of color in these lead roles"? I hope that doesn't happen, but ever since the election, I've been on edge watching Americans respond to things regarding race.
Rachel being the Bachelorette is like a double-edged sword: I'm thrilled for her as a person, and I think it's great for the community and for the franchise. But I know that at the end of the day, The Bachelor is a business, and people in that business care about money and ratings. They're going to do what they need to do to have a successful show, because that's what it is: a show, not a matchmaking service. So if things don't go perfectly on Rachel's season, there could be upsetting consequences.
Beyond the pressure of ratings, there's also the question of cast makeup. I was recruited for The Bachelorette at a fitness expo days before JoJo's season began filming, so I didn't go through the normal casting process. It was just rushed and they squeezed me in. I don't remember actively thinking about the controversy surrounding the lack of diversity, but I learned very quickly that there were few people of color on that show. Usually, there is a person of mixed race — someone just "colored" enough. On JoJo's season, I suppose I was one of those cast members. My father is white, and as I discussed on The Bachelorette, my grandfather's racism kept him from telling the white side of my family about me for many years. Fortunately, my mom did a very good job of showering me with love, so I didn't even notice a void. It was just that my dad wasn't around, partly because his father was a racist, and that caused him a lot of issues. As a result, I was left out of that side of my family's life, and those people didn't know I existed for a long time. So, even since childhood, my race has been a big part of my life, and occasionally, the reason people don't want to be in it.
I'll never forget when my ex-girlfriend of six years told me that being with me was a sacrifice for her. She was Persian and race is a big deal in her culture. Near the end of our relationship, she mentioned that it was hard on her to date me. And, I know that being in an interracial relationship is not necessarily the easiest thing, but I had an issue with someone giving herself credit for dating me anyway. That's something I've had to deal with for my entire life. My entire life, dating as a person of color has always had its issues. I don't doubt that Rachel has been through her own set of obstacles in her dating life.
I often encounter people who say they don't see color, and that's bullsh*t. When you're talking about spending the rest of your life with somebody, it's not even about you anymore, it's about your future kids. You have to understand that your children are going to be children of color and the responsibility of being a parent to a child who is in that situation is enormous, especially right now. If you look at Trayvon Martin and everything going on throughout society with kids of color — parents are afraid for their children, especially living in Texas, like Rachel does. That's something to be mindful of. "Not seeing" color is a form of ignorance, not acceptance.
It's going to be really interesting to see if and how The Bachelorette handles issues like that on Rachel's season. I think it has two responsibilities going forward, on her season and beyond. First, the casting makeup obviously needs to change. If you cast a white guy who only likes white girls, you get stuck in a cycle because the final six or four — usually where the next Bachelor or Bachelorette is chosen from — are most likely going to be his type, which is another white person. And then you have that white Bachelorette, and if she usually dates white guys, guess what? Most of her contestants are going to be white, and then it's this cycle over and over again. It takes somebody who is interested in dating people of multiple backgrounds to change that. On the surface, people will always say that they don't have a preference, but when you look at their dating history, it's predominately all a certain type of person. It's a cycle that The Bachelor has been trapped in for 15 years.
I don't know enough about Rachel's dating history to see who she's really, truly attracted to, but it will be interesting to see if there is more diversity for her cast of men, and who makes it to her final six. To get the first black Bachelor, you need to have some people actually in the running for it, and that means they have to make it beyond Week 3. At least with Rachel's season, somebody will hopefully make it far enough to be considered, which is where progress begins.
But, aside from casting, there's another issue that no one really talks about: the behind-the-scenes players. I didn't see one person of color on the production team during my season. (Editor's Note: ABC declined to comment on this claim.) That means that on Rachel's season, The Bachelorette will be a show lead by a person of color, likely with more people of color as contestants, but predominantly produced by white people? I don't know if viewers understand how big a role producers play in these shows. They're part of the in-the-moment interviews (ITMs), where they try to understand what's going on in contestants' heads to properly produce the show. Those ITMs are essentially a question and answer session with the producers. They're structured, and you have these people who are controlling a lot that goes on: The narratives that are displayed, and the topics that are addressed. They need to understand and have perspective into the other people's lives and what they've been through, so there are absolutely needs to be people running the show who understand what life is like as a person of color.
Clearly, there is a lot of work to be done, and I can only imagine the pressure being put on Rachel. The really early adapters are always the people who get it rough, and this experience could be hard on her, so I'll just pray for her and cross my fingers that The Bachelorette sets her up for success by diversifying the contestant pool and people behind the scenes. But from what we've seen of her, if anyone is prepared to shoulder that burden and stress, it's Rachel, so I'll definitely be supporting her when her season starts.