Why Rachel & Bryan Might Actually Work Out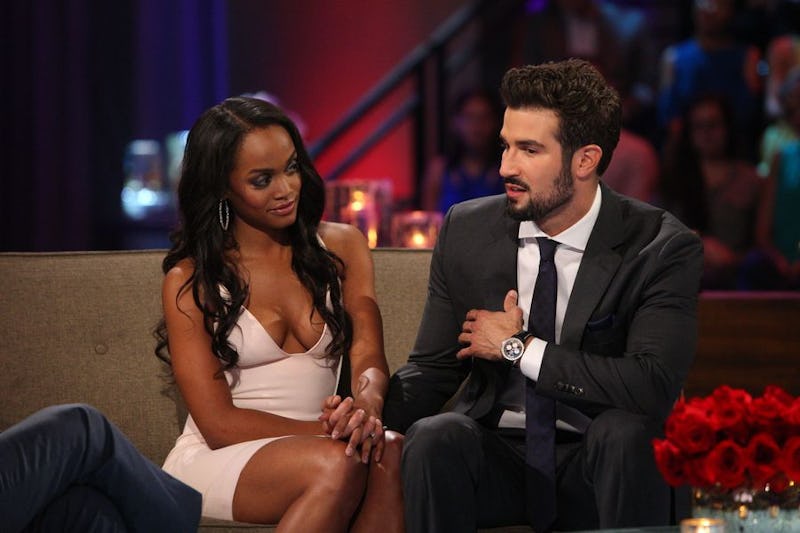 ABC/Paul Hebert
Monday night's dramatic finale of The Bachelorette lived up to the hype that Chris Harrison always promises at the beginning of the episode. Viewers were shocked and upset when Rachel sent home fan-favorite Peter brokenhearted and accepted Bryan's proposal. After the initial shock wore off, the hosts of Bustle's Will You Accept This Podcast? discussed exactly what went down in the three-hour soap opera that played out for us and considered reasons for why Rachel and Bryan might actually work even though nobody wants them to.
While fans might not agree with Rachel's final decision, the chose was 100 percent hers to make. Rachel has been very open about her previous relationships and has talked about how they never got to the next step and just stayed stagnate in the boyfriend/girlfriend stage. She explained that these previous experiences contributed to the "I want a husband at the end of this" position that she maintained since the beginning. If you think about what Rachel has experienced in her dating life, it's easier to see why she would not want to fall into the same rut and would pick someone like Bryan who is willing to give her a proposal right away.
The thing is, much of Bachelor Nation was taken aback by Rachel ending up with Bryan and may never be able to see the reasons why their relationship could work because they are blinded by their unwavering love of Peter.
Only time will tell if Bryan and Rachel will go the distance and become a success story. But fans who loved Rachel from the beginning shouldn't necessarily turn their backs on the woman who they rooted for all season long simply because she made a decision that they don't agree with.