Why Shakespeare Can Assassinate Obama, But Not Trump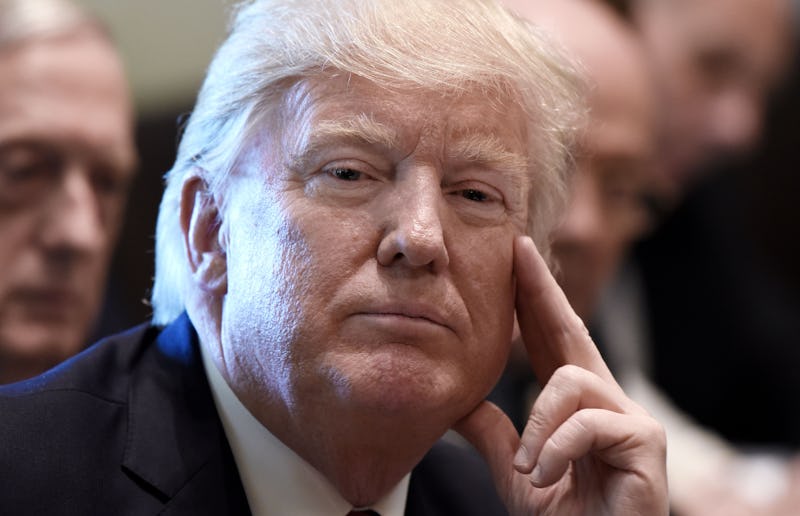 Pool/Getty Images News/Getty Images
Following the backlash from President Trump's supporters, Delta pulled funding from a Julius Caesar remake in which the Caesar character is given a Trump-like representation. Given that the airline sponsored an Obama version of the same play in 2012, the decision to revoke financial support in this instance has been criticized as hypocritical.
As reviews for the production rolled in ahead of its Monday opening night, numerous right-leaning media outlets including Breitbart, Fox News, and The Daily Caller published articles with headlines referencing a play featuring a depiction of President Trump's being assassinated — none mentioning that Julius Caesar was the play in question. Outrage among conservatives spread rapidly throughout social media, eventually catching Donald Trump Jr.'s attention. "I wonder how much of this 'art' is funded by taxpayers?" he later tweeted. "Serious question, when does 'art' become political speech & does that change things?"
Delta soon heeded the criticism. "No matter what your political stance may be, the graphic staging of Julius Caesar at this summer's Free Shakespeare in the Park does not reflect Delta Air Lines' values," the airline said in a statement on Sunday. "Their artistic and creative direction crossed the line on the standards of good taste. We have notified them of our decision to end our sponsorship as the official airline of The Public Theater effective immediately."
But Delta's former backing of a production of the same play with Obama standing in for Caesar quickly spread on social media. Since no controversy ignited in response to the Obama version, critics pointed out that Delta's claims of moral disagreement with the Trump edition seemed more like a fearful reaction of losing financial support from conservatives. Delta did not immediately respond to Bustle's request for comment on why it did not revoke funding for the 2012 production featuring Obama.
What makes the entire situation most baffling, however, is how thoroughly those upset with the existence of Trump-Caesar completely miss the play's point. As Isaac Butler over at Slate points out, the message Julius Caesar attempts to drive home is the ineffectiveness of violence. After all, Caesar's murderers eventually kill themselves after becoming the targets of an angry mob seeking to avenge their leader's death. And despite the mocking tone in which Trump-Caesar is portrayed, he is ultimately a heroic figure in the play. After his death, he is mourned by a devastated people.
If anything, Trump and his supporters would likely end up embracing the character if they were to actually watch the production. Considering Trump's obsession with loyalty and his shaky relationships with many of those in his own party, a beloved ruler being assassinated by a group of backstabbing senators is probably not too far off from the way he sees his dealings with Congress.