This New Movie Gets That Body Positivity Isn't Always An Easy Feat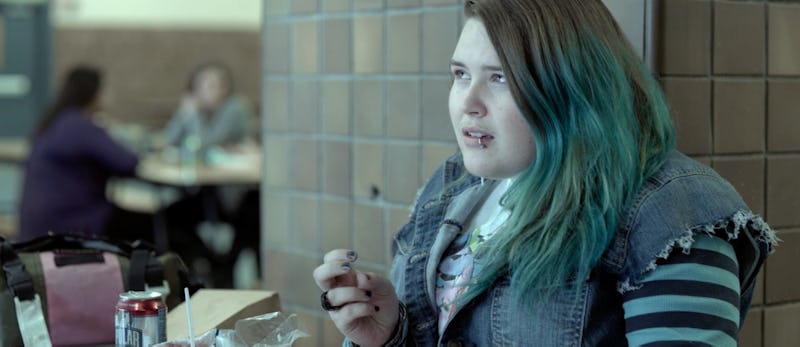 Good Deed Entertainment
Some Freaks isn't a romance film. At least, not in the traditional sense. What starts as a story of boy meets girl soon broadens to a frank exploration of insecurity, self-acceptance, and longing. The dramedy, out Aug. 4, is one in a long line of teen movies to tackle the tumult of adolescence, but Some Freaks stands out by making its characters raw, unvarnished. And as star Lily Mae Harrington tells Bustle, the film doesn't idealize the hardships that often accompany early adulthood, including body image and body positivity.
"It's great to see people loving their bodies and loving curves, but I think there's also an audience for people who want truth and experiences," Harrington (best known for her 2012 stint on The Glee Project) says, speaking to Bustle recently over the phone. "Shedding light on some of the darker parts is important."
Some Freaks follows a trio of misfits coming of age at a Rhode Island high school. There's Matt (Me and Earl and the Dying Girl's Thomas Mann), a lanky kid with an eye patch often mocked as "cyclops;" Elmo (Ely Henry), a video game enthusiast struggling to embrace his sexuality; and Elmo's cousin, Jill (Harrington), a brazen but jaded plus-sized punk who crash-lands with Elmo after some trouble back home. Despite an awkward start, Jill fits right in to their outcast crew. Still, she's teased and exploited by others, and it doesn't seem like anyone can separate who she is from what her body looks like.
"It's still hard for some people to understand that people do fetishize and abuse that body type," Harrington says of her character's plus-size appearance. "Jill thinks she can find some kind of fulfillment and validation from [leaning into that], and it kind of ends up crashing and burning."
Bonded by their outsider status, Jill and Matt fall into a whirlwind relationship, leaving a jilted Elmo bitter and alone. But shortly after Jill has settled into life in the east, she's abruptly pulled back to California. She and Matt try things long distance until he can scrounge together some money for a plane ticket, but to Matt's dismay, Jill looks quite different when he finally arrives: She's shed roughly 50 pounds, dyed her hair, and changed her style.
For Harrington, the character's transformation was deeply personal. Growing up, she was an active athlete, but always "teetered the line of obesity," she says, which she'd later learn was due to hormones. She gained weight after she began acting and stopped playing sports, but lost about 25 pounds when she moved to Los Angeles, put herself on a broke actor's budget, and started hiking. By the time Some Freaks came around, she was ready for the physical challenge of slimming down, she says, but she wasn't expecting the mental toll that came with it.
"The process took a lot longer than six months to emotionally deal with. I had to get used to a new body after getting used to the one I'd already had for 20 years. Certain parts of myself that I had become comfortable with, even if society might not have liked them, were now gone," Harrington says. "So I had to find this new love for myself and learn how to appreciate and be grateful for my body, while also knowing how much more that I was than just my body, and how my overall existence matters so much more no matter how much weight would ever be lost."
It's something Jill deals with on-screen, too, struggling to balance her own perceptions with the ones imposed on her by others. And it's as much an internal conflict as it is an external one: The closer Jill gets to societal standards, the harsher she is on herself, and the attention she receives in turn often doesn't align with her expectations. Some Freaks offers a bit of hope, but not a finite resolution, and that uncertainty is exactly the point.
"At the heart of the story there's an underlying theme of just wanting to be desired," Harrington says. "No matter who we are, there's always something in us that makes us feel like the outcast and makes us feel like we need to change. [But] life is not a John Hughes movie. At the end of the day, we're all human and we all make mistakes and we're all still learning and figuring out who we are."
And perhaps, Some Freaks will make that process feel just a little less lonely.