Why Spicy Food Might Help You Live Longer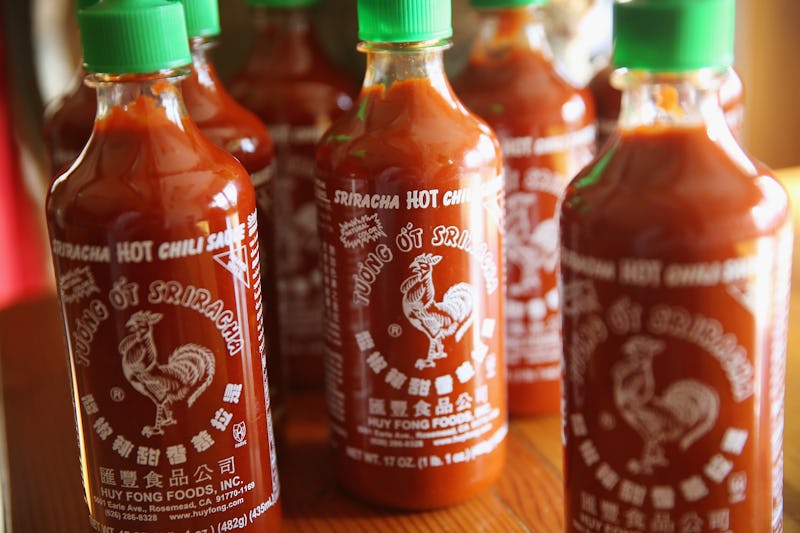 Scott Olson/Getty Images News/Getty Images
Dishes so spicy they leave you with a scorched throat and tongue of fire are either a gift from the food gods or a culinary curse, depending on your point of view. But for those of us who love the burn, news that spicy food might help you live longer is just one more reason to pick up the peppers. According to the findings from a new study that built on prior research on this topic, risk of vascular diseases such as heart disease and stroke can be significantly reduced from eating red chili peppers — something that's been suggested enough times before that it seems the idea has merit.
The latest news was published in the journal PLOS ONE by scientists from the University of Vermont College of Medicine. The researchers examined 16,179 adults who filled out the National Health and Nutrition Examination Survey during the years of 1988 to 1994. They found that about 34 percent of participants died over the following two decades — but also that participants who consumed red chili peppers died at a rate of 12 percent less. That is, when controlled for those who ate red chili peppers, the data showed that only only about 22 percent died across the same time span. Researchers argue that these findings could support a diet of chili peppers to lower mortality rates from any cause of death, but that it was strongest for vascular diseases like heart disease and stroke.
As Grub Street notes, scientists believe this study strengthens previous research. The prior research examined the regular consumption of spicy food in Chinese adults and also found that spicy food aided mortality rates; the new study, meanwhile, found similar results across a wider cross-section of people. However, the scientists still admit further research is needed before offering alternative dietary advice.
Hot food aficionados will note that this study follows a whole heap of research into the small and mighty chili pepper and its effect on the human body. Back in 2007, a Nottingham University study found that the compound which gives peppers their spice, capsaicin, causes death in cancer cells by attacking the mitochondria and leaving the surrounding healthy cells intact. And in 2007, a study published in the journal Biochimica et Biophysica Acta found that the capsaicin present in hot peppers also induces cell death in gastric cancer cells.
This is in stark contrast to the widely-held claim that spicy food can cause gastronomical damage and harm the lining of your stomach. Whilst it's true that our brain sometimes has its pain receptors alerted when you eat spicy food, there is no evidence to suggest that capsaicin destroys the lining of your stomach. However, NYU Langone Medical Center note that other spicy foods such as horseradish and mustard can damage tissue.
Hot peppers work in the human body to increase the appetite and are believed to be biologically crucial for those living in tropical climes where hot weather can dull the appetite. But of course, they certainly can't be handled by everyone. And whilst the most recent study in hot chili peppers concludes that there is a "13 percent reduction in the instantaneous hazard of death" from consuming chillies regularly, further research on a range of various food foods is necessary before we all hit the hot sauce hard.