Why Martellus Bennett Skipped Meeting Trump & Met With Chelsea Handler Instead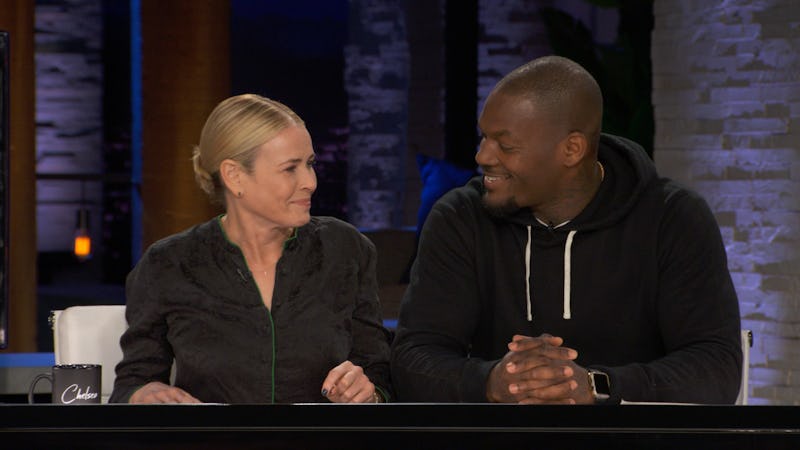 Courtesy of Sunshine Sachs
Chelsea Handler has been an outspoken critic of Donald Trump since her Netflix talk show, Chelsea, premiered during the 2016 presidential primary. Now she's back for Season 2 and has vowed to make the show even more political than ever — and Handler had some awesome company on the April 21 episode. New England Patriots tight end Martellus Bennett declined a White House invite and appeared on Chelsea instead. He made his plans clear immediately after winning the Super Bowl. During a post-game interview, Bennett told the press: "I'm not going to go... It is what it is. People know how I feel about it."
Prior to the game, he'd tweeted a simple but powerful message: "America was built on inclusiveness not exclusiveness." Instead of posing for photos with Trump at the White House, Bennett spent Wednesday on set with Handler — a very wise decision that he definitely doesn't regret. "I feel great," he said. "I feel like this is a lot better company." Handler didn't want him to feel like he'd missed out — so she attempted to replicate the White House experience by having Kumail Nanjiani forcibly removed from the set and then declaring that she and Bennet would share "the most beautiful piece of chocolate cake you've ever seen."
Prior to the episode, the pair hosted a Facebook live where they sipped on aperol spritzes and chatted about the current state of affairs. When Handler asked why Bennett declined the White House invite, he responded:
"Just fundamentally we don't match up. It's just some people's houses I don't want to go to if they don't believe in the same things I believe in... I'm here today to hang out with you, so I chose to hang out with you due to the fundamental values that I don't match up with the guy that's in the White House."
Bennett isn't the only Super Bowl champ who opted out of the White House trip. According to ESPN, Devin McCourty, Chris Long, LeGarrette Blount, and Alan Branch declined the invite for similar reasons as Bennett. In an online video titled "StandingPats," Long stated: "When my son grows up, and I believe the legacy of our president is going to be what it is, I don't want him to say, 'Dad, why did you go when you knew the right thing was to not go?'"
Branch also didn't pull any punches when addressing the issue, telling The Boston Globe: "I wouldn't spend time away from my family to shake the hand of a guy I wouldn't want to meet with or talk to."
For his part, Bennett had a busy day when Handler put him to work. He made copies, played whiffle ball, and showcased his artistic talents (he heads up the Imagination Agency, a production company that focuses on children's books).
Bennett and his teammates took a stand for what they believed in, and ultimately, that's the best we can ask of anybody.